Integrated multi-cohort transcriptional meta-analysis of neurodegenerative diseases
Acta Neuropathologica Communications
2014
2:93
Received: 21 July 2014
Accepted: 23 July 2014
Published: 4 September 2014
Abstract
Introduction
Neurodegenerative diseases share common pathologic features including neuroinflammation, mitochondrial dysfunction and protein aggregation, suggesting common underlying mechanisms of neurodegeneration. We undertook a meta-analysis of public gene expression data for neurodegenerative diseases to identify a common transcriptional signature of neurodegeneration.
Results
Using 1,270 post-mortem central nervous system tissue samples from 13 patient cohorts covering four neurodegenerative diseases, we identified 243 differentially expressed genes, which were similarly dysregulated in 15 additional patient cohorts of 205 samples including seven neurodegenerative diseases. This gene signature correlated with histologic disease severity. Metallothioneins featured prominently among differentially expressed genes, and functional pathway analysis identified specific convergent themes of dysregulation. MetaCore network analyses revealed various novel candidate hub genes (e.g. STAU2). Genes associated with M1-polarized macrophages and reactive astrocytes were strongly enriched in the meta-analysis data. Evaluation of genes enriched in neurons revealed 70 down-regulated genes, over half not previously associated with neurodegeneration. Comparison with aging brain data (3 patient cohorts, 221 samples) revealed 53 of these to be unique to neurodegenerative disease, many of which are strong candidates to be important in neuropathogenesis (e.g. NDN, NAP1L2). ENCODE ChIP-seq analysis predicted common upstream transcriptional regulators not associated with normal aging (REST, RBBP5, SIN3A, SP2, YY1, ZNF143, IKZF1). Finally, we removed genes common to neurodegeneration from disease-specific gene signatures, revealing uniquely robust immune response and JAK-STAT signaling in amyotrophic lateral sclerosis.
Conclusions
Our results implicate pervasive bioenergetic deficits, M1-type microglial activation and gliosis as unifying themes of neurodegeneration, and identify numerous novel genes associated with neurodegenerative processes.
Keywords
Meta-analysisTranscriptomeNeurodegenerationAgingBiomarkersTherapeutic targets
Introduction
Neurodegenerative diseases promise to exert an increasingly onerous toll on society's aging population in the coming years [1]. However, despite decades of research and hundreds of unique animal models, no therapy has yet emerged to overcome the insidious loss of neurons in neurodegenerative diseases such as Alzheimer's disease (AD), Parkinson's disease (PD), Huntington's disease (HD), amyotrophic lateral sclerosis (ALS), or frontotemporal lobar dementia (FTLD). The diversity of identified contributors to neurodegeneration, including vascular pathology [2], excitotoxicity [3], oxidative stress [4], prior traumatic brain injury [5], environmental exposures [6], and genetic mutations in mitochondrial [7], RNA processing [8], proteasomal and autophagy-related genes [9], points to a multiple-hit hypothesis of neurodegeneration. In contrast to deterministic animal models wherein neurodegeneration may be induced through a single mutation and cured with a single compound [10], most human neurodegeneration occurs sporadically and may therefore reflect the cumulative effects of numerous low penetrance risk factors and stressors.
Despite the challenges posed in identifying the individual causes of neurodegeneration, common themes of mitochondrial dysfunction, protein aggregation, oxidative stress and neuroinflammation have emerged in most neurodegenerative diseases [11],[12]. Increasing numbers of transcriptome studies have addressed individual neurodegenerative diseases, including those focused on understanding regional susceptibility [13], disease progression [14], cell type-specific signals [15], and disease-specific meta-analysis [16]. However, these studies are usually limited by relatively small sample sizes and significant heterogeneity between experiments, particularly in the tissue sampled, expression analysis platform, sample procurement method, and background of the investigated patient populations. Availability of large amounts of expression profiling data in public repositories such as the NCBI Gene Expression Omnibus (GEO) and EBI ArrayExpress presents novel opportunities to carry out an integrated multi-cohort analysis of diseases, and such data has been used to identify common transcriptional signatures in cancer and infections [17],[18]. There are approximately 40 publicly available gene expression microarray studies that profiled brain tissue in neurodegenerative diseases. Collectively these studies better represent the heterogeneity of neurodegeneration observed in the real world as different research groups carried out these experiments independently using different tissue samples and microarray technologies. However, this inherent heterogeneity in public data also presents challenges in terms of how to integrate these independent studies cohesively into a single analysis. We recently proposed a meta-analysis approach that leverages the heterogeneity across different data sets to identify robust, reproducible disease gene signatures. We have successfully used this meta-analysis approach to reveal novel insights into lung cancer [19] and to predict FDA-approved drugs that can be repurposed to treat organ transplant patients [20].
No systematic multi-cohort analysis has yet evaluated transcriptional alterations that are conserved across neurodegenerative diseases. We applied our meta-analysis approach to analyze publicly available gene expression datasets of post-mortem central nervous system (CNS) tissue for AD, HD, PD, and ALS. We hypothesized that such an analysis would identify the transcriptional alterations that define neurodegeneration, regardless of the specific neurodegenerative disease. Our results identified a conserved signature of neurodegeneration, applicable even to variants of FTLD, which were not included in the original meta-analysis. We analyzed this signature with respect to normal aging brain gene expression data, cell type specificity, microglial polarization and gliosis, revealing novel insights into the neurodegenerative process. Finally, we identified patterns of gene dysregulation unique to each neurodegenerative disease relative to the others.
Materials and methods
All analyses were completed in R/Bioconductor unless otherwise noted. Heat maps were generated using the R package pheatmap [
21
]. The analysis workflow is shown in Figure
1
.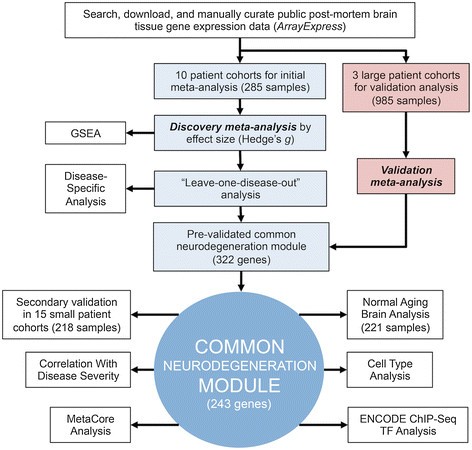 Data collection and pre-processing
We searched the public data repository ArrayExpress (search date: March 15, 2014) for gene expression microarray data sets from neurodegenerative disease experiments using the search terms "neurodegeneration," "dementia", "Alzheimer", "Parkinson", "Huntington", "amyotrophic lateral sclerosis", "frontotemporal", "motor neurone disease", "spinocerebellar ataxia", "spinal muscular atrophy" and "prion". We first identified data sets that satisfied the following criteria: (1) samples were from human post-mortem CNS tissue samples, (2) the data was originally acquired using a genome-wide gene expression microarray platform, (3) the microarray platform had reasonably accessible and clear probe-to-gene mapping annotations and (4) there were ≥5 cases and ≥5 controls total for the relevant patient cohort in each data set. We identified a total of 28 patient cohorts containing 1475 samples from 19 independent data sets that satisfied these criteria. Note that some data sets included more than one disease: we refer to each disease-specific group and its respective control group as a patient cohort.
Next, we divided these patient cohorts into two groups based on their sample sizes. We chose smaller patient cohorts (<100 samples) for the initial meta-analysis (
Discovery cohorts
), and we reserved larger patient cohorts (>100 samples) for validation analysis (
Validation cohorts
). For the discovery cohorts, we ensured that there were at least two patient cohorts for each disease that met our selection criteria. We then identified up to three different CNS regions affected by the disease process at the transcriptional level in each specific neurodegenerative disease, as identified in the included studies [
16
],[
22
]-[
37
] (e.g. AD pathology involves the entorhinal cortex, hippocampus and frontal cortex; see Table
1
for all CNS regions used). We separated the patient cohorts by these CNS regions, and we selected the largest independent cohort by sample size for each region. Thus, in the discovery cohorts, we used two to three different disease-affected brain regions for each disease. If a patient cohort contained samples from multiple CNS regions in the same individuals, we used that data set only once, selecting samples from a single CNS region. This approach ensured that every sample in the analysis came from a different individual. When possible, for data sets including multiple CNS regions, we took advantage of the opportunity to use disease-affected regions not represented in other data sets to ensure regional generalizability. Based on these criteria, we chose 10 patient cohorts containing 285 samples to include in the discovery cohorts.
Table 1
Summary of public gene expression data sets used in the discovery, validation, and secondary validation data set meta-analyses
Disease

Accession #

Study first author

Year

Citation

Cases

Controls

Total samples

Tissue source

Discovery

ALS

GSE4595

Lederer

2007

[22]

11

9

20

Motor cortex

ALS

GSE26927

Durrenberger

2012

[23]

10

10

20

Cervical spinal cord

HD

GSE3790

Hodges

2006

[24]

19

16

35

Motor cortex

HD

GSE26927

Durrenberger

2012

[23]

10

10

20

Ventral head of caudate nucleus

PD

GSE7621

Lesnick

2007

[25]

16

9

25

Substantia nigra

PD

E-MTAB812

Dumitriu

2012

[26]

27

26

53

Dorsolateral prefrontal cortex

PD

GSE20291

Zhang

2005

[27]

15

20

35

Putamen

AD

GSE29378

Miller

2013

[28]

16

16

32

Hippocampus (CA1)

AD

GSE36980

Hokama

2013

[29]

15

12

27

Frontal cortex

AD

GSE26927

Durrenberger

2012

[23]

11

7

18

Entorhinal cortex

TOTAL

150

135

285

Validation

HD

GSE33000

Zhu

2013

a

157

155

312

Dorsolateral prefrontal cortex

AD

GSE33000

Zhu

2013

b

310

c

310

Dorsolateral prefrontal cortex

AD

GSE15222

Webster

2009

[30]

176

187

363

Various cortical regions

TOTAL

643

342

985

Secondary validation

PD

GSE26927

Durrenberger

2012

[23]

12

8

20

Substantia nigra

PD

GSE20333

Grunblatt

2004

[31]

6

6

12

Substantia nigra

PD

GSE20164

Hauser

2005

[32]

6

5

11

Substantia nigra

PD

GSE20163

Zheng

2010

[16]

8

9

17

Substantia nigra

PD

GSE8397

Moran

2006

[33]

9

7

16

Lateral substantia nigra

PD

GSE7307

Roth

2008

a

5

13

18

Putamen

PD

GSE19587

Lewandowski

2010

[34]

6

5

11

Dorsal motor nucleus of Vagus nerve

PD

GSE20146

Zheng

2010

[16]

10

10

20

Globus pallidus interna

AD

GSE1297

Blalock

2004

[35]

22

9

31

Hippocampus

AD

E-MEXP2280

Bronner

2009

[36]

5

5

10

Medial temporal lobe

PiD

E-MEXP2280

Bronner

2009

[36]

5

d

5

Medial temporal lobe

PSP

E-MEXP2280

Bronner

2009

[36]

5

d

5

Medial temporal lobe

FTLD (C)

E-MEXP2280

Bronner

2009

[36]

5

d

5

Medial temporal lobe

FTLD-U (GRN+)

GSE13162

Chen-Plotkin

2008

[37]

6

8

14

Frontal cortex

FTLD-U (GRN-)

GSE13162

Chen-Plotkin

2008

[37]

10

e

10

Frontal cortex

TOTAL

120

85

205
For the validation cohorts, we used three patient cohorts containing 985 samples from AD and HD patients. We performed a secondary validation meta-analysis on the 15 remaining patient cohorts (205 samples) that met our inclusion criteria, which included several smaller studies of PD and AD as well as five variants of FTLD. The GEO accession numbers of the data sets used in our analysis are summarized in Table 1[16],[22]-[37].
Because the available data sets use many different microarray platforms, we downloaded the processed gene expression data for each data set, most of which were associated with peer-reviewed publications analyzing the data. Phenotypic data for each sample were also extracted where available. We log2 transformed and quantile normalized gene expression signal intensities within each data set, if not already processed as such.
Gene expression meta-analysis
We conducted gene expression meta-analysis by combining effect sizes (standardized mean differences) as previously described in detail [20]. This approach determines a meta-effect size for each gene, which estimates the change in gene expression across all data sets given a common two-class comparison (i.e. disease vs. control). Microarray probes from each data set were mapped onto HUGO gene symbols. If a probe matched more than one gene, an additional record was added for each mapped gene. The effect size for each gene in each data set was estimated as Hedge's adjusted g. If multiple probes matched to a gene, that gene's effect size was summarized using the fixed effects inverse-variance model. Study-specific effect sizes were then combined to determine the pooled effect size and its standard error using the random effects inverse-variance technique. Nominal p-values were determined by comparing a Z-statistic (ratio of the pooled effect size to its standard error for each gene) to a standard normal distribution. The p-values were corrected for multiple hypotheses testing using Benjamini-Hochberg false discovery rate (FDR) correction [39]. In the discovery meta-analysis, genes were deemed to be significantly differentially expressed if FDR ≤ 5% and the gene was measured in all 10 patient cohorts.
Leave-one-disease-out analysis
In order to ensure that our meta-analysis was not influenced by or biased towards a specific neurodegenerative disease, we repeated our meta-analysis four times by removing data sets corresponding to one disease at a time (e.g. in the first iteration, HD data sets were removed, and the meta-analysis was completed on the combined AD, PD, and ALS data sets). At each iteration, we identified significantly differentially expressed genes (FDR ≤ 5%). Genes that were significant, irrespective of which subset of neurodegenerative diseases were analyzed, formed the pre-validation common neurodegeneration module (CNM). We have previously shown the utility of the leave-one-disease-out approach in identifying a robust gene expression signature during acute rejection across different transplanted solid organs [20].
Validation analyses
We first validated each of the genes in the CNM in the three large patient cohorts, including two AD data sets [30],[38] and a HD data set (not yet published) (Table 1). We used the meta-analysis approach described above to identify significantly differentially expressed genes across the three validation data sets (FDR ≤ 5%). Genes that were significantly differentially expressed in the same direction in both the discovery and validation analyses were considered validated. We removed the genes from the CNM that were not validated in the independent cohorts.
We further validated the CNM in 15 additional patient cohorts containing 205 samples from 10 studies of PD, AD, and variants of frontotemporal dementia (Table 1).
Analysis of the CNM association with histologic disease severity
Some of the data sets used provided neuropathological annotations. In three data sets from the discovery cohorts, there were Braak stage and Huntington grade information for each sample [24],[28],[29]. To assess the CNM's association with histologic disease severity, we calculated the geometric mean of the gene expression intensity for the up-regulated and down-regulated components of the CNM separately within each sample. The geometric mean of the CNM was centered and standardized across all samples in a given experiment, giving a z-score. We also calculated the difference between the up-regulated CNM z-score and the down-regulated CNM z-score in each sample. Jonckheere trend test was used to evaluate the significance of trends (two-tailed test). We generated bar plots using the R package ggplot2 [40].
Gene ontology, pathway, and network analysis
We used Gene Set Enrichment Analysis (GSEA) [41] to identify the enrichment of pre-established gene sets across neurodegenerative diseases. We used the GSEA PreRank option to input the complete list of genes with their corresponding meta-effect sizes from the discovery meta-analysis, regardless of significance. This approach allowed us to first assess pathway enrichment without arbitrary thresholds for significance. We used the curated gene sets for Gene Ontology (GO) terms from the Broad Institute's Molecular Signature Database (MSigDB). We set the false discovery rate q-value ≤ 0.05 as the threshold for significance. We constructed networks of overlapping significantly enriched gene sets using the EnrichmentMap plugin in the Cytoscape software [42],[43].
The MetaCore software suite (Thomson Reuters) was used to functionally analyze the CNM and generate gene networks. We set the background gene list in MetaCore to all of the genes assessed in all 10 discovery cohorts. We conducted enrichment analysis of the CNM for MetaCore's curated pathways. We then generated a network from CNM genes using only the direct interactions between network objects. We generated additional networks using the default "analyze network" algorithm in MetaCore (50 nodes per sub-network).
The MetaCore "Interactions by Protein Functions" tool was used to identify proteins that are functionally over-connected with proteins corresponding to genes in the CNM. We opted to include protein complexes in this analysis.
Correlation with normal aging
We investigated the correlation of each gene in the CNM with normal brain aging. We searched the EBI ArrayExpress for aging CNS microarray data sets. We identified three independent normal aging human CNS data sets (221 samples) from various tissues that had a minimum of 30 samples per experiment covering a broad age range (Table
2
) [
44
]-[
46
]. For a data set that used samples from multiple CNS areas, we only used samples from the hippocampus because it has been reported to vary the least based on gender [
44
]. For each CNM gene in each data set, we determined Kendall's tau coefficient between log2 transformed gene signal intensity and age using the "Kendall" R package [
47
]. In this package, when ties are present in the data, a normal approximation with continuity correction is made. If more than one probe existed for each gene, the geometric mean of the signal intensity of the multiple probes was used. Genes that were positively (negatively) correlated with a p-value ≤ 0.05 in ≥2 out of 3 of the normal aging CNS data sets were deemed to be significantly positively (negatively) correlated with aging.
Table 2
Summary of public gene expression data from normal aging human brain studies used in analysis
We used the Database for Annotation, Visualization and Integrated Discovery (DAVID) [48] tool to assess the enrichment for GO terms in the aging correlated and non-correlated components of the CNM.
Assessment of cell type specificity in differentially expressed genes
To evaluate whether the CNM may reflect changes in cell-type composition, we assessed the overlap between our module and genes enriched in isolated neurons, astrocytes, oligodendrocytes [49],[50], microglia or peripheral macrophages [51],[52] from normal mice, as well as genes enriched in astrocytes isolated from mice following stroke or LPS treatment [53]. While these data sets were derived from multiple experiments and could not be compared directly, they all used the same platform, the Affymetrix Mouse Genome 430 2.0 Array. This permitted us to use the Gene Expression Commons (GEXC) tool [52] to evaluate gene expression activity in these cell type specific data sets relative to 11,939 public gene array data sets, which allows for the classification of genes as "active" or "inactive". We used the "Expression Pattern Search" function in GEXC to identify genes from the CNM that were "active" in the cell type of interest and "inactive" in all others. We then performed manual visualization of differential gene expression in GEXC to confirm and finalize the assigned cell-type enrichment category for each gene in the CNM. For genes only modestly differentially expressed between neurons, oligodendrocytes and astrocytes, we deferred to the directly compared cell type-specific gene lists from [49]. Genes not enriched in a single given cell type based on these criteria were regarded as not being cell-type specific.
Assessment of enrichment for microglia polarization states and gliosis
We created custom gene sets from published gene lists generated from transcriptome analyses of human M1 and M2-polarized macrophages [54], microglia from the end stage of a mouse model of ALS [55], and astrocytes from mice 24 hours following treatment with lipopolysaccharide (LPS) or middle cerebral artery occlusion (MCAO) [53]. For the mouse data, we downloaded the gene lists and converted mouse gene symbols to human HUGO gene symbols prior to inputting the custom gene sets into GSEA [41]. We used the GSEA PreRank option to assess the enrichment for these custom gene sets in the complete list of discovery meta-analysis genes with their corresponding meta-effect sizes, regardless of significance.
Identification of enriched transcription factors using ENCODE data
We used the ENCODE ChIP-Seq Significance Tool [56] to identify transcription factors enriched in the up-regulated and down-regulated components of the CNM. We used the following parameters: organism, human (hg19); regulatory element type, protein-coding genes; ID type, symbol; background regions, a list of all genes assessed across all 10 discovery data sets; analysis window center, TSS/5' end (transcription start site); upstream and downstream window size relative to TSS, 500 bp; and cell lines, all. We repeated this analysis for genes positively and negatively correlated with aging and for published gene lists where indicated.
Identification of unique disease-specific patterns of gene expression changes
To identify patterns in gene expression changes that are unique to each of the neurodegenerative diseases evaluated, for each specific disease, we repeated the aforementioned gene expression meta-analysis on the disease by itself, as well as separately on the other three diseases together. We then removed genes from the individual disease meta-analysis output gene list that were significantly differentially expressed from the three-disease meta-analysis (FDR ≤ 0.05), thereby omitting common differentially expressed genes in neurodegeneration from disease-specific gene lists. We restricted the gene lists to genes that were measured in all 10 data sets. The resulting individual disease meta-analysis gene list was then input into GSEA PreRank for assessment of GO term enrichment as described earlier.
Discussion
Although each neurodegenerative disease has been studied in detail individually, no integrated analysis has previously determined what genes and pathways are consistently conserved across all neurodegenerative diseases (Figure
8
A). In total, in this study we examined 31 separate patient cohorts consisting of 1,696 independent patient samples collected using various microarray platforms from diverse institutions in different countries to identify a robust and reproducible signature. Key findings from our analysis include: (1) a common signature of neurodegeneration that correlates with histologic disease severity and (2) identification of novel candidate convergent networks, hub proteins, and transcription factors for neurodegenerative diseases. We further analyzed expression of the CNM genes in normal aging brain to identify CNM genes that are altered in both aging and neurodegeneration, versus those altered in neurodegeneration alone. We also analyzed expression of the CNM genes enriched in specific cell types to better understand whether the changes in expression are due to changes in the number of specific functional transcripts or due to reduction in neuronal density. Our results identify down-regulation of genes important for neuronal maintenance and synaptic transmission, but relative preservation of most constitutively expressed neuronal genes. Finally, we performed disease-specific meta-analysis relative to common signatures of neurodegeneration. Although there are diverse genetic and environmental causes of different neurodegenerative disease processes, our results show that the CNM represents the most reproducibly convergent pathways. Furthermore, our unbiased approach validates that neurodegeneration commonly involves elements beyond neuroinflammation. As such, our data provide a valuable resource for interpreting disease mechanisms, connecting findings from one neurodegenerative disease to another, and driving novel hypotheses.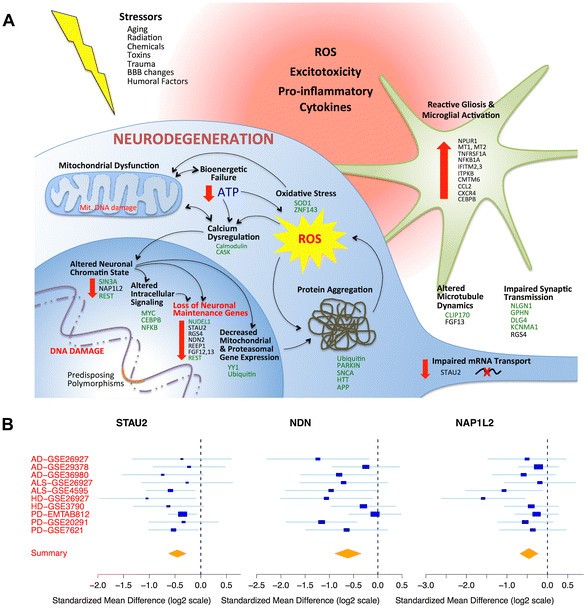 Conclusions
We carried out an integrated multi-cohort analysis of CNS tissue microarrays from AD, PD, HD, and ALS, thereby identifying a conserved transcriptional signature of neurodegeneration. These results were confirmed in additional independent publically available neurodegeneration CNS tissue microarray data sets meeting our inclusion criteria. Impaired bioenergetics with global down-regulation of mitochondria-related genes was the most predominantly conserved theme of neurodegeneration, accompanied by evidence of neuroinflammation, protein mishandling, oxidative stress, microglial activation, gliosis, and coordinated down-regulation of a host of genes essential for neurotransmission and normal neuronal function (Figure 8A). Overall, our functional analysis of the CNM, using Gene Ontology terms, MetaCore canonical pathways, and ChIP-Seq transcription factor prediction analysis, confirmed established findings and revealed additional novel insights. We believe the CNM represents a rich repository of convergent candidate genes that may be harnessed to improve our understanding of neurodegeneration, provide unique biomarkers for neurodegeneration, and facilitate the development of therapeutic strategies. We hope that these data will aid those studying neurodegeneration and pursuing therapies for these devastating diseases.
Availability of supporting data
Abbreviations
AD:

Alzheimer's disease
ALS:

Amyotrophic lateral sclerosis
CNM:

Common neurodegeneration module
CNS:

Central nervous system
DAVID:

Database for annotation, visualization and Integrated discovery
FDR:

False discovery rate
FTLD:

Frontotemporal lobar dementia
GEXC:

Gene expression commons
GO:

Gene ontology
GSEA:

Gene set enrichment analysis
HD:

Huntington's disease
MSigDB:

Molecular signatures database
PD:

Parkinson's disease
TF:

Transcription factor
Declarations
Acknowledgments
We thank the many scientists who have graciously put their gene expression data in the public domain, which has made our research possible. We thank Raymond Auerbach for assistance in interpreting ENCODE ChIP-Seq Significance Tool results. TCB was supported by a California Institute of Regenerative Medicine Clinical Research Fellowship. PK is funded by NIAID grant 1U19AI109662 and U19 AI057229.
Authors' Affiliations
(1)
Stanford University School of Medicine, Stanford, USA
(2)
Department of Neurosurgery, Stanford University, Stanford, USA
(3)
Stanford Institute for Immunity, Transplantation and Infection (ITI), Stanford Center for Biomedical Informatics Research (BMIR), Department of Medicine, Stanford University, Stanford, USA
Copyright
© Li et al.; licensee BioMed Central Ltd. 2014
This article is published under license to BioMed Central Ltd. This is an Open Access article distributed under the terms of the Creative Commons Attribution License (http://creativecommons.org/licenses/by/4.0), which permits unrestricted use, distribution, and reproduction in any medium, provided the original work is properly credited. The Creative Commons Public Domain Dedication waiver (http://creativecommons.org/publicdomain/zero/1.0/) applies to the data made available in this article, unless otherwise stated.