Rapidly progressive dementia with thalamic degeneration and peculiar cortical prion protein immunoreactivity, but absence of proteinase K resistant PrP: a new disease entity?
Acta Neuropathologica Communications
2013
1:72
Received: 29 October 2013
Accepted: 1 November 2013
Published: 11 November 2013
Abstract
Background
Human prion diseases are a group of rare fatal neurodegenerative conditions with well-developed clinical and neuropathological diagnostic criteria. Recent observations have expanded the spectrum of prion diseases beyond the classically recognized forms.
Results
In the present study we report six patients with a novel, apparently sporadic disease characterised by thalamic degeneration and rapidly progressive dementia (duration of illness 2–12 months; age at death: 55–81 years). Light and electron microscopic immunostaining for the prion protein (PrP) revealed a peculiar intraneuritic distribution in neocortical regions. Proteinase K resistant PrP (PrPres) was undetectable by Western blotting in frontal cortex from the three cases with frozen tissue, even after enrichment for PrPres by centrifugation or by phosphotungstic acid precipitation. Conformation-dependent immunoassay analysis using a range of PK digestion conditions (and no PK digestion) produced only very limited evidence of meaningful D-N (denatured/native) values, indicative of the presence of disease-associated PrP (PrPSc) in these cases, when the results were compared with appropriate negative control groups.
Conclusions
Our observation expands the spectrum of conditions associated with rapidly progressive dementia and may have implications for the understanding of the pathogenesis of prion diseases.
Keywords
Conformational assay
Prion protein
Protease-sensitive PrPSc
Prionopathy
Thalamic degeneration
Background
Human prion diseases (PrDs) are a group of rare fatal neurodegenerative conditions with well-developed clinical and neuropathological diagnostic criteria. The current consensus view of their underlying pathological process largely focuses on the presence of a pathological, disease-associated prion protein (PrP) conformer (PrPSc) that is involved in neurotoxicity, infectivity and strain differentiation [1]. PrPSc is distinguished from the physiological cellular conformer of PrP (PrPC) by an increased β-pleated sheet structure [2], and relative resistance to digestion with proteinase K (PK) (the products that are resistant to PK-digestion are termed PrPres). In human PrDs three major PK-resistant PrP types have been described that are readily identifiable by immunoblotting with a range of anti-PrP antibodies: type 1 (21 kDa non-glycosylated PrPres), type 2 (19 kDa non-glycosylated PrPres), and lower molecular mass (approximately 8 kDa) fragments [3, 4]. These PrPres types are thought to represent different conformational states of the protein. Together with the codon 129 polymorphism (methionine/valine, M/V), types 1 and 2 are important for the molecular classification of sporadic PrDs [5].
A different approach to the detection of PrPSc is employed in the conformation-dependent immunoassay (CDI). This uses increasing concentrations of the chaotropic salt guanidine hydrochloride (GdnHCl) to unmask epitopes in PrP that become hidden during the formation of PrPSc. This method has provided evidence that PrPSc also exists in abundance in protease-sensitive forms (senPrPSc) in human PrDs [6, 7]. However, CDI is not yet used routinely in human PrD diagnosis.
According to the etiological classification of PrDs, sporadic (idiopathic) Creutzfeldt-Jakob disease (sCJD) is the most frequently occurring form. This is a fatal disorder characterised neuropathologically by widespread spongiform change in the brain and prominent deposition of the disease-associated PrP with distinct morphologies [8]. However, one molecular form of sCJD differs in that only subtle spongiform change is seen and that prominent degeneration in the thalamus and inferior olives is the most prominent feature [9]. Indeed, this form was termed the thalamic form of CJD or sporadic fatal insomnia (sFI), due to its close phenotypic and biochemical similarity to a genetic PrD, fatal familial insomnia (FFI), which is associated with the D178N mutation in the prion protein gene (PRNP) and methionine encoded in the mutated allele at codon 129 [9]. Importantly, PrPres has been found (type 2) in both sFI and FFI, and immunostaining for PrP reveals mild, but distinct synaptic type immunodeposits [5]. Sporadic FI has always been associated with methionine homozygosity at codon 129 (and sometimes termed "MM type 2 thalamic CJD") [5].
Recent observations have expanded the spectrum of PrDs beyond the classically recognized forms associated with abundant PrPres to include a disease called variably protease-sensitive prionopathy (VPSPr) [10]. Immunoblotting shows a ladder-like pattern of protease-resistant PrP fragments, extending from approximately 8 kDa to the 18–30 kDa molecular mass range. Detection of the poorly protease-resistant PrPSc in VPSPr can require particular antibodies such as 1E4 (rather than by the 3F4 anti-PrP antibody) or enrichment after PK treatment [10, 11] for its detection by Western blotting. Nevertheless, in VPSPr, spongiform change and the widespread presence of disease-associated PrP immunoreactivity are observed, in conjunction with PrPres that is detectable by immunoblotting. Thus, in PrDs the disease-associated PrPSc may be in the form of PrPres or PrPsen (i.e. protease-sensitive PrPSc or senPrPSc) but is distinguishable from the physiological PrPC. The roles of and relationship between senPrPSc and PrPres are not yet known, however no PrDs have yet been described in which senPrPSc is detectable in the apparent absence of PrPres.
In the present study we report six individuals who presented clinically with rapidly progressive dementia and neurological symptoms. Neuropathological examination did not reveal spongiform encephalopathy, but thalamic degeneration and a peculiar PrP immunoreactivity was found in the cortex. The identification of such cases expands the spectrum of conditions associated with rapidly progressive dementia and may have implications for the understanding of the pathogenesis of prion diseases.
Results
Case reports
Case 1
A 77-year-old woman presented with progressive cognitive decline associated with psychiatric symptoms. Later gait ataxia appeared and myoclonus was observed in the extremities. Pyramidal signs were observed terminally. Examination of CSF 14-3-3 revealed strong positivity, with a normal cell count and moderately elevated protein (64 mg/dl), while the EEG did not show periodic sharp waves or triphasic components. MRI was not performed. She died after a 12-month illness in April 2010. Clinically sCJD was suspected. No mutations were found in the PRNP gene; the codon 129 was MM.
Case 2
A 55-year-old woman presented with progressive dementia and a gait disorder associated with choreiform movements developing within a few months. She received tiapridhydrochloride and haloperidol. Screening for Huntingtin mutations excluded any alteration. In January 2011 she was admitted to hospital due to impairment in gait and the appearance of myoclonus. An akinetic-rigid state was observed and she was unable to walk. Cranial CT revealed widening of the sulci in the frontotemporal areas and moderate ventricle enlargement. Routine laboratory parameters were in a normal range. After admission, a generalized epileptic seizure occurred, and levetiracetam therapy was initiated with discontinuation of the neuroleptic drugs. Only mild chorea was noted at this time. EEG revealed theta-delta waves with focal spikes in the temporal region bilaterally. Mini Mental State was 10/30. Soon dysphagia appeared with recurrent aspiration pneumonia. After a temporary stay at home, she was re-admitted in late April 2011. Pyramidal signs and akinetic mutism were observed and she died due to respiratory insufficiency after 12 months of illness. CJD was suspected only terminally, and CSF 14-3-3 and MRI were not conducted. No mutations were found in the PRNP gene; the codon 129 was MM.
Case 3
This 81-year-old man presented with visual hallucinations, which rapidly progressed to cortical blindness. In addition ataxic gait and progressive cognitive decline were documented. Later myoclonus was observed in the extremities. Examination of CSF 14-3-3 revealed moderate positivity, with a normal cell count, while the EEG did not show periodic sharp waves or triphasic components. Cranial MRI did not reveal signal alterations in the thalamus, basal ganglia or cortex (Additional file 1: Figure S1a). He died after a 2-month illness in April 2013. Clinically sCJD was suspected. No mutations were found in the PRNP gene; the codon 129 was MM.
Case 4
This 74-year-old woman with a 6-month history of ataxia and cognitive decline was admitted to a Neurology Department. Her father had died at the age of 63, and her mother at the age of 73 years, both with pulmonary disease, but without a neuropsychiatric disorder. Neurological examination revealed mild rigidity of the neck muscles and mild gaze impairment in all directions, while myokymia was observed in the temporal and masseter muscles. In addition hypacusis, hypomimia, myoclonus in the shoulder muscles, dysphagia, limb (right > left) and axial rigidity, ataxia, dysdiadochokinesia, slow psychomotor activity, acalculia, apraxia, and urinary incontinence were also described. Mini Mental State was 20/30, which decreased to 7/30 after a week. Repeated cranial MRI revealed ventricular enlargement with periventricular white matter T2 hyperintensities and moderate diffuse cortical atrophy (Additional file 1: Figure S1b). In addition, a tumor (neuroradiologically compatible with acoustic schwannoma) was observed in the left cerebellopontine angle (27x16x19 mm); this did not show progression. Increased pressure of CSF was not detected, and no clinical improvement was observed after taking 30 ml CSF. At this time urinary incontinence was not present. Examination of the CSF showed normal cell count. Protein 14-3-3 was moderately positive. Dopamine transporter (DAT)-SPECT showed loss of DAT density in the basal ganglia (left predominant) and was suggestive of Parkinson's disease. However L-Dopa substitution did not lead to improvement. EEG was performed on days 4, 19, 31 and 62 after admission showing slow activity with occasional triphasic waves in the frontotemporal regions bilaterally (Additional file 1: Figure S1c). Soon after akinetic mutism developed and the patient died due to aspiration pneumonia after 6 months duration of illness in April 2011. Clinically sCJD was suspected. No mutations were found in the PRNP gene; the codon 129 was heterozygous (MV).
Case 5
This 62-year-old man was admitted to the Neurology department in July 2010, due to progressive gait disorder in the past 6 months. There was neither a history of neuropsychiatric disease in his parents nor a relevant personal medical history, except for alcohol abuse. Neurological examination revealed hypomimia, mild dysarthia, bradykinesia, limb ataxia (left > right) and distal hypesthesia in the lower limbs. Barthel index was 90/100, Mini Mental State 24/30, clock test 3/7. Cranial MRI showed diffuse cortical atrophy and DAT SPECT revealed bilateral decreased striatal expression. A neurodegenerative Parkinsonian syndrome, cognitive decline, alcohol abuse with hepatopathy (elevated plasma ASAT/GOT) and polyneuropathy were diagnosed; L-Dopa, low-dose dopamine-agonist, gabapentin, rasagilin, and dexibuprofen therapy was initiated. He was re-admitted to the hospital in January 2011 due to non-compliance with the therapy, depressive mood, visual hallucinations, agitation and ongoing alcohol abuse. CSF protein 14-3-3 was not assessed. He died due to pneumonia within 2 weeks. The duration of illness was 9 months. Dementia with Lewy bodies (DLB) was suspected clinically although it was felt that the patient's long-standing alcohol abuse precluded a clinical diagnosis of probable DLB. Analysis of the PRNP gene was not performed.
Case 6
In March 2012 a 79-year-old woman with a 6-month history of progressive gait disorder, cognitive decline and most recently, change of character and oculomotor disturbance, was transferred to the clinic for further evaluation. The neurologic exam showed hypersomnolent apathy, amnesic syndrome, and impaired gaze. Cerebral MRI revealed bi-thalamic signal-alterations in FLAIR and diffusion-weighted sequences (Additional file 1: Figure S1d,e). EEG showed continuous generalized delta-theta activity but no periodic or triphasic waves. Extended CSF examination showed no signs of encephalitis or paraneoplastic disease. Due to the clinical presentation as well as matching imaging and laboratory findings with marked generalized vitamin and protein deficiency and a history of severe chronic gastritis, non-alcoholic Wernicke encephalopathy was initially suspected. Despite vitamin and protein replacement therapy the patient's clinical status deteriorated and the patient died one month after admission because of respiratory insufficiency due to pleural effusion. Considering course and progression of disease, sCJD was suspected terminally. Analysis of the PRNP gene was not performed.
Summary of clinical data
The age range of the patients was between 55 to 81 years at death and the duration of illness varied between 2 and 12 months (Table
1
). The major clinical features were progressive dementia and gait disorder, ataxia, myoclonus, and extrapyramidal symptoms, including Parkinsonism in three, supported by decreased striatal DAT expression in two. Neither prominent sleep disorder nor polysomnography were reported or performed. EEG did not reveal periodic sharp wave complexes or permanent triphasic waves; CSF 14-3-3 was examined in three and showed positivity in all. Cranial MRI was performed in four; increased signal in the thalamus was observed in one. In five cases CJD was suspected clinically (in two only terminally) and in three could be classified as probable according to the WHO Surveillance criteria [
27
] prior to autopsy. Neither neurosurgery nor ophthalmic surgery had been performed; they had not received growth or gonadotropin hormone therapy. A positive family history for neuropsychiatric disorders was not reported in any of the cases.
Table 1
Overview of clinical data and performed examinations in the six patients
| Patient | Case 1 | Case 2 | Case 3 | Case 4 | Case 5 | Case 6 |
| --- | --- | --- | --- | --- | --- | --- |
| Age at death | 77 | 55 | 81 | 74 | 62 | 80 |
| Duration of illness | 12 | 12 | 2 | 7 | 9 | 7 |
| Sex | F | F | M | F | M | F |
| Codon 129 | MM | MM | MM | MV | NA | NA |
| Symptoms | | | | | | |
| Progressive dementia | + | + | + | + | + | + |
| Ataxia (Gait or Limb) | + | + | + | + | + | + |
| Parkinsonism | - | + | - | + | + | - |
| Myoclonus | + | + | + | + | - | - |
| Chorea | - | + | - | - | - | - |
| Pyramidal signs | + | + | - | - | - | - |
| Oculomotor disturbance | - | - | - | - | - | + |
| Cortical blindness | - | - | + | - | - | - |
| Clinical suspicion | CJD | CJD | CJD | CJD | DLB + ALC | WE/CJD |
| WHO Criteria (CJD) | Prob | Poss | Prob | Prob | * | - |
| Examinations | | | | | | |
| CSF 14-3-3 | + | NA | + | + | NA | NA |
| MRI | No | No | Yes | Yes | Yes | Yes |
| CDI (PM) | Yes | Yes | NA | Yes | NA | NA |
| WB (PM) | Yes | Yes | NA | Yes | NA | NA |
| Neuropathology | | | | | | |
| BB stage | 2 | 2 | 2 | 0 | 0 | 2 |
| Thal Phase | No | 1 | 1 | No | No | 1 |
| Lewy body (B Stage) | No | No | No | No | No | No |
| phTDP-43 | No | No | No | No | No | CA1 syn |
| Other | No | No | AG, MH | No | No | No |
Neuropathological, immunohistochemical, and ultrastructural observations
Macroscopical evaluation of the brains revealed atrophy of the thalamus and additionally mild to moderate cerebral cortical atrophy in all lobes in case 1, 3 and 6, moderate atrophy in the caudate nucleus with mild depigmentation of the substantia nigra in cases 2 and 5, and a mild degree of atrophy in the frontal and temporal lobes in cases 4 and 5. There was a lack of macroscopic evidence of discoloration of the mammillary bodies or petechial haemorrhages in the medial thalamus or brainstem tegmentum.
Common histopathological features
All six cases showed a relatively uniform histopathological phenotype (Table
2
) characterised by prominent neuronal loss and reactive astrogliosis in the thalamus. In particular, the medial (Figure
1
a,b), but also median and intralaminar nuclei were affected, while the anterior nucleus was only moderately affected, and lateral thalamic nuclei were not involved. In addition segmental gliosis of the inferior olives together with occasional vacuolated neurons (Figure
1
c), and mild to moderate loss of neurons in the substantia nigra was noted. There was a lack or only subtle presence of classical spongiform change as described in CJD. However, a moderate degree of spongiosis of the superficial layers in the frontal, temporal, and parietal cortex as seen also in other neurodegenerative diseases (i.e. Alzheimer's, dementia with Lewy bodies or frontotemporal lobar degeneration) was noted. Gliosis was moderate in the striatum, while neocortical areas were variably involved, in particular the second and third layers (Figure
1
d).
Table 2
Summary of neuropathological observations
Case 1

Case 2

Case 3

Case 4

Case 5

Case 6

Region

SC

G

PrP

SC

G

PrP

SC

G

PrP

SC

G

PrP

SC

G

PrP

SC

G

PrP

Frontal Cx

+

++

++

+

+

+

-

-

+

-

+

+

-

++

-

+

++

+

Parietal Cx

-

+

-

+

+

++

-

+

+

-

+

++

-

++

++

+

++

+

Temporal Cx

-

+

+

-

+

-

-

-

-

-

+

+

-

-

-

-

-

-

Occipital Cx

-

+

+

-

++

+++

-

+

+++

-

+

+

-

++

++

NA

NA

NA

Entorhinal Cx

+

-

-

-

-

-

-

-

-

-

-

-

-

-

-

-

-

-

Hippocampus

-

-

-

-

-

-

-

-

-

-

-

-

-

-

-

-

-

-

Thalamus-Med

-

+++

-

-

+++

-

-

+++

-

-

+++

-

-

+++

-

-

+++

-

Thalamus-Lat

-

+

-

-

++

-

-

-

-

-

-

-

-

-

-

-

-

-

Thalamus-Ant

-

++

-

-

+

-

-

+

-

-

+

-

-

++

-

-

++

-

Caudate nucleus

-

++

-

-

++

-

-

+

-

-

++

-

-

++

+

-

+

-

Putamen

-

+

-

-

++

-

-

-

-

-

+

-

-

+

-

-

+

-

Globus pallidus

-

-

-

-

-

-

-

-

-

-

-

-

-

-

-

-

-

-

Substantia nigra

-

+

-

-

-

-

-

-

-

-

+

-

-

+

+

-

+

-

Dorsal raphe nucleus

-

+

-

-

+

-

-

+

-

-

++

-

-

+

-

-

-

-

Locus coeruleus

-

-

-

-

-

-

-

-

-

-

-

-

-

-

-

-

-

-

Pontine base nuclei

-

-

-

-

-

-

-

-

-

-

-

-

-

-

-

-

-

-

Inferior olive

-

++

-

-

++

-

-

+

-

-

++

-

+

+++

-

++

++

-

Dentate nucleus

-

-

-

-

-

-

-

-

-

-

-

-

-

-

-

-

+

-

Cbll Mol layer

-

-

-

-

-

+

-

-

+

-

-

-

-

-

-

-

-

-

Cbll Gran Layer

-

-

-

-

-

-

-

-

-

-

-

-

-

-

-

-

-

-

Purkinje cells

-

-

-

-

++

-

-

-

-

-

-

-

-

-

-

-

-

-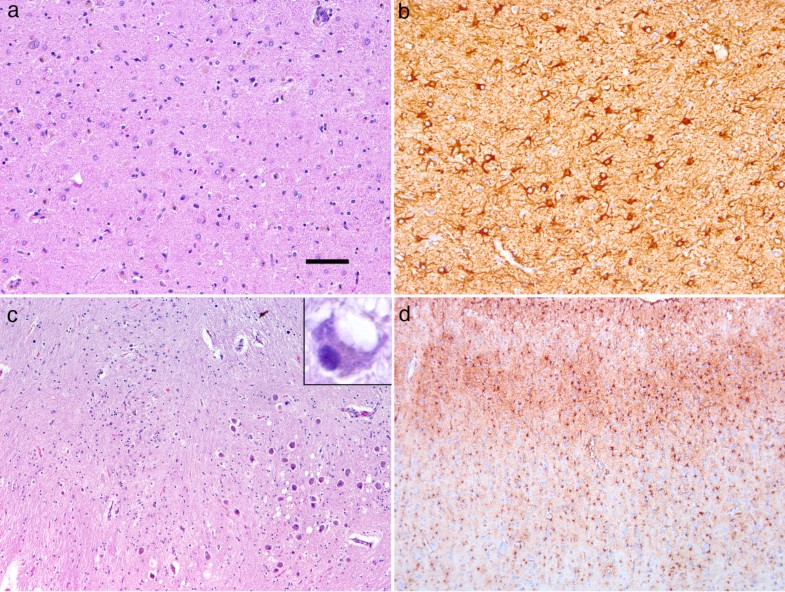 Immunostaining for PrP revealed a characteristic pattern in the neocortical regions. Tiny granular deposits apparently decorating branching neuronal processes in a linear or worm-like appearance with tiny varicosities were observed predominantly in the second and third layers (Figure
2
a-c). In cases 2 and 3 we observed similar immunoreactivity in the molecular layer of the cerebellum parallel to the surface (Figure
2
c inset). Occasionally, small cell bodies were depicted as well (Figure
2
d). Plaque-like or intraneuronal inclusion-like deposits [
21
] were not seen. Neuritic deposits were best detected by 12F10, 6H4, L42, and KG9, only focally by 3F4, and not by the anti-N-terminal BG4 antibody (Figure
2
e-h). Significantly, PK treatment completely abolished this staining (Figure
2
i, j), while it was slightly more detectable when using only elongated citrate buffer pre-treatment and omitting formic acid pre-treatment (Figure
2
k, l). Interestingly, PET-blot examination performed using Thermolysin digested PrP
C
completely from the frontal cortex brain tissue of a non-CJD control case, while in the present cases the worm-like structures remained visible, and in the cortex of a subject with CJD abundant PrP
Sc
deposition was seen (Figure
1
m-o). PET-blot performed with PK was negative in a non-CJD control case and the present cases, but positive in a case of sFI and sCJD (Additional file
1
: Figure S2). Ultrastructural examination of the same immunoreactivities in the same section (case 1) demonstrated intraneuritic localization of immuno-gold particles, partly associated with endosomal structures (Figure
3
). A similar morphological appearance of PrP immunoreactivity was not observed in any of our definite CJD cases without selective thalamic degeneration, GSS, base pair insertion cases, or in the cases with other neuropathological diagnoses (see above). Accordingly, we defined this branching or linear neuritic immunoreactivity for senPrP
Sc
as a specific feature for the six cases with thalamic degeneration. In none of the cases with Wernicke encephalopathy we observed similar PrP immunoreactivity. However, in two FFI cases with MM at codon 129 we observed similar deposits in the frontal and occipital cortex, while in the FFI case with MV at codon 129 this was very occasional and associated with synaptic deposits characteristic of PrDs (Additional file
1
: Figure S3). Immunostaining for alpha-synuclein, phospho-TDP-43 and FUS did not reveal any pathological deposits, while anti-phospho-tau showed occasional tiny neuritic profiles in the neocortex. There was a lack of ischaemic/hypoxic damage in the cortical areas showing the peculiar PrP immunoreactivity; moreover, anti-APP did not demonstrate bulbs or axonal staining.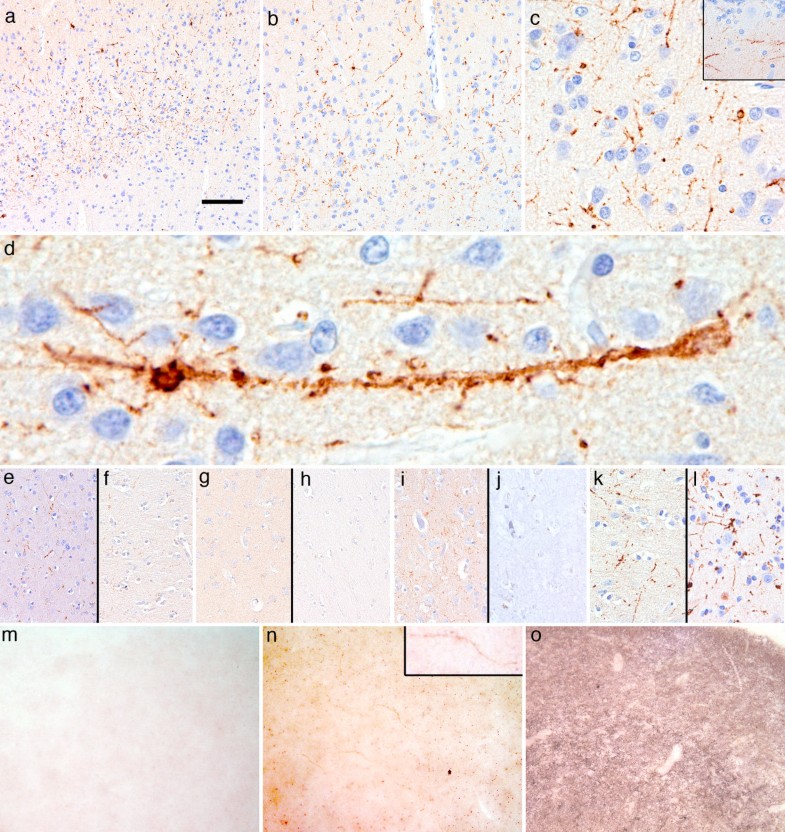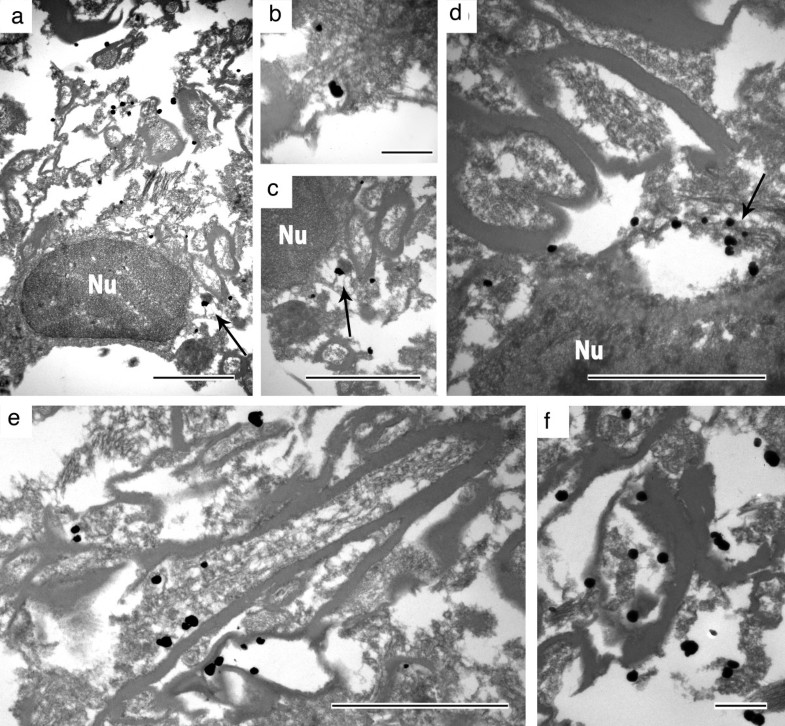 Additional alterations detected in some cases
Segmental loss of Purkinje cells was observed in case 2. A mild degree of neurofibrillary degeneration was noted in four cases (Braak & Braak stage II; Table 1). Scattered neurons with cytoplasmic p62 immunoreactive granular bodies were seen in the thalamus, and in cortical areas where PrP immunoreactivity was seen only in Patient 2, while other regions and brains of further subjects did not exhibit p62 inclusions. Case 6 (80 years-old) showed synaptic and thin neuritic phTDP-43 immunoreactive deposits in the CA1 subregion of the hippocampus. In case 3 tiny microhemorrhages in the hypothalamus/corpus mamillare reminiscent of Wernicke encephalopathy were observed, however, without obvious capillary proliferation. Periaqueductal regions of the brainstem did not show haemorrhages, and there was a lack of Prussian-blue positive blood pigments. The gliotic medial thalamus nuclei did not show haemorrhages or endothelial proliferation.
Biochemical investigation
Frozen specimens of frontal cortex, occipital cortex and cerebellum from case 1, frontal cortex from case 2, and frontal cortex and cerebellum from case 4 were initially available for study and were used for the detection of PrPres by Western blotting. A routine diagnostic Western blotting method involving digestion of a 10% w/v brain homogenate with 50 μg/ml proteinase K (PK), electrophoresis of 5–24 μl of the PK treated sample, and detection using the 3F4 anti-PrP antibody (epitope: residues 106–112 of the human PrP sequence) consistently failed to detect PrPres in these samples (data not shown).
Conformation dependent immunoassay (CDI) using a capture antibody to a discontinuous C-terminal epitope (MAR-1) and detection using a Europium conjugated detection antibody (3F4) that recognises its epitope in denatured, but not native PrPSc was then used as an alternative sensitive PrPSc detection method that does not necessarily depend on the presence of protease-resistant abnormal PrP. The time resolved fluorescence read-out of the CDI assay was calibrated using recombinant human prion PrP and the results expressed as μg PrP/g of brain sample analysed. The values obtained under native conditions were taken to be a measure of normal cellular prion protein (PrPC), whereas any increase in values obtained following denaturation with guanidine hydrochloride (D-N) were taken to indicate the presence of PrPSc.
It remained possible that brain regions other than frontal cortex might contain more readily CDI-detectable PrPSc in cases 1, 2 and 4. Samples of additional brain regions were obtained for case 2 and these were analysed by CDI without prior PK treatment or with mild PK treatment (2.5 μg/ml). In no brain region of case 2 (including the thalamus) did the D-N value exceed that found in the frontal cortex when CDI was performed in the absence of PK treatment (Additional file 1: Figure S6a). Following low-level PK treatment, the D-N values of all regional samples were again markedly reduced (Additional file 1: Figure S6b).
In summary, Western blotting using a range of relevant anti-PrP antibodies (to detect different PrPres fragments) and two different sample enrichment methods (to increase PrPres detection sensitivity) failed to produce evidence of PrPres in these cases, similar to that which is found in CJD, sFI, FFI or VPSPr (Figures 4, 5 and 6). CDI analysis using a range of PK digestion conditions (and no PK digestion) produced only very limited evidence of meaningful D-N values, indicative of the presence of PrPSc in these cases, when the results were compared with appropriate negative control groups (Figures 7 and 8).
Discussion
General context
Distinct neurodegenerative diseases are characterised by progressive loss of neurons predominantly from specific anatomical regions, and this presumably accounts for the specific focal deficits and clinical features. A further feature is the deposition of a limited range of proteins, and the particular proteins involved are the basis of the molecular pathological classification [30]. This latter concept has implications for biomarker development, be it either using body fluids or substances that allow in vivo detection of pathological protein deposition in the brain (i.e. Pittsburgh compound B is already used for visualizing amyloid-β in Alzheimer's disease) [31]. However, there are numerous disease-associated protein modifications, but their pathogenetic relevance is not yet understood fully. The presence of PK-resistant PrP was for many years considered the defining molecular feature of PrDs, until CDI showed that disease-associated PrP (PrPSc) actually exists in PK-sensitive forms in addition to the more familiar PK-resistant forms and that PK-sensitive forms of PrPSc usually predominate [7, 32]. The significance of senPrPSc was supported and extended by the description of the human disease VPSPr, in which PrPSc is readily detectable, but PrPres is found only at low and variable levels with a highly characteristic "ladder-like" appearance in immunoblotting [10, 11].
On the basis of their clinico-pathological phenotype we believe that the six cases reported here (1) are sufficiently similar to be considered as representing examples of the same disease entity, (2) have clinical and neuropathological in common with human prion disease, (3) fall outside the currently known spectrum of human prion diseases, but (4) lack a plausible alternative diagnosis. It should be noted that in cases 5 and 6 genetic analysis could not be performed, thus, in spite the lack of family history for a similar disorder, we cannot exclude the possibility that these cases represent atypical forms of FFI. Furthermore, in these cases and case 3 we could not evaluate biochemical alterations in detail and thus we are forced to base our conclusions primarily on the neuropathological evaluation of this group of cases as a whole.
Biochemical aspects
One of the consistent features of the cases described here is the presence of a highly unusual immunostaining pattern for PrP in the cerebral cortex. The key question that follows from this observation is, whether this novel immunostaining pattern is accompanied by the presence of PrP in these cases in a form that is recognised to occur in known PrDs. Intensive investigation using the best available methods seems to suggest that it does not. If disease associated PrP is present in these cases it must be i) in samples or brain regions that were not analysed biochemically, ii) at levels below the detection limits of Western blotting and CDI, or iii) in a form that is indistinguishable from PrPC in Western blotting and CDI as employed here. There is a growing recognition that the analysis of highly protease-resistant PrP in the brain in PrD does not provide a full description of the abnormal forms of PrP present in the tissue and that protease sensitive forms of PrP play a role in pathogenesis and transmissibility [33]. The situation that we report here could potentially represent a very extreme example of this phenomenon. If true it seems to indicate that end stage disease (i.e. in the present cases with thalamic degeneration) can be reached without gross accumulation of highly protease-resistant PrP. Whether prionopathies that lack detectable PrPres in the brain are transmissible (a major feature of PrDs), needs to be determined, and transmission studies have been initiated involving one of our cases.
Clinical features
The rapidly progressive clinical course raised the suspicion of PrD in three out of the six subjects. Indeed, according to WHO Surveillance criteria [27] these cases were classified as probable CJD, including detection of protein 14-3-3 in the CSF. This is different from the thalamic form of sCJD (i.e. sFI) [9]. Furthermore, there was no evidence of a sleep disorder or autonomic dysfunction either, which would have raised this diagnosis or would have initiated a polysomnographic examination during life. Parkinsonism, which is also a feature of the VPSPr cases [10], was a notable finding in some cases, and was supported by SPECT examination of the basal ganglia in two patients. These clinical observations were compatible with the loss of neurons in the substantia nigra and gliosis in the striatum, although the degree did not reach that seen in Parkinson's disease or other neurodegenerative disease with Parkinsonism. One case was classified as dementia with Lewy bodies on clinical criteria and only the neuropathological evaluation clarified the diagnosis. This emphasises the need for systematic neuropathological evaluation in the clinical setting of rapidly progressive Parkinsonism with dementia, even when supported by imaging findings, since dementia with Lewy bodies may have a rapidly progressive form also [34]. In one subject (case 2) the possibility of Huntington's disease was also raised, and in another patient (case 4) hydrocephalus was observed. In the latter, clinical examinations did not show increased pressure and no clinical improvement was observed after taking 30 ml CSF, but rather there was a decreased DAT expression in the striatum. There is a spectrum of disorders, which may mimic PrDs [35–37] and which were excluded both during clinical examinations and neuropathology. In sum, rapid dementia is a common feature of our cases, which show some variability in other symptoms; concomitant pathologies, which are frequent in the elderly, may influence the symptoms [38].
Epidemiology
We note that in the period between 1993 and 2013, a total of 249 definite CJD cases were diagnosed (sporadic, iatrogenic, genetic) in Austria as part of PrD Surveillance. However, we did not observe the thalamic type of CJD (sFI) in this cohort. The fact that our six cases with a similar neuropathological phenotype were diagnosed within two years is striking but should be interpreted with caution; in particular the frequency of rare diseases may vary considerably when analysed on a yearly basis. Follow-up studies are required to clarify these epidemiological aspects. Interestingly, in contrast to sFI cases, which are associated with MM at codon 129, one of the present cases was MV. On a neuropathological level, we could not see any major differences between this MV case and the other cases.
Pathological diagnosis
Immunostaining for disease-associated PrP has become a standard for the definitive diagnosis of PrDs. There are different patterns, including synaptic, patchy/perivacuolar, perineuronal, or plaque types, which can be detected by an enhanced pretreatment method that includes formic acid or PK and autoclaving [17]. Indeed, these patterns correlate well with recognised molecular subtypes [39]. Disease-associated PrP, detectable also after PK-treatment, may also deposit intraneuronally usually associated with the endosomal-lysosomal system but also rarely forming inclusion bodies [21, 40]. In addition, a recent study suggested that filamentous PrP immunoreactivity may be a common feature of genetic PrDs [41]. In the present cases we observed none of the aforementioned immunostaining patterns, but instead we observed a neuritic distribution as a new pattern, which appeared uniformly in each of our six cases and was not detected in our surveillance cohort of various human PrDs or in a cohort of non-PrD cases, which were processed and evaluated with the same methods. Interestingly, only in the examined FFI cases we detected similar cortical PrP deposits in addition to classical synaptic type immunoreactivity. This could support a relationship to FFI. Alternatively, it could be theorised that damage to the thalamic neurons causes secondary damage to thalamocortical projections. Although in 8 cases with thalamic pathology we did not observe similar immunoreactivities, we cannot exclude this possibility. Still this indicates that PrP may undergo conformational change, which expands beyond the well-established morphologies. In a single case we detected microhaemorrhages in the hypothalamus suggestive of Wernicke-encephalopathy. However, we did not observe signs of a chronic form of Wernicke encephalopathy, moreover in six cases with classical morphological features of Wernicke encephalopathy, there was a lack of similar PrP immunoreactivity in the cortex. Interestingly, Wernicke encephalopathy may associate with sCJD [42]. Although reminiscent of the recently reported filamentous PrP immunoreactivity [41], the peculiar immunoreactivity in our cases was confined to the 2nd and 3rd layers of the neocortex or occasionally to the molecular layer of the cerebellum but was never observed in the white matter. The peculiar branching type of cortical immunoreactivity in our series of cases was abolished by PK-treatment of sections and somewhat increased by the omission of the formic acid pre-treatment. Interestingly, some samples in the above study on filamentous PrP immunoreactivity [41] also lacked PK-resistant PrP; however it was not stated whether samples showing the immunoreactivity were evaluated or not [41]. The neuritic immunoreactivity in our cases was not uniformly detectable by all of the anti-PrP antibodies used. Thus, care must be taken which anti-PrP antibody is used when evaluating cases with thalamic degeneration without alternative pathologies. In our ultrastructural analysis, we were able to examine the same section used for light microscopy and electron microscopy [21], and demonstrated the presence of PrP immunoreactivity associated with endosomes, which are crucial players in the processing of PrP [43]. The lack of detection using the N-terminal anti-PrP antibody also suggests that PrP undergoes processing (i.e. truncation) within the cell. Furthermore, the unique detection of this type of PrP immunoreactivity in PET-blot after thermolysin, but not following PK treatment, supports the notion that this neuritic PrP immunoreactivity pattern could be the immunomorphological representative of a disease-associated PK-sensitive PrP conformer (senPrPSc). Thermolysin has previously been shown to digest PrPC leaving both PK sensitive and resistant PrPSc isoforms undigested [20]. The concept that some PrP deposits may contain PK-sensitive PrP is further supported by recent observations in a genetic prion disease case carrying a 144 base pair insertion [44]. There are further immunostaining patterns associated with non-PrDs that are thought to represent PrPC [45, 46]. A similar neuritic pattern has not been described; moreover, in our cases we excluded ischaemic/hypoxic damage as a potential cause for PrPC upregulation. Additionally, the lack of neuritic anti-APP immunoreactivity was not suggestive of a defect of the acute axonal transport. Thus, in addition to the already characterised immunomorphology of physiological cellular PrP [45] and disease-associated PrP with corresponding PK-resistance in immunoblottting [17], further comparative studies are needed to characterise the spectrum of immunoreactivities that represent conformationally altered ("disease-associated") PrP forms with PK-sensitivity (i.e. senPrPSc). In 2005, Safar et al. suggested that CDI is substantially more sensitive than immunohistochemistry [7]. This report places some constraints on the interpretation of CDI in a diagnostic role and shows how immunohistochemistry remains useful especially in atypical cases such as these.
Conclusion
In conclusion, we present here six cases with a uniform neuropathological phenotype (thalamic degeneration with cortical neuritic PrP immunoreactivity) associated with a fatal clinical disease and rapidly progressive dementia and (where tested) with apparently PK-sensitive disease-associated PrP. The neuropathological phenotype shows similarities with sporadic and familial fatal insomnia. In the present study we cannot conclude whether the observed biochemical phenotype is related to the spectrum of atypical prionopathies or reflects a completely different disease-process. Whether the present cases represent a PK-sensitive subtype of sporadic fatal insomnia (also called MM type 2-thalamic) or a different entity, possibly even unrelated to the PrDs, merits further study. Clinico-pathological aspects of these cases have implications for the differential diagnosis and pathogenesis of neurodegenerative diseases, as well as for surveillance of human prion diseases. Neurodegeneration may be present in the brain without prominent pathological protein depositions.
Author's contributions
GGK, SW, ASB, RH, JWI and HB carried out the histological and PET-blot analysis and collated the neuropathological data. AP, HY, AG, MWH carried out the protein and CDI analysis and Western blotting and collated the biochemical data. SK, RK, DL, HA, EZ, EH, AG, AM, and MK recruited, clinically and neuroradiologically examined the patients. TS carried out the genetic analysis. TV performed laboratory diagnostic investigations. LL and GP performed the ultrastructural examination. GGK, AP, and MWH wrote the manuscript. GGK, AP, JWI, LL, MWH, and HB critically read and revised the manuscript. All authors read and approved the final manuscript.
Declarations
Acknowledgements
This study was performed as part of the Austrian Surveillance for Prion Diseases (OERPE) study supported by the Federal Ministry of Health, Austria. We are grateful to Dr. Manfred Cejna (Zentrales Radiologisches Institut, Landeskrankenhaus Rankweil) and Dr. Alexander Becherer (Nuklearmedizinische Abteilung des LKH-Feldkirch) for providing the neuroradiological and nuclear medicine report. We are grateful for Dr Jan Langeveld (Central Veterinary Institute of Wageningen UR, Lelystad, The Netherlands) for providing the 1E4 and 94B4 antibodies. Technical support from Dr. Kinga Molnar (Department of Anatomy, Cell and Developmental Biology, Eötvös Lorand University of Sciences, Budapest, Hungary) in preparing the electron microscopic image, and technical support from Ms. Irene Leisser (Institute of Neurology, Vienna, Austria) is highly acknowledged. The National CJD Research & Surveillance Unit (NCJDRSU) is funded by the Department of Health, UK, and the Scottish Government. The Brain Bank at the NCJDRSU is supported by the MRC (RA1130). The contribution to this study by the NCJDRSU constitutes an independent report commissioned and funded by the Policy Research Program in the Department of Health, UK. The views expressed in the publication are those of the authors and not necessarily those of the Department of Health, UK. This study was partly supported by the Austrian-Hungarian Action Foundation (No 82öu8; to L.L., G.G.K.), by the Hungarian Scientific Research Fund (OTKA-NK78012; to L.L.), and by DEVELAGE, a 7th framework programme (FP7/2007-2013) under grant agreement N° 278486 (G.G.K.).
Authors' Affiliations
(1)
Institute of Neurology, Medical University of Vienna and Austrian Reference Centre for Human Prion Diseases Vienna, Vienna, Austria
(2)
National CJD Research & Surveillance Unit, University of Edinburgh, Edinburgh, UK
(3)
Laboratory of Neuropathology, Department of Pathology and Neuropathology, State Neuropsychiatric Hospital Wagner-Jauregg, Linz, Austria
(4)
Department of Neurology, Landeskrankenhaus Rankweil, Rankweil, Austria
(5)
Department of Neurology and Karl Landsteiner Institute for Neuroimmunological and Neurodegenerative Diseases, Donauspital / Danube Hospital, Vienna, Austria
(6)
Neuromedizinische Ambulanzzentrum, State Neuropsychiatric Hospital Wagner-Jauregg, Linz, Austria
(7)
2nd Department of Neurology, Hietzing Hospital and Neurological Center Rosenhügel, Vienna, Austria
(8)
CSL Behring, Marburg, Germany
(9)
Department of Anatomy, Cell and Developmental Biology, Eötvös Lóránd University of Sciences, Budapest, Hungary
(10)
Department of Neurology, University Clinics Innsbruck, Innsbruck, Austria
(11)
Department of Neuroradiology, University Clinics Innsbruck, Innsbruck, Austria
(12)
Institute of Neuropathology, University Hospital Zürich, Zürich, Switzerland
Copyright
© Kovacs et al.; licensee BioMed Central Ltd. 2013
This article is published under license to BioMed Central Ltd. This is an Open Access article distributed under the terms of the Creative Commons Attribution License (http://creativecommons.org/licenses/by/2.0), which permits unrestricted use, distribution, and reproduction in any medium, provided the original work is properly cited. The Creative Commons Public Domain Dedication waiver (http://creativecommons.org/publicdomain/zero/1.0/) applies to the data made available in this article, unless otherwise stated.