Identification of a neuronal transcription factor network involved in medulloblastoma development
Acta Neuropathologica Communications
2013
1:35
Received: 18 June 2013
Accepted: 18 June 2013
Published: 11 July 2013
Abstract
Background
Medulloblastomas, the most frequent malignant brain tumours affecting children, comprise at least 4 distinct clinicogenetic subgroups. Aberrant sonic hedgehog (SHH) signalling is observed in approximately 25% of tumours and defines one subgroup. Although alterations in SHH pathway genes (e.g. PTCH1, SUFU) are observed in many of these tumours, high throughput genomic analyses have identified few other recurring mutations. Here, we have mutagenised the Ptch+/- murine tumour model using the Sleeping Beauty transposon system to identify additional genes and pathways involved in SHH subgroup medulloblastoma development.
Results
Mutagenesis significantly increased medulloblastoma frequency and identified 17 candidate cancer genes, including orthologs of genes somatically mutated (PTEN, CREBBP) or associated with poor outcome (PTEN, MYT1L) in the human disease. Strikingly, these candidate genes were enriched for transcription factors (p= 2x10-5), the majority of which (6/7; Crebbp, Myt1L, Nfia, Nfib, Tead1 and Tgif2) were linked within a single regulatory network enriched for genes associated with a differentiated neuronal phenotype. Furthermore, activity of this network varied significantly between the human subgroups, was associated with metastatic disease, and predicted poor survival specifically within the SHH subgroup of tumours. Igf2, previously implicated in medulloblastoma, was the most differentially expressed gene in murine tumours with network perturbation, and network activity in both mouse and human tumours was characterised by enrichment for multiple gene-sets indicating increased cell proliferation, IGF signalling, MYC target upregulation, and decreased neuronal differentiation.
Conclusions
Collectively, our data support a model of medulloblastoma development in SB-mutagenised Ptch+/- mice which involves disruption of a novel transcription factor network leading to Igf2 upregulation, proliferation of GNPs, and tumour formation. Moreover, our results identify rational therapeutic targets for SHH subgroup tumours, alongside prognostic biomarkers for the identification of poor-risk SHH patients.
Keywords
Medulloblastoma
Mutagenesis
Transcription network
Differentiation
Background
Medulloblastoma (MB) is the most common malignant brain tumour of childhood, accounting for around 10% of paediatric cancer deaths. Despite recent therapeutic advances, up to 40% of patients still die from their disease and cure is often associated with disabling therapy-related effects in later life. New therapeutic approaches based on improved biological understanding of the disease will be essential to improve outcomes, through strategies such as the delivery of risk-adapted therapies guided by molecular prognostic biomarkers, and the stratified use of molecularly-targeted agents (reviewed in [1]).
Four major molecular subtypes of medulloblastoma with distinct biological, clinical and pathological features are now recognised, and this subgrouping is beginning to have clinical impact [1–3]. WNT subgroup tumours (~15% of total) are characterised by activation of the wnt/wingless pathway through CTNNB1 mutations, and appear to originate from progenitor cells derived from the dorsal brain stem [4]. Patients with WNT-associated tumours have a favourable prognosis and will receive reduced therapies in forthcoming international clinical trials [1, 5, 6]. The SHH subgroup (~25% of total) is defined by activation of the sonic hedgehog signalling pathway, and mutations in SHH pathway genes (e.g. PTCH1, SUFU) arise in a significant subset [2, 3]. All evidence suggests that these tumours originate from cerebellar granule neuron precursors (cGNPs) within the external granular layer of the developing cerebellum (reviewed in [7]) or cochlear nuclei of the brainstem [8]. SHH tumours are associated with an intermediate prognosis. Early clinical trials of SHH pathway inhibitors are underway, although acquired resistance has been reported [9] and tumours with downstream pathway mutations (e.g. GLI2, SUFU) are predicted to be insensitive to their action [10]. Group 3 and 4 tumours are more heterogeneous and show overlapping molecular features such as frequent chromosome 17 defects. However, Group 3 tumours (~25% of total) have been associated with high-risk features, such as MYC gene amplification and large-cell/anaplastic (LCA) pathology, and a poor prognosis [2].
Recent genome-wide studies have further underlined the complexity of MB; heterogeneous mutations targeting processes including histone methylation and chromatin remodelling have been discovered, but these typically describe limited subsets of tumours and few additional recurrent mutations targeting specific genes and/or pathways have been identified [11–15]. Critical genes therefore remain to be uncovered in all MB subgroups and there is a growing need to identify low-frequency alterations which drive disease progression, distinguish these from passenger mutations, and determine their mechanisms of action and clinical significance. Primary tumour data alone may not be sufficient to achieve these goals.
A number of murine MB models have been created allowing comparative analyses (reviewed in [16]), including models which recapitulate WNT [4] and Group 3 [17, 18] tumours. However, the most widely studied mouse model is a knockout of the Shh transmembrane receptor, Ptch [19], which mimics SHH subgroup tumours. Ptch+/- heterozygotes develop MBs at a frequency which is significantly influenced by genetic background [20]. Sleeping Beauty ( SB) murine mutagenesis [21, 22], coupled to statistical analysis of insertion site distribution [23, 24], has emerged as a powerful method to identify genes involved in a wide variety of human cancers [24–29]. Recently the SB11 transposase [22] driven by the Math1 promoter has been used to mutagenise developing neuronal tissues in both the Ptch+/- and p53 loss-of-function models of MB [30]. This identified a large number of candidate genes potentially involved in MB progression, and demonstrated that the genetic events observed in metastases show limited overlap with those in matched primary tumours, supporting a bicompartmental genetic model of metastatic disease [30, 31].
Here, we report the application of whole-body SB mutagenesis [26] to the Ptch +/- tumour model, and the identification of 17 genes associated with enhanced medulloblastoma formation. We show that these genes are enriched for neuronal transcription factors defining a novel gene network which, when mutagenised by SB, is associated with increased cell proliferation and reduced neuronal differentiation. Significantly, increased expression of Igf2, a gene known to be essential for tumour formation in the Ptch +/- model, is associated with insertional mutations within this network. Moreover, we show that in human disease, network activity predicts poor survival specifically within the SHH tumour subgroup. Together, these findings provide important novel insights into the molecular mechanisms of medulloblastoma pathogenesis, and identify exploitable therapeutic targets and prognostic biomarkers for development towards improved therapy.
Discussion
We have shown that whole body SB mutagenesis of Ptch+/- mice significantly enhances MB frequency without affecting latency, and does not induce these tumours in wild type mice. The majority of candidate genes identified have either been implicated in neuronal development, differentiation and/or migration, have been linked to SHH signalling, or have been shown to be mutated in SHH subgroup tumours in humans. Furthermore, we found that one gene identified from our screen, MYT1L, is of prognostic value within a multivariate analysis of human MB survival data. These genes, therefore, warrant individual assessment as potential therapeutic targets and/or biomarkers for the improved stratification and treatment of medulloblastoma.
Notably, 7 of the genes (6 transcription factors/cofactors and 1 growth factor) show significant associations with each other within a novel MB expression network, implying a previously unidentified functional relationship which does not map to established canonical pathways. This network is enriched for transcriptional regulators and genes with neuronal ontologies, and links genes with roles in stem cell/neuron migration, neurite growth and neuronal cell cycle progression, to genes which encode structural and functional elements of mature neurons (See Additional file 11: Table S7 for known gene functions). This suggests that the network comprises transcription factors involved in the proliferation and differentiation of cGNPs, the cell of origin for SHH MB [7], and their targets. Interestingly, lineage commitment to cGNP identity is a pre-requisite for SHH tumour development [46, 47].
The relationships identified here between murine network activity, metagene activity in human tumour subtypes, and individual CIS gene expression, are summarised in Figure
6
. This highlights the variable network activity within SHH tumours and Group 3 tumours, and identifies CIS genes with similar, or wholly divergent, expression patterns relative to the metagene. Of these,
TGIF2
and
MYT1L
are of particular interest as they influence neuronal SHH expression and development, respectively: A conditional
Tgif1
/
Tgif2
double knock-out has recently been shown to reduce
Shh
expression in the developing brain and to recapitulate holoprosencephaly [a human condition caused by
SHH
and
TGIF1
mutations (OMIM# 142945 and 142946)], while the transcriptional repressor
MYT1L
can contribute to the re-programming of human fibroblasts into neurons [
48
,
49
]. As neither gene has been implicated in MB development to date, both are prime targets for further investigation.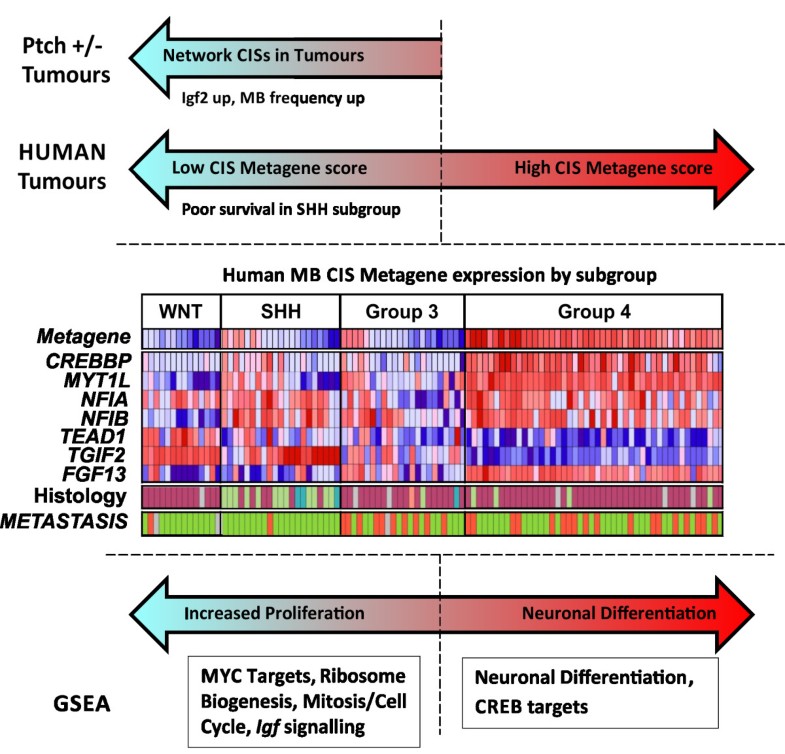 Importantly, network activity has clinical relevance, as high activity is associated with advanced disease in all tumours and low activity is associated with poor survival specifically in SHH subgroup tumours (Figure 6). These associations appear incongruous, but the former is likely due to the high incidence of metastases in Group 4 tumours where network activity is uniformly high. In contrast, the SHH subgroup-specific association with outcome may reflect clinically important variation in the developmental status of individual tumours, and highlights the potential utility of network activity as a prognostic biomarker for the prediction of outcome within the SHH subgroup.
The GSEA analysis in mouse and human tumours demonstrates very clearly a role for this network in inhibiting neuronal differentiation and promoting cell proliferation. Consistent with this, several common functional pathways were identified in both species of potential relevance to disease. Of these, the MYC and IGF-dependent signalling pathways are of particular interest, the latter having recently been highlighted in an independent SB screen [30]. Furthermore, our analysis of gene expression in SB mutagenized mouse tumours identified Igf2 upregulation as a key output of SB-induced network perturbation. Igf2 is already known to be required for MB development in the Ptch+/- model as no tumours are observed in Igf2 null; Ptch+/- mice [50], over-expression of Igf2 in Ptch+/- mice increases the frequency of MBs generated by Shh transfection of cerebellar neural progenitors [51], and at the cellular level Igf2 acts synergistically with Shh to increases murine cGNP cell proliferation 10 fold [52].
The results presented here suggest that network mutations converge to inhibit differentiation and upregulate Igf2. This extends the existing model of MB formation in SB mutagenised Ptch+/- mice by identifying genes underpinning the upregulation of Igf2 which leads to the persistence of Ptch+/--induced cerebellar proliferative lesions and progression to MB [53]. Consistent with this model, several network CIS genes, or genes which they bind/modulate, have already been implicated in Igf2 expression or activity, including Tead1 [54], Nfia and Nfib [55, 56], and Crebbp [57]. There is an unmet clinical need for the development of SHH pathway-independent targeted therapies for SHH subgroup tumours, particularly in view of the predicted acquired or intrinsic resistance to current SMO inhibitors [9, 10]. The implication of insulin-dependent signalling in human and mouse SHH tumours strongly support its development as a therapeutic target for SHH subgroup tumours.
The application of SB mutagenesis to additional murine MB models [17, 18] could identify genes relevant to other tumour subgroups. However, our results contrast sharply with a recent Math1 driven tissue-restricted screen of a more penetrant Ptch+/- model [30] where tumour latency was reduced from 8 to 2.5 months, a high frequency of metastases (80%) was observed, and divergent primary and metastatic insertional mutation signatures were defined. Notably, we did not observe metastases following whole-body mutagenesis in this study. These two models are, therefore, not directly comparable and suggest that penetrance of the tumour predisposition, and the power of the mutagen, are likely to determine the nature of genes identified in future screens.
Finally, this is the first time to our knowledge that mutagenesis data from a murine cancer model have been integrated with human expression networks to explore biological mechanisms of tumourigenesis. The identification of novel and biologically relevant candidate genes linked within a single expression network, the activity of which correlates with disease state and survival within the subgroup of tumours being modelled, illustrates the utility of this cross-species approach. Clarification of the interactions between network genes identified here, their roles in the pathways highlighted by our GSEA analysis, and establishment of their therapeutic relevance will, however, require extensive functional analyses of multiple genes both individually and in concert.
Conclusions
Here, we have used SB mutagenesis to define a novel neuronal transcription factor network involved in medulloblastoma formation within the Ptch+/- model, and provide evidence that disruption of this network upregulates Igf2, critical for proliferation of GNPs and tumour formation. Moreover, we have identified rational therapeutic targets for SHH subgroup tumours, alongside prognostic biomarkers for the identification of poor-risk SHH patients, supporting the further development of these findings as a basis for improved and individualised therapy. Our results also suggest that the integration of mutagenesis data and expression network analysis may help to unravel key events in other cancers which disrupt complex developmental programmes, for which murine models are available.
Availability of supporting data
Declarations
Acknowledgements
The financial support of Cancer Research UK (grants C7679/A7311 and C8464/A13457) is gratefully acknowledged. DJA is supported by Cancer Research UK and the Wellcome Trust (grant 0980051). LC is supported by Cancer Research UK (grant C34648/A12054), Samantha Dickson Trust (grant SDR004X) and Christopher's Smile (grant CXC002H). H.H.A-B. was supported by a studentship from the Government of Kuwait. H.A-A. was supported by a studentship from the Government of Saudia Arabia.
Authors' Affiliations
(1)
Institute of Genetic Medicine, Newcastle University, Newcastle upon Tyne, UK
(2)
NewGene Limited, Bioscience Building, International Centre for Life, Newcastle upon Tyne, UK
(3)
Northern Institute for Cancer Research, Newcastle University, Newcastle upon Tyne, UK
(4)
Faculty of Medical Sciences, William Leech Building, Newcastle University, Newcastle upon Tyne, UK
(5)
Division of Clinical Studies and Cancer Therapeutics, The Institute of Cancer Research & The Royal Marsden NHS Trust, Sutton, UK
(6)
Experimental Cancer Genetics, Wellcome Trust Sanger Institute, Hinxton, UK
(7)
Department of Pathology, Children's Memorial Health Institute, Warsaw, Poland
(8)
Centre for Molecular Oncology, Barts Cancer Institute, Barts and The London School of Medicine and Dentistry, Queen Mary University of London, London, UK
(9)
School of Medicine, Faculty of Health Sciences, University of Adelaide, Adelaide, Australia
Copyright
© Łastowska et al.; licensee BioMed Central Ltd. 2013
This article is published under license to BioMed Central Ltd. This is an Open Access article distributed under the terms of the Creative Commons Attribution License (http://creativecommons.org/licenses/by/2.0), which permits unrestricted use, distribution, and reproduction in any medium, provided the original work is properly cited.