Calcium dysregulation, functional calpainopathy, and endoplasmic reticulum stress in sporadic inclusion body myositis
Acta Neuropathologica Communications
Neuroscience of Disease
2017
5:24
Received: 10 March 2017
Accepted: 12 March 2017
Published: 22 March 2017
Abstract
Sporadic inclusion body myositis (IBM) is the most common primary myopathy in the elderly, but its pathoetiology is still unclear. Perturbed myocellular calcium (Ca2+) homeostasis can exacerbate many of the factors proposed to mediate muscle degeneration in IBM, such as mitochondrial dysfunction, protein aggregation, and endoplasmic reticulum stress. Ca2+ dysregulation may plausibly be initiated in IBM by immune-mediated membrane damage and/or abnormally accumulating proteins, but no studies to date have investigated Ca2+ regulation in IBM patients. We first investigated protein expression via immunoblot in muscle biopsies from IBM, dermatomyositis, and non-myositis control patients, identifying several differentially expressed Ca2+-regulatory proteins in IBM. Next, we investigated the Ca2+-signaling transcriptome by RNA-seq, finding 54 of 183 (29.5%) genes from an unbiased list differentially expressed in IBM vs. controls. Using an established statistical approach to relate genes with causal transcription networks, Ca2+ abundance was considered a significant upstream regulator of observed whole-transcriptome changes. Post-hoc analyses of Ca2+-regulatory mRNA and protein data indicated a lower protein to transcript ratio in IBM vs. controls, which we hypothesized may relate to increased Ca2+-dependent proteolysis and decreased protein translation. Supporting this hypothesis, we observed robust (4-fold) elevation in the autolytic activation of a Ca2+-activated protease, calpain-1, as well as increased signaling for translational attenuation (eIF2α phosphorylation) downstream of the unfolded protein response. Finally, in IBM samples we observed mRNA and protein under-expression of calpain-3, the skeletal muscle-specific calpain, which broadly supports proper Ca2+ homeostasis. Together, these data provide novel insight into mechanisms by which intracellular Ca2+ regulation is perturbed in IBM and offer evidence of pathological downstream effects.
Keywords
Myositis
Inclusion body
Muscular diseases
Calcium
Calpain
Unfolded protein response
Introduction
Sporadic inclusion body myositis (IBM) is the most common acquired myopathy in the elderly [22]. Phenotypic characteristics of IBM patients include both proximal and distal weakness and atrophy, typically worst in the knee extensors and finger flexors [35]. Histologically, IBM biopsies often display cytoplasmic protein "inclusions," rimmed vacuoles, mitochondrial abnormalities, increased MHC type I expression, and infiltrating CD8+ T cells [22]. The molecular pathogenesis of IBM remains unclear and is controversial, but likely involves both inflammatory and myodegenerative processes [5, 14]. However, unlike in other inflammatory myopathies (i.e. dermatomyositis (DM), polymyositis, and immune-mediated necrotizing myopathies), immunosuppressive therapy is not beneficial in the vast majority of IBM cases, suggesting that disease progression occurs independent of the inflammatory response [5]. Currently, there are no widely-accepted animal models of IBM that recapitulate human disease. A better mechanistic understanding of myodegeneration in IBM may allow development of relevant animal models and identification of new avenues for therapy.
In healthy skeletal muscle fibers, low resting intracellular calcium (Ca2+) concentrations (~50nM) are tightly maintained by an array of Ca2+ sensors, channels, transporters, and buffers [9]. When this regulation is perturbed, prolonged cytosolic Ca2+ elevations can cause various downstream myodegenerative phenomena, including two strongly associated with IBM pathogenesis [8]. The most prominent mechanistic hypothesis for IBM myodegeneration implicates abnormal proteostasis, as many proteins associated with neurodegenerative disease (e.g. TDP-43, p62, amyloid-β, and αβ-crystallin) are reported to aggregate in the cytosol of IBM-affected myofibers [2, 12, 23]. Ca2+ dysregulation contributes to abnormal proteostasis by promoting mitochondrial reactive oxygen species (ROS) production and perturbing protein folding in the endoplasmic reticulum (ER) lumen [18, 31]. Additionally, activation of Ca2+-dependent proteases downstream of Ca2+ dysregulation may cause TDP-43 cytosolic mislocalization (a specific finding in IBM vs. other inflammatory myopathies) [57]. Another factor proposed to cause myodegeneration in IBM is mitochondrial dysfunction; accumulation of mtDNA deletions, ultrastructural abnormalities, loss of oxidative phosphorylation enzyme activity, and abnormal mitophagy have been reported in IBM muscle [31, 48]. As with proteostasis, Ca2+ dyshomeostasis is closely linked with mitochondrial dysfunction. Excessive Ca2+ uptake by the mitochondria can stimulate ROS production, initiate formation of the permeability transition pore, and diminish the inner mitochondrial membrane potential critical for oxidative phosphorylation [7, 13, 31].
The direct link between Ca2+ dysregulation, abnormal proteostasis, and mitochondrial dysfunction makes Ca2+ regulation a phenomenon of potential pathological significance in IBM. Although Ca2+ regulation has not yet been investigated in human cases of IBM, data exist suggesting that some proteins associated with IBM can mediate an insult to Ca2+ homeostasis [1, 11, 34, 46]. Additionally, abnormal Ca2+ regulation may plausibly stem from membrane pores and osmotic stress, as clonal cytotoxic T-cells (expressing membranolytic enzymes) have been reported in IBM and may have a particularly aggressive phenotype [16, 20, 44]. Given the plausibility of an insult to Ca2+ regulation in IBM, we hypothesized that human cases of IBM would display downstream gene and protein-level evidence of alterations consistent with Ca2+ dysregulation. In this study, we compared muscle biopsies from IBM patients with those of DM (an inflammatory myopathy without prominent degenerative characteristics) patients and non-myositis controls, investigating a panel of Ca2+-regulatory proteins as well as the Ca2+ signaling transcriptomic pathway. To explain observed alterations, we investigated proteolytic activation of ubiquitously expressed calpain-1, expression of the skeletal muscle specific calpain-3, and ER stress-induced translational attenuation.
Discussion
Ca2+ is a ubiquitous second messenger in skeletal muscle, regulating processes as varied as secretion, contraction, and apoptosis. In healthy myofibers, intracellular Ca2+ concentration is maintained in a tight homeostasis by various Ca2+-regulatory proteins which function as ion sensors, channels, transporters, and buffers. Diminished Ca2+ regulation, typically resulting in pathologically high levels of cytosolic Ca2+, plays a pathogenic role in several neurodegenerative and neuromuscular diseases and has many upstream causes [54, 56]. For example, pathogenic Ca2+ dysregulation is linked with RyR1 alterations in Alzheimer's disease [15], mutant protein-induced mitochondrial dysfunction in Huntington's disease [41], and sarcolemma fragility in dystrophinopathies [54]. Pathologic downstream effects of prolonged Ca2+ dysregulation include mitochondrial dysfunction and abnormal proteostasis, two likely contributors to myodegeneration in IBM [31]. In this investigation, we report alterations in several proteins and genes associated with Ca2+ regulation in IBM muscle, associate these changes with Ca2+ overabundance, and identify potential mechanisms contributing to Ca2+ dysregulation. This novel study of Ca2+ regulation in myositis patients strongly supports the hypothesis that Ca2+ dysregulation is present in and pathologically relevant to IBM.
Compared with control and DM muscle biopsies, IBM samples had decreased SERCA1, SERCA2, and CSQ protein and increased MCU protein, supporting mechanisms by which both cytosolic and mitochondrial Ca2+ concentrations are likely elevated. Compared with controls, both DM and IBM had reduced levels of RyR1 and DHPR protein, which may reflect a non-specific change associated with muscle damage or inflammation. Of note, reduced protein levels of SERCA1, the fast-twitch SERCA isoform, was previously reported in a proteomic study of IBM that describes broad expression reductions in fast twitch proteins [43]. Interestingly, in this study, the 30 most reduced proteins in IBM (by fold-change) included SERCA1 (#11, 0.53-fold) and CSQ (#15, 0.58-fold) [43]. We observed similar decreases in SERCA1 and CSQ; however, the reduction in SERCA expression in our IBM patients did not predominantly affect the fast isoform, as the SERCA1 to SERCA2 ratio was unchanged between groups (Additional file 2: Electronic Resource 2). Altered expression of Ca2+-regulatory proteins have not been reported in the three other IBM proteomic studies to date, although these studies each report alterations in only 29 proteins or fewer [24, 29, 30], likely reflecting limitations of the 2-D gel electrophoresis approach to detect differential protein expression in muscle biopsies.
Prior studies have investigated the IBM transcriptome, although no study to our knowledge has reported on alterations in the Ca2+ pathway. Primarily, these studies use microarrays to screen for genes with high comparative expression changes vs. controls and other inflammatory myopathies. Our approach differed, pre-specifying an unbiased list of genes (the KEGG Ca2+ signaling pathway) from which to extract transcript expression information and perform bioinformatics analysis. This approach allowed for detection of subtle but still highly significant expression changes at the gene and pathway level. Our analyses revealed the Ca2+ signaling canonical pathway to be significantly altered in IBM, with 54 of 183 genes (29.5%) differentially expressed vs. control muscle after correction for multiple comparisons. Several gene expression alterations imply myocellular compensation for the loss of Ca2+ homeostasis, such as upregulation of PVALB (a Ca2+ buffer) and suppression of phospholamban (PLN; a SERCA-inhibitory peptide), which would increase cytosolic Ca2+ buffering and SR Ca2+ uptake, respectively. Using the upstream regulator analysis function within IPA, which predicts activation status of upstream molecules using a large dataset of causal experiment data, whole-transcriptome changes observed in IBM were determined to be highly consistent with myocellular Ca2+ abundance [26].
Perhaps our most interesting finding is that IBM displays alterations in the activation status and expression of Ca2+-activated proteases. Robust (~4-fold) elevations in autolytic activation of the Ca2+-activated protease calpain-1 in IBM provides strong evidence of abnormally high cytosolic Ca2+ concentration, and may explain specific protein expression decreases (e.g. SERCA1, SERCA2, and RyR1) that were out of proportion with their respective mRNA decreases. It is worth noting again that neither calpain-1 transcript nor overall protein level were increased in IBM, indicating that calpain-1 abnormalities in IBM are primarily post-translational. In neurons, moderate calpain-1 activation (as we observe in IBM samples) causes cleavage of TDP-43 into aggregation-prone fragments, promoting the TDP-43 cytoplasmic mislocalization (TDP-43 proteinopathy) observed in amyotrophic lateral sclerosis [1, 57]. As TDP-43 proteinopathy causes pathology in human cells by altering RNA dynamics [25, 33] and is a specific histology finding in IBM muscle vs. other inflammatory myopathies [23], calpain-mediated TDP-43 cleavage may reflect a highly novel upstream pathogenic mechanism in IBM. However, no experiments have yet confirmed that this relationship between calpain and TDP-43 is conserved in skeletal muscle. The other Ca2+-activated protease investigated in this study, calpain-3, was reduced in IBM samples vs. controls and DM. This finding is consistent with a hypothesis proposed in a previous proteomic study, in which calpain-3 substrates were among the few over-expressed proteins in IBM samples [43]. Contrary to calpain-1, which functions primarily through proteolysis, calpain-3 has several important non-proteolytic functions, including a prominent role in sarcomere remodeling [39]. Moreover, calpain-3 was recently reported to associate with and prevent proteasomal degradation of SERCA proteins [51]. Thus, diminished calpain-3 expression provides a novel mechanism by which Ca2+ dysregulation may be initiated or exacerbated and may have broader implications for myofiber adaptation to damage [28, 39].
Abnormal proteostasis and downstream activation of the UPR have long been hypothesized to contribute to IBM pathology [55]. Supporting this theory, IBM biopsies have been reported to display activation of the UPR by XBP1 splicing and elevated expression of several ER stress-induced molecules [38, 55]. As previously discussed, the UPR suppresses translation through phosphorylation of eIF2α, but this had not been investigated in IBM muscle. Consistent with previous studies, our IBM patients displayed evidence for UPR activation, including XBP1 induction, XBP1 mRNA splicing, and upregulation of the ER stress-inducible proteins BiP/GRP78 and CHOP. As hypothesized, we also observed increased eIF2α phosphorylation in IBM samples vs. controls and DM, indicating that the UPR is suppressing translation in these samples via inhibition of the eIF2α translation initiation factor. In the context of increased calpain-1 proteolysis and diminished expression of calpain-3, translational attenuation in IBM muscle likely potentiates reductions in contractile and Ca2+-regulatory proteins. Of additional interest, activation of the UPR can induce local inflammation, which may contribute to repression of the gene encoding calpain-3 (CAPN3), further linking these phenomena [19].
The relationship between Ca
2+
dysregulation and other pathogenic mechanisms in IBM is complex, but possibly significant for disease progression. To illustrate this relationship, we propose a theoretical three-phase mechanism of Ca
2+
dysregulation in IBM that integrates our data with the literature (Fig.
5
). While this model does not attempt to explain what causes an individual to develop IBM, it does connect many pathological elements observed in IBM biopsies. In the initiation [of Ca
2+
dysregulation] phase, one or more of the following may provide an initial insult to myofiber Ca
2+
homeostasis: i) sarcolemma damage and subsequent osmotic stress stemming from expanded and potentially-aggressive cytotoxic T-lymphocytes (CTLs) [
16
,
20
,
44
]; ii) alterations in Ca
2+
channel function and/or mitochondrial Ca
2+
buffering due to cytotoxic protein oligomers or fibrils [
1
,
11
,
34
,
46
]; and/or iii) diminishment of SERCA function caused by calpain-3 reduction [
39
,
51
]. Without amelioration of such insult(s) to Ca
2+
homeostasis, Ca
2+
dysregulation progresses in the propagation phase. Mitochondria, susceptible to injury in IBM due to conditions of inflammation, mtDNA abnormalities, and impaired proteostasis, are damaged by excessive Ca
2+
influx [
7
,
31
,
32
,
48
]. This stimulates ROS production, promoting further Ca
2+
efflux from the SR [
15
] and ER stress signaling [
32
]. Cytosolic Ca
2+
elevations potentiate the activation of calpains (e.g. calpain-1), which cleave Ca
2+
-regulatory proteins like SERCA1 [
49
,
50
]. Ca
2+
and redox imbalances in the ER perturb protein folding, inducing UPR signaling [
18
,
32
]. Together, impairment of mitochondrial buffering, degradation of Ca
2+
-regulatory proteins, and suppression of translation cause progressive increases in cytosolic Ca
2+
. In the myofiber pathology phase, mitochondrial damage has diminished the capacity for oxidative phosphorylation through reduction of the inner mitochondrial membrane potential, prolonged ER stress has altered myofiber viability through induction of pro-apoptotic factors (e.g. CHOP), and calpain-1 activation has directly contributed to weakness by degrading proteins involved in excitation-contraction coupling (e.g. RyR1).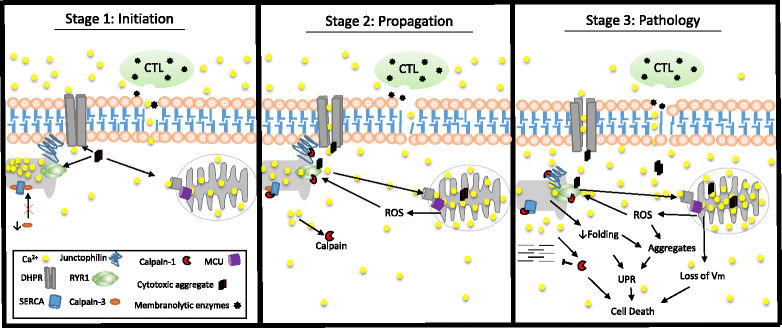 This study provides new insights into a potential contributor to IBM pathogenesis, but further research is needed. Future studies may investigate the initiation of Ca2+ dysregulation in IBM by interrogating the association between indicators of Ca2+ dysregulation (e.g. calpain-1 activation) and markers of potential upstream causes (e.g. protein aggregation) and/or attempting to functionally recapitulate aspects of this phenomenon in model systems. A limitation of this study was the use of a restricted number of biopsies, from different patients, in immunoblot and RNA-seq studies. This limits the strength of protein to transcript comparisons, although our finding of reduced protein to transcript amongst Ca2+-regulatory proteins was well supported by subsequent experiments (i.e. calpain-1 activation and eIF2α phosphorylation). Finally, while we did not find substantial Ca2+-associated abnormalities in our myositis control (DM) patients, future studies may look to address whether the pathologies of other inflammatory myopathy subsets (e.g. patients with necrotizing myopathies or specific autoantibodies) include Ca2+ dysregulation.
Conclusion
This investigation provides data, from whole-transcriptome analysis to specific proteins alterations, that implicate Ca2+ dysregulation in the myocellular pathology of sporadic IBM. While it is still unclear which theoretical insult(s) are upstream of Ca2+ dysregulation in IBM, our data suggest that this phenomenon is propagated by reduced expression of calpain-3, abnormal proteolysis secondary to calpain-1 activation, and decreased protein translation downstream of the UPR. While Ca2+ dysregulation is unlikely to be a primary pathogenic mechanism in IBM, it may contribute to muscle atrophy and weakness through its pleiotropic effects on protease dynamics, gene expression, myocellular proteostasis, and mitochondrial function. As such, future investigations may investigate if targeted treatment aimed to restore Ca2+ homeostasis and/or limit the downstream effects of prolonged Ca2+ dysregulation may be a viable therapeutic strategy in IBM.
Declarations
Acknowledgements
This work was financially supported by University of Maryland, College Park new investigator funds to ERC, University of Maryland, College Park Honors Research Grant funds to DRA, and the Intramural Research Program of the National Institute of Arthritis and Musculoskeletal and Skin Diseases of the National Institutes of Health. IPF is supported by a fellowship from The Myositis Association. TEL is supported by R01 NS082563 and NS094239. The authors thank Cassie A. Parks for critical edits of the manuscript.
Authors' contributions
DRA, TEL, ALM, and ERC were involved in study conception/design. DRA, IPF, AMC, and LCS contributed to data collection and all authors contributed to data analysis/interpretation. DRA, IPF, DAGM and ERC drafted the manuscript and all authors critically revised the manuscript. All authors have read and approved the final manuscript.
Competing interest
The authors declare that they have no competing interests.
Consent for publication
Informed consent was obtained from all individual participants included in the study.
Ethics approval and consent to participate
All procedures performed in studies involving human participants were in accordance with the ethical standards of the institutional and/or national research committee and with the 1964 Helsinki declaration and its later amendments or comparable ethical standards.
Publisher's Note
Springer Nature remains neutral with regard to jurisdictional claims in published maps and institutional affiliations.
Open AccessThis article is distributed under the terms of the Creative Commons Attribution 4.0 International License (http://creativecommons.org/licenses/by/4.0/), which permits unrestricted use, distribution, and reproduction in any medium, provided you give appropriate credit to the original author(s) and the source, provide a link to the Creative Commons license, and indicate if changes were made. The Creative Commons Public Domain Dedication waiver (http://creativecommons.org/publicdomain/zero/1.0/) applies to the data made available in this article, unless otherwise stated.
Authors' Affiliations
(1)
Department of Kinesiology, University of Maryland College Park, College Park, USA
(2)
Muscle Disease Unit, National Institute of Arthritis and Musculoskeletal and Skin Diseases, Bethesda, USA
(3)
Children's National Health System, Children's Research Institute, Center for Genetic Medicine Research, Washington DC, USA
(4)
Department of Neurology, Johns Hopkins University School of Medicine, Baltimore, USA
(5)
Department of Medicine, Johns Hopkins University School of Medicine, Baltimore, USA