Induction of a common microglia gene expression signature by aging and neurodegenerative conditions: a co-expression meta-analysis
Acta Neuropathologica Communications
2015
3:31
Received: 3 April 2015
Accepted: 12 April 2015
Published: 23 May 2015
Abstract
Introduction
Microglia are tissue macrophages of the central nervous system that monitor brain homeostasis and react upon neuronal damage and stress. Aging and neurodegeneration induce a hypersensitive, pro-inflammatory phenotype, referred to as primed microglia. To determine the gene expression signature of priming, the transcriptomes of microglia in aging, Alzheimer's disease (AD), and amyotrophic lateral sclerosis (ALS) mouse models were compared using Weighted Gene Co-expression Network Analysis (WGCNA).
Results
A highly consistent consensus transcriptional profile of up-regulated genes was identified, which prominently differed from the acute inflammatory gene network induced by lipopolysaccharide (LPS). Where the acute inflammatory network was significantly enriched for NF-κB signaling, the primed microglia profile contained key features related to phagosome, lysosome, antigen presentation, and AD signaling. In addition, specific signatures for aging, AD, and ALS were identified.
Conclusion
Microglia priming induces a highly conserved transcriptional signature with aging- and disease-specific aspects.
Keywords
Amyotrophic Lateral Sclerosis
Primed Microglia
Module Membership
rTg4510 Mouse
Consensus Network
Introduction
Neuroinflammation plays an important role in the progression of neurodegenerative diseases, with a prominent role for microglia [1-5]. Microglia are the primary innate immune cells of the brain and the first to respond to a variety of stimuli, like neuronal damage and infections, initially to restore homeostasis [6]. Upon activation, microglia release increased amounts of inflammatory cytokines, phagocytose cellular debris, and support tissue remodeling [6].
Microglia are versatile cells that, depending on environmental cues, are able to adopt different phenotypes but clear phenotypical identities have not been established. Microglia, like other cultured macrophages, are often classified into inflammatory (M1) and alternatively activated (M2) phenotypes [7,8], in which the M1 phenotype was originally induced using LPS or IFNγ stimulation, and the M2 phenotype using IL-4, IL-13 or IL-10.
In several neurodegenerative disorders and upon aging, chronic activation of microglia has been reported to induce a hypersensitive phenotype, often referred to as primed [9-11]. Primed microglia do not secrete high amounts of cytokines, but when triggered by pro-inflammatory stimuli, they become hyper-reactive, secreting large amounts of cytokines, chemokines, and other reactive molecules associated with neurotoxicity. We recently reported that microglia priming in a mouse model for accelerated aging was induced by an affected neuronal environment and not by intrinsic aging [12]. Although microglia priming is becoming a generally accepted concept [9], at present priming primarily is a functional definition and it is unclear whether microglia priming is a homogeneous phenotype with a specific transcriptional signature or a heterogenous phenotype with model-system specific transcriptional profiles and what the functional consequences of priming are.
In this study, these aspects were addressed by comparing the gene expression networks in pure cell populations of primed microglia that were isolated from mouse models for neurodegenerative disease and aging. The mouse models included are: 1) aged mice; 2) accelerated aging mice (Ercc1∆/KO), a DNA repair-deficient mouse model that displays features of accelerated aging [10]; 3) APPswe/PS1dE9 (App-Ps1), a mouse model for Alzheimer's disease, carrying transgenes for mutated Amyloid Precursor Protein and Presenilin-1 and 4) a mouse model for Amyotrophic Lateral Sclerosis (Sod193A, abbreviated as Sod1), a line carrying a mutation in the SuperOxide Dismutase-1 gene, encoding an enzyme involved in free radical degradation, resulting in motor neuron degeneration in the spinal cord [4].
In addition, the microglia priming network was also analyzed using (unsorted) brain tissue expression data. The mouse models included are: 1) aged mice; 2) App-Ps1 mice; 3) rTg4510, a mouse line expressing P301L mutant human tau [13,14]; 4) an ME7 model of murine prion disease, associated with neuronal loss and microglial activation [15,16] (for an overview of mouse models and data sets used, see Additional file 1: Table S1).
Transcriptional profiles of microglia isolated from four mouse models of aging and disease and four brain tissue expression data sets were analyzed in parallel and compared using WGCNA [17]. In contrast to traditional differential gene expression analysis, co-expression network analysis does not regard genes as single entities, but incorporates the interrelation of genes to generate structures called modules. WGCNA has been reported to be a useful approach to integrate immunology with bioinformatics [18], and has been applied to evaluate common denominators in meta-analyses or disease models [1,19-21]. By raising the network to a power function, WGCNA results in a heterogeneous network dominated by a few highly connected nodes (hubs), which link the rest of the less connected nodes to the system [17]. These hub genes are likely control points or key genes that modulate the expression of the network-module and thereby are considered important for the observed phenotype [19,21,22]. In this paper, a WGCNA-based meta-analysis was applied to determine the transcriptional signature and hub genes of different microglia phenotypes: primed, age- and neurodegeneration-associated, and acute inflammatory.
Discussion and conclusions
Primed
microglia are characterized by hypersensitive responses to proinflammatory stimuli. It has been suggested that priming of microglia is induced by chronic exposure to low-grade inflammation, as observed in neurodegenerative diseases and brain aging [
9
]. Microglia priming has been described to occur during aging and in a variety of CNS-diseases including AD, Parkinson's disease, Multiple Sclerosis, ALS, stroke, Wallerian degeneration, and Me7 prion infection [
43
]. Furthermore, it is hypothesized that this hyper exaggerated responsiveness of the
primed
microglia contributes to the observed neurodegeneration [
11
]. The signaling pathways and mechanisms involved in the induction of priming are unknown. We therefore set out further to characterize the mechanisms of microglia priming using gene expression profiling in mouse models for aging and neurodegenerative disease. Using WGCNA we have identified specific gene expression networks associated with microglia priming. A visual summary of the main findings of this manuscript are depicted in Figure
6
.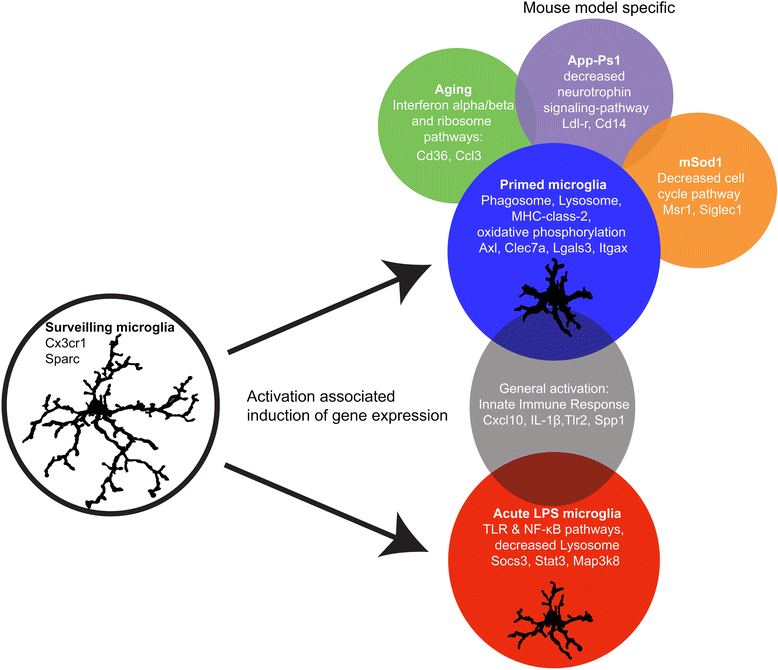 One of the main objectives of this study was to investigate the hallmarks of gene expression profiles of primed microglia isolated from mouse models for aging and neurodegeneration. We show that in all mouse models investigated, independent of the origin and platform used, these primed microglia expressed a core gene expression profile, which substantially differed from the inflammatory gene network observed in acutely activated, pro-inflammatory, microglia. The degree of preservation of this core gene expression profile in physiological aging, Ercc1, App-Ps1, Sod1, and Me7 mice made it very likely that these microglia acquired a similarly primed phenotype. In the current paper, we show that primed microglia are clearly different from M1 and M2 macrophages or M1 ex-vivo isolated microglia. The observation that activated microglia in chronic brain disease/in a neurodegenerative disease do not resemble an M1 or M2 phenotype was already suggested by Chiu et al. [4], whose Sod1-dataset was used in the current study. They proposed that the pattern of regulation of a particular set of genes, including Axl, can distinguish LPS stimulated microglia from Sod1-associated microglia. Based on the primed microglia gene expression network we predict that that primed microglia are characterized by expression of cell surface markers like Itgax, Lgals3, Axl, Clec7a, MHC class 2, and Cxcr4.
The major functions of the primed microglia gene expression network show that these cells are involved in immune-, phagosome-, lysosome-, oxidative phosphorylation, and antigen presentation signaling pathways. These functions fit the needs of chronically degenerating brain tissue. In response to tissue damage, microglia migrate to the site of injury and phagocytose tissue debris or damaged cells [6], thereby potentially degrading healthy synapses and contributing to the ongoing degenerative process [44]. In the used mouse models for neurodegeneration and aging, the phagosome and closely related lysosome KEGG pathways were indeed significantly enriched in the consensus blue module, suggesting aging- or neuropathology-induced phagocytic activity of primed microglia.
Using WGCNA, hub genes were identified that are likely candidate genes that drive the observed phenotype [1,19-21]. Interestingly, four hub genes unique to the primed microglia gene expression network, Galactin-3, Igf1, Csf1, and Axl were previously shown to be instrumental for microglia functions including proliferation, activation, and phagocytosis. Igf1 signals through Galactin-3 and inactivation of the Galactin-3 gene resulted in Igf1 insensitivity, decreased microglia activity and a significant increase in the ischemic lesion size [38,45]. Igf1 signaling is related to neuroplasticity and neuroprotection [46] and is shown to mediate motor neuron protection and prolonged survival in ALS animal models[4]. Csf-1-mediated microglia proliferation has been shown to be important in chronic neurodegeneration [41] and inhibition of Csf-r1 signaling in mice resulted in complete ablation of microglia [47]. The tyrosine kinase receptor Axl is up-regulated in microglia in various neurodegenerative and demyelinating conditions, such as cuprizone-induced demyelination, EAE and in MS lesions, and is shown to play an important role in phagocytosis of apoptotic cells and myelin [48-50]. Axl KO mice experience enhanced inflammation and delayed myelin removal in EAE-mice [49], and fewer mature oligodendrocytes and more axonal damage in cuprizone induced demyelination [48]. Contrarily, a recent paper showed that Axl is an inflammatory phagocytic receptor whose expression was induced by pro-inflammatory mediators [51]. The up-regulation of these hub-genes suggests that microglial priming also has adaptive aspects, necessary to cope with increased neurodegeneration and environmental stress.
In a recent study, microglia were compared to other myeloid immune cells and a microglial signature, which is dependent on TGFβ signaling, was reported [38]. This list of genes was enriched in the down-regulated modules of both primed and acutely activated microglia. Two genes that are particularly interesting in this respect are SPARC and Cx3cr1, which are hub genes of the down-regulated consensus module. SPARC regulates the activity of growth factors and cytokines. Enhanced microglia proliferation, microgliosis around stroke lesions, and enhanced recovery is observed in SPARC null mice [52]. Cx3cr1 is ubiquitously expressed by microglia and plays an important role in microglia-neuron communication [53]. It was shown that Cx3cr1 deficiency resulted in microglia activation, and increased neurodegeneration following LPS injections in PD and ALS-models [49]. Moreover, Cx3cr1 deficiency worsens the AD-related neuronal deficits, associated with microglial activation and elevated chemokines [50]. In contrast, others reported that in two mouse models for AD, Cx3cr1-deficiency resulted in increased beta amyloid clearance and prevented neuron loss [54,55]. Furthermore, lack of Cx3cr1 was shown to reduce infarct size, ischemic damage and inflammation [56]. The notion is that constitutively expressed Cx3cl1 (the ligand for Cx3cr1) provides a tonic inhibitory signal to microglia to remain quiescent, and that deficiency results in hyperactivated microglia [57,58]. This indicates that upon activation, microglia partially lose their resting signature and acquire a priming or acute signature.
Besides the aforementioned common primed microglia gene expression network, additional, specific elements of the microglia gene expression networks were found, exclusively for the aging, AD, or ALS mouse models used in our study. Although it is impossible to eliminate potential confounding factors like isolation protocols, mouse strain, age, CNS regions used, and different expression profiling methodologies, we could confirm the model-specific differences in gene expression in App-Ps1 and Ercc1 mice with quantitative RT-PCR. These model-specific changes in gene expression were related to an increased interferon-type 1 signature in both aging models, an altered cell-cycle GO in Sod1 and decreased neurotrophin signaling in App-Ps1. An aging-associated type-1 interferon signature is recently described in the choroid plexus of aging mice and humans [59]. This interferon signature had a negative effect on brain function, and was induced by brain-derived signals derived from the CSF. In addition, it was suggested that interferon type 1 plays a role in microglial priming [42].
Microglia isolated from App-Ps1 mice were hallmarked by a decreased expression of neurotrophin related genes. In App-Ps1 mice, amyloid plaque load increases with age and is associated with a strong immune signaling profile to which microglia contribute [60]. Interestingly, two App-Ps1 model system-specific hub-genes, LDL-receptor and CD14, are associated with Amyloid Beta (Aβ) clearance. Microglia surround amyloid fibril deposits and have been suggested to be involved in their phagocytosis [61]. Increased LDL receptor expression prevented amyloid deposition and led to an increased Aβ clearance [62]. CD14 is required for Aβ stimulation of microglia and inhibition of CD14 prevents initiation of Aβ phagocytosis [62]. This indicates that using WGCNA, we could identify disease-specific module components with known biological relevance in AD.
WGCNA is often used to generate microglia specific profiles in brain tissue expression data [1,19,21]. Similarly, we identified a microglia-enriched consensus module in brain datasets, indicating that primed microglia in Me7, aging, rTg4510, and App-Ps1 mice had a similar gene expression profile. However, comparison of this brain tissue microglia-enriched module to the pure microglia expression profiles, showed substantial differences in hub genes. In the brain tissue data, Trem2 and Tyrobp are identified as hub genes, where in pure microglia they are only weakly associated with the consensus priming module, suggesting that these genes might not play a critical role in microglia priming. Tyrobp and Trem2 are highly expressed in microglia, and therefore often identified as hub genes of microglial modules in brain tissue datasets. Changes caused by altered relative cell numbers in brain tissue expression data are readily detected using WGCNA, resulting in cell type-specific modules. However, it is very difficult to discriminate between cell intrinsic alterations in gene expression levels and changes in cell numbers in cell type-specific modules. In addition, other cell types, such as astrocytes, possibly contaminate these modules. Summarizing, our data indicate that a complementary WGCNA analysis of both pure cell populations and brain tissue expression data is required in order to fully unveil regulatory gene networks.
In this study, we analyzed primed microglia from different neurodegenerative conditions. Microglia priming is often regarded as a confounding factor, resulting in exacerbation of neurodegeneration in a wide range of conditions [11]. The core microglia priming module described in this study supports the notion of a generic microglia response in different neuropathologies, but this module mostly contains genes related to phagocytosis and cell proliferation, with tissue protective elements. This indicates that primed microglia adopt an altered inflammatory profile predominantly adapted for phagocytic clearance and in a state of immune readiness, possibly necessary to cope with inflammatory and neurodegenerative conditions.
Declarations
Acknowledgments
The brain tissue App-Ps1 datasets was kindly supplied by Koen Bossers and Joost Verhaagen. The microglia illustrations were generated by Hilmar van Weering. This work was supported by funds from the Internationale Stichting Alzheimer Onderzoek [ISAO 08504 and 12509], NANONET COST [BM1002], the Netherlands Organization for Scientific Research [NWO; VICI], the Graduate School of Medical Sciences of the University Medical Center Groningen and the Dutch Hersenstichting. The authors acknowledge technical support by the FACS facility of the University Medical Center Groningen.
Authors' Affiliations
(1)
Department of Neuroscience, section Medical Physiology, University of Groningen, University Medical Center Groningen, Groningen, The Netherlands
(2)
Allen Institute for Brain Science, Seattle, USA
(3)
Lundbeck Research USA, Paramus, USA
(4)
Department of Astrocyte Biology and Neurodegeneration, Netherlands Institute for Neuroscience, Institute of the Royal Netherlands Academy of Arts and Sciences (KNAW), Amsterdam, The Netherlands
(5)
Department of Translational Neuroscience, Brain Center Rudolf Magnus, University Medical Center Utrecht, Utrecht, The Netherlands
(6)
Swammerdam Institute for Life Sciences, Center for Neuroscience, University of Amsterdam, Amsterdam, The Netherlands
Copyright
© Holtman et al.; licensee BioMed Central. 2015
This is an Open Access article distributed under the terms of the Creative Commons Attribution License (http://creativecommons.org/licenses/by/4.0), which permits unrestricted use, distribution, and reproduction in any medium, provided the original work is properly credited. The Creative Commons Public Domain Dedication waiver (http://creativecommons.org/publicdomain/zero/1.0/) applies to the data made available in this article, unless otherwise stated.