NOTCH ligands JAG1 and JAG2 as critical pro-survival factors in childhood medulloblastoma
Acta Neuropathologica Communications
2014
2:39
Received: 31 March 2014
Accepted: 1 April 2014
Published: 7 April 2014
Abstract
Medulloblastoma (MB), the most common pediatric malignant brain cancer, typically arises as pathological result of deregulated developmental pathways, including the NOTCH signaling cascade. Unlike the evidence supporting a role for NOTCH receptors in MB development, the pathological functions of NOTCH ligands remain largely unexplored. By examining the expression in large cohorts of MB primary tumors, and in established in vitro MB models, this research study demonstrates that MB cells bear abnormal levels of distinct NOTCH ligands. We explored the potential association between NOTCH ligands and the clinical outcome of MB patients, and investigated the rational of inhibiting NOTCH signaling by targeting specific ligands to ultimately provide therapeutic benefits in MB. The research revealed a significant over-expression of ligand JAG1 in the vast majority of MBs, and proved that JAG1 mediates pro-proliferative signals via activation of NOTCH2 receptor and induction of HES1 expression, thus representing an attractive therapeutic target. Furthermore, we could identify a clinically relevant association between ligand JAG2 and the oncogene MYC, specific for MYC-driven Group 3 MB cases. We describe for the first time a mechanistic link between the oncogene MYC and NOTCH pathway in MB, by identifying JAG2 as MYC target, and by showing that MB cells acquire induced expression of JAG2 through MYC-induced transcriptional activation. Finally, the positive correlation of MYC and JAG2 also with aggressive anaplastic tumors and highly metastatic MB stages suggested that high JAG2 expression may be useful as additional marker to identify aggressive MBs.
Keywords
Medulloblastoma
NOTCH
JAG1
JAG2
Pediatric cancer
Introduction
Medulloblastoma (MB) is the most common pediatric malignant brain cancer, accounting for approximately 20% of primary central nervous system neoplasms in this age group[1]. Because of the significant rate of mortality and treatment-related morbidity, further understanding of the molecular biology of MB is needed to improve current treatment regimens and discover novel and more effective molecular-targeted therapies. Four distinct MB subgroups have been identified based on common molecular alterations: WNT tumors are characterized by activated Wingless pathway and carry a favorable prognosis under current treatment regimens; SHH tumors, which possess active Sonic Hedgehog signaling, and Group 4 tumors, molecularly less well characterized, have an intermediate prognosis; Group 3 tumors are characterized by high levels of the oncogene MYC and associated with poor prognosis[2]. A molecular-based classification of MB is a crucial step towards optimized treatment schemes aiming at improving risk-benefit therapeutic profiles. One further layer of complexity is the identification of key biological alterations to be selectively targeted by tailored therapies.
MBs are heterogeneous cerebellar tumors, which commonly arise as the pathological result of deregulated developmental pathways, including the NOTCH cascade[3, 4]. NOTCH signaling is required for the physiological development of the cerebellum during embryogenesis, controlling cell differentiation, proliferation, and apoptosis[5]. NOTCH cascade involves functionally non-redundant genes that appear to exert unique and specific functions[6]. Activation of the canonical NOTCH cascade requires the interaction of ligands (JAG1, JAG2, DLL1, DLL3, and DLL4) with receptors (NOTCH 1-4)[7]. Ligand binding triggers the proteolytic cleavage of NOTCH receptors, which is mediated by distinct enzymes, including γ-secretase. Once released into the cytoplasm, the NOTCH intracellular domain (NICD) translocates into the nucleus and activates a series of transcriptional regulatory events with context-dependent phenotypic consequences[7]. The spatial and temporal expression of receptors and ligands results in diverse heterogeneous cellular responses that can be cell- and tissue-specific, due to cross-talk with other pathways and the cellular microenvironment[8, 9]. A growing body of evidence suggests that the ligands also have an intrinsic signaling activity, independent of canonical NOTCH, which may account for the pleiotropic effects of the NOTCH signaling[10].
Deregulation of NOTCH receptors and ligands has been described in a wide variety of human tumors, including pediatric malignancies, such as leukemia, glioblastoma, and neuroblastoma[11–15]. Given the important role of NOTCH signaling in both normal and pathologic cerebellum development, it is not surprising that defects in this pathway are also associated with MB development. In particular, oncogenic properties of NOTCH2 receptor have been associated with MB tumor proliferation, and high expression of the best-characterized NOTCH target gene, HES1, has been associated with poor clinical outcome[16, 17]. However, to date the potential pathological functions of NOTCH ligands in MB remain largely unexplored. We hypothesized that the abnormal expression of NOTCH ligands in MB cells could trigger an alteration of the NOTCH cascade. Therefore, we investigated NOTCH ligands expression in MB primary samples and in in vitro MB models, we examined the potential association between NOTCH ligands and the clinical outcome of MB patients, and explored the rational of inhibiting NOTCH signaling by targeting specific ligands to ultimately provide therapeutic benefits in MB.
Materials and methods
Human MB primary samples and human-derived MB cell lines
The tumor material used in this study originates from archival MB samples from patients treated at the University Children's Hospital of Zürich, Switzerland (n = 47, formalin-fixed paraffin-embedded MB samples). All tissue specimens used were obtained from the Swiss Pediatric Oncology Group (SPOG) Tumor Bank. Written informed consent was obtained from each patient by the hospital that provided the tissue samples. The use of SPOG Tumor Bank tissue samples for cancer research purposes was approved by the Ethical Review Board of Zurich (Ref. Nr. StV-18/02). MB cell lines were cultured as previously published[18, 19] and maintained at 37°C in a humidified atmosphere with 5% CO2. DAOY human MB cells were purchased from the American Type Culture Collection (ATCC - Manassas, VA, USA). D341, D425, UW-228-2, and Med-1 human MB cells were the kind gift of Dr. Henry Friedman (Duke University, Durham). The stable clones DAOY V11 (empty vector transfected) and DAOY M2.1 (MYC vector transfected) were maintained in selective medium in the presence of 500 mg/ml G418[20]. MB cells were grown as neuro-spheres in neurobasal medium added with B-27 Supplement (GIBCO - Life Technologies Grand Island, NY, USA), recombinant human EGF (20 ng/ml), and basic FGF (10 ng/ml) (R & D Systems Inc., Minneapolis, MN 55413 USA) in corning ultra-low binding 24-well plates (Sigma-Aldrich, St. Louis, MO, USA).
Gene expression profiling studies of MB primary samples
MB expression profiles were generated on Affymetrix 133A[21]; Affymetrix 133plus 2.0[22, 23]; Affymetrix Human Gene 1.1 ST[24]; or Affymetrix exon 1.0 arrays[25, 26]. The datasets used in this study were comparable regarding most patient characteristics[27]. The human normal cerebellum expression profile was generated with Affymetrix 133plus 2.0[28]. Data are accessible through the open access platform R2 for visualization and analysis of the microarray data (http://r2.amc.nl).
RNA analysis by qRT-PCR
Total RNA was extracted using the RNeasy Mini Kit (Qiagen, Basel, Switzerland) following the manufacturer's instructions. After enzymatic digestion of DNA with RNase-free DNase (Qiagen), 0.5-1 μg of total RNA was used as the template for reverse transcription employing random hexamer primers and the High-Capacity cDNA Reverse Transcription Kit (Applied Biosystems - Life Technologies Grand Island, NY, USA). For the qRT-PCR reaction, Gene Expression Master Mix (Applied Biosystems) was used, and the protocol was optimized for the ABI7900HT reader (Applied Biosystems). Probe-primer solutions specific for the following genes (purchased from Applied Biosystems) were used: MYC (Hs00153408_m1), JAG2 (Hs00171432_m1), JAG1 (Hs01070032_m1), and HES1 (Hs00172878_m1). Normal human adult cerebellum mRNA samples (Clontech-Takara Bio Europe, Saint-Germain-en-Laye, France) (R12340039-50, AMS Biotechnology Limited, 184 Park Drive, Milton Park, Abingdon OX14 4SE, UK.) and normal human fetal (40 weeks) cerebellum mRNA samples (R1244039-50, AMS Biotechnology) were used as a reference. The relative gene expression was calculated for each gene of interest using the ΔΔCT method, in which cycle threshold (CT) values were normalized to the housekeeping genes succinate dehydrogenase complex subunit A (SDHA) (Hs00188166_m1) and 18 s (Hs99999901_s1).
ChIP-on-chip analysis
Genomic DNA was extracted and precipitated with a MYC-specific antibody to enrich MYC-binding promoter sequences, which were hybridized to a promoter oligo-array as previously described[29]. The genomic positions for probes and their enrichment ratios are provided for MYC at the JAG2 locus. The horizontal red line indicates the median enrichment ratio for MYC versus the input, as calculated from all probes for chromosome 14.
Western blot analysis
Total protein extracts were obtained from 0.5-1.5 × 106 cells lysed with RIPA buffer (50 mM Tris-Cl, pH 6.8, 100 mM NaCl, 1% Triton X-100, 0.1% SDS) supplemented with Complete Mini Protease Inhibitor Cocktail (Roche-Applied Sciences) and the phosphatase inhibitors β-glycerophosphate (20 mM) and Na3VO4 (200 μM). Proteins were resolved by sodium dodecyl sulfate polyacrylamide gel electrophoresis and blotted on PVDF membranes (GE Healthcare, Chalfont St Giles Buckinghamshire, UK) or Trans-Blot Turbo 0.2-μm nitrocellulose (Bio-Rad Laboratories, Inc., Hercules, CA 94547, USA). After binding of the primary antibodies, the signal was detected by chemiluminescence using SuperSignal West Femto Maximum Sensitivity Substrate (Pierce-ThermoScientific, Rockford, IL, U.S.A.). Antibody specific for Hes1 (H-140) (sc-25392) was purchased from Santa Cruz Biotechnology, Inc. (Santa Cruz Biotechnology, Inc. Santa Cruz, CA. U.S.A.); antibody specific for the Notch2 intracellular domain (Asp1733) (ab52302) was purchased from Abcam (Abcam plc, Cambridge, UK); antibodies specific for Jagged-2 (C23D2) (2210), JAG1 (28H8) (2620), cleaved Notch1 (Val1744), and MYC (9402) were obtained from Cell Signaling Technology (Cell Signaling Technology, Danvers, MA, U.S.A.). As a loading control, β-actin (Sigma-Aldrich, St. Louis, MO, U.S.A.) was detected by chemiluminescence using Pierce ECL Substrate (Pierce-ThermoScientific).
siRNA transfection
Cells were transfected when they reached 70-80% confluence in 6-well plates using either SMARTpool small interfering RNA (siRNA) specific for JAG2 (L-017187-00), JAG1 (L-011060-00), and MYC (L-003282-00) or siCONTROL non-targeting siRNA pool (D-001810-10-05) as a control (Dharmacon, Thermo Fisher Scientific, Waltham, MA). Each pool of siRNA was used at the final concentration of 50 nM in combination with Dharmafect 4 as the transfection reagent (Dharmacon) according to the manufacturer's instructions. After 24, 48, and 72 hours, the cells were harvested for both mRNA and protein extraction to assess gene expression by quantitative real-time PCR (qRT-PCR) and immunoblotting, respectively.
Cell viability, proliferation, and apoptosis analysis
Viability of MB cells was evaluated using the CellTiter 96® AQueous One Solution Cell Proliferation Assay (Promega Corporation, Madison, WI, USA) and cell proliferation reagent WST-1 (05015944001) (Roche Diagnostics, Rotkreuz, Switzerland). Additionally, the number of viable cells was determined by trypan blue exclusion using a hemocytometer. Proliferation was quantified using the chemiluminescence-based Cell Proliferation ELISA BrdU kit (Roche Diagnostics). Activation of caspases 3 and 7 was detected using the Caspase-Glo 3/7 Assay (Promega Corporation). Histone-associated DNA fragments were quantified using Cell Death Detection ELISAPLUS assays (Roche Diagnostics). Data are expressed as the average values obtained from three independent experiments.
Statistical analysis
All experiments were performed at least in triplicate. Data are represented as the mean ± s.d. For in vitro experiments, a Student's t-test was used. P-values of <0.05 were considered significant. Pearson's correlation test was used for gene correlation in patient samples. Student's unpaired T and Mann-Whitney tests were applied for statistical analysis of normally and non-normally distributed samples, respectively [* < 0.05, ** < 0.01, *** < 0.001].
Discussion
This study shed light on the yet unexplored pathological functions of NOTCH ligands in MB, and verified our main hypothesis that an alteration of NOTCH developmental pathway may be caused by abnormal ligand expression. By examining the expression levels in large cohorts of MB primary tumors and established in vitro MB models, we demonstrated the presence of abnormal levels of four distinct NOTCH ligands (JAG1, JAG2, DLL1, and DLL4) in MB. By analyzing their patterns of expression across MB molecular subgroups, we showed that NOTCH ligand JAG1 is broadly over-expressed in MBs, and homogeneously distributed across subgroups. In contrast, JAG2 is generally under-expressed in tumors compared to normal cerebellum, but a subpopulation of MYC-driven MBs bear increased levels of this ligand. Importantly, MYC/JAG2 correlation is specific for Group 3 cases, therefore suggesting a link between one particular NOTCH ligand and the oncogene MYC in a molecularly defined patient population. By identifying JAG2 as MYC target, and by showing that MB cells acquire induced expression of JAG2 through MYC-induced transcriptional activation, we described for the first time a mechanistic link between the oncogene MYC and NOTCH pathway in MB. These results are supported by the report from Yustein et al. that described JAG2 as one of the MYC target genes participating in tumorigenesis in a human B cell model[34]. Together with a study describing NOTCH4 as a MYC target[35], these two reports represent the only experimental evidence, to our knowledge, for transcriptional control of the NOTCH pathway by MYC.
Moreover, the positive and specific correlation of MYC and JAG2 with aggressive anaplastic tumors, and highly metastatic MB stages might represent a clinically relevant finding. Because future stratification of MB patients will likely involve the inclusion of phenotypic tumor cell parameters, these results suggest that determining the expression level of JAG2 may be helpful for the sub-classification of MYC-driven MB to distinguish aggressive tumors from less severe malignances. From the clinical point of view, these results may also be relevant for current histology-based diagnosis of MB. Indeed, the identification of LCA MB will likely retain its prognostic significance, even when molecular sub-grouping will more frequently be used in clinics; in this context, JAG2 may represent an additional potential marker for high MYC/LCA MB tumors. Regrettably, the number of MB samples collected in the Children's Hospital of Zurich is too small to conduct a meaningful survival analysis. Moreover, the public datasets of primary MB samples, from where the data for this study was extracted, lack survival data. Therefore, we could not perform a survival analysis comparing patients with or without aberrant JAG1 or JAG2.
In addition, current MB research is intensely focusing on developing accurate mouse models of MYC-driven MB. To overcome MYC-induced apoptosis, two recently developed MYC-driven mouse MB models require loss of p53[36, 37]. Because JAG2 appeared to cooperate with MYC to protect MYC-overexpressing cells from apoptosis, JAG2 induction/up-regulation could be a useful strategy for the development of such high-MYC-expressing MB animal models.
To summarize, we propose a simplified model that illustrates NOTCH signaling induced by JAG1 and JAG2 in MB cells in the context of different levels of MYC (Figure
5
). The majority of MB tumors bear low MYC levels and high levels of JAG1, which triggers pro-proliferative signaling through NOTCH2. On the other hand, a subset of MBs, and/or a subset of cells within a given tumor, express high levels of MYC and acquire a concomitantly increased JAG2 protein level, which likely alters the fine-tuned NOTCH signaling cascade.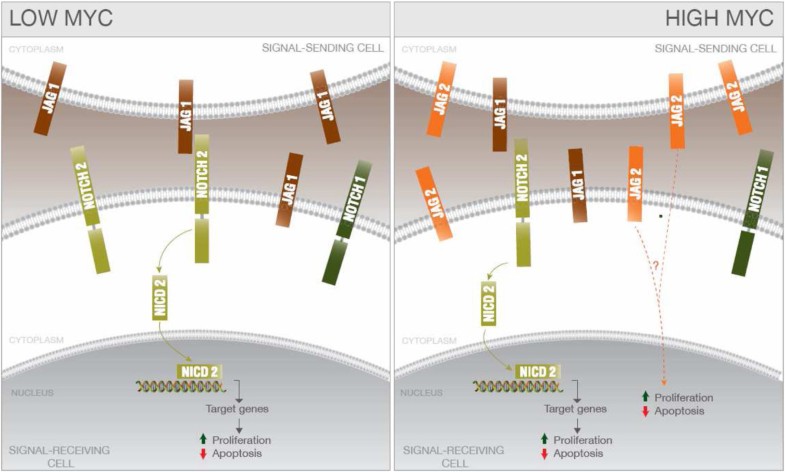 In line with previous reports showing in different tumor models that the inhibition of NOTCH ligands has proven effective[15, 38], our study showed that interfering with activation of the NOTCH pathway by targeting its ligands may represent a new direction for alternative therapeutic approaches against MB. In particular, targeting JAG1 appears to be a promising strategy. JAG1 is highly expressed in the vast majority of MBs and homogeneously distributed across subgroups; moreover, JAG1 depletion inhibited pro-proliferative NOTCH2 signals and caused a decrease in expression of HES1, which plays a central role in MB pathogenesis[39–42]. Furthermore, NOTCH1-mediated signaling has been associated with activation of an anti-proliferative cascade in MB[17]; therefore, by specifically inhibiting the JAG1-NOTCH2 axis, a survival signaling would be specifically blocked, and side effects due to broad and non-specific NOTCH inhibition could be avoided. Indeed, such treatment would specifically target a cell membrane protein that is overexpressed in MB tumors, but not in normal cerebellum, thus likely reducing treatment-related side effects on the developing brains of children.
Recent approaches attempting to block NOTCH signaling via inhibitors of the γ-secretase have been effective and these compounds are currently being tested in clinical trials for the treatment of brain tumors, including MBs[43]. However, γ-secretase inhibitors developed thus far broadly inhibit γ-secretases and are unable to distinguish individual NOTCH ligand/receptor interactions; as a result, they also affect other pathways[44], and such treatment is associated with intestinal toxicity[45]. Besides, in MB a broad NOTCH inhibition will likely also block anti-proliferative signals induced by the NOTCH1 receptor[17]. These negative, treatment-related consequences could be minimized by therapeutic strategies specifically targeting individual ligands or receptors. In addition, we observed that the response of MB cells to GSI treatment was influenced by MYC status, although the mechanism remains incompletely understood. Because MYC depletion reduces JAG2 and increases JAG1 expression, thereby shifting cells from non-canonical to canonical NOTCH signaling, it is conceivable that the dependence on canonical NOTCH signaling would be increased. This observation is significant because JAG2 blockage in MYC-driven MB tumors may cause the re-acquisition of tumor sensitivity to treatment with γ-secretase inhibitors.
Therefore, further studies are required to determine the benefits of such treatments in combination with NOTCH ligand inhibition for different MB subtypes, particularly MYC-driven tumors. Additional effort is also needed for the development of neutralizing antibodies and/or small molecules targeting specific NOTCH ligands, which should then be tested in MB animal models to verify the benefits of such treatments.
Conclusion
This study advanced our understanding of NOTCH signaling and its pathological role in MB, and investigated for the first time the therapeutic benefits of interfering with NOTCH pathway via the inhibition of NOTCH ligands in MB cells. This approach represents an attractive strategy to be considered in combination with targeting SHH or WNT pathways or as a side therapy to synergize with the apoptosis-inducing effects of standard chemo-therapeutics.
Declarations
Acknowledgements
We thank the Swiss Pediatric Oncology Group (SPOG) for providing MB samples. This research project was supported by Cancer League Zürich, by Swiss Research Foundation Child and Cancer, and the University of Zürich, Forschungkredit (FK-13-039).
Authors' Affiliations
(1)
Department of Oncology, University Children's Hospital of Zurich, Zurich, Switzerland
(2)
Department of Tumor Genetics, German Cancer Research Center (DKFZ), Heidelberg, Germany
(3)
Department of Clinical Research, University of Bern, Bern, Switzerland
Copyright
© Fiaschetti et al.; licensee BioMed Central Ltd. 2014
This article is published under license to BioMed Central Ltd. This is an Open Access article distributed under the terms of the Creative Commons Attribution License (http://creativecommons.org/licenses/by/4.0), which permits unrestricted use, distribution, and reproduction in any medium, provided the original work is properly credited. The Creative Commons Public Domain Dedication waiver (http://creativecommons.org/publicdomain/zero/1.0/) applies to the data made available in this article, unless otherwise stated.