Letter to the Editor

Open Access
BRAF activating mutations involving the β3-αC loop in V600E-negative anaplastic pleomorphic xanthoastrocytoma
Acta Neuropathologica Communications
Neuroscience of Disease
2018
6:24
Received: 22 February 2018
Accepted: 25 February 2018
Published: 15 March 2018
Anaplastic pleomorphic xanthoastrocytoma (A-PXA, WHO grade III) is a newly defined entity with high-grade histopathologic features and a propensity for recurrence [
6
]. While PXA with low-grade histology (WHO grade II) can harbor a recurrent valine-to-glutamic acid (p.V600E) point mutation in BRAF in up to 78% of cases [
6
], the genomic drivers of A-PXA are poorly understood as the V600E mutation is absent in over half of A-PXAs [
4
]. Alterations reported to date in V600E-negative cases have included novel BRAF fusions and copy number alterations (Table
1
).
Table 1
Genomic alterations in BRAF V600E-negative anaplastic pleomorphic xanthoastrocytoma
Referencea

Number of cases

Method

Alteration (s) (cases/total tested)

Clinical outcome (s)

Mistry et al., 2015

3

WES, aCGH

CDKN2A HD (1/3) TP53 mutation (1/2)

No individual case data available

Phillips et al., 2016

2

NGS

Case 1: NRF1-BRAF (1/2)

Case 2: ATG7-RAF1 (1/2)

CDKN2A HD (2/2)

Case 1: GTR with recurrence, f/u 48 months, deceased

Case 2: GTR with recurrence, f/u 15 months, alive

Alexandrescu et al., 2016

1b

FISH, methylation analysis (450 k)

CDKN2A HD

Gains: + 5, 7, 9q, 12p, 14q, 16q, 22q

Losses: −1, 6, 13q, 14q, 21q

GTR, no recurrence, f/u 10 months, alive

Hsiao et al., 2017

1

WES, transcriptome

TMEM106B-BRAF

Resection, PFS 6 months, field radiation, contralateral recurrence, STR, progression, chemo with TMZ, stable and alive

Vaubel et al., 2017

6

Chromosomal microarray (OncoScan)

Gains: + 7 (3/6), + 5 (2/6)

Losses: −22 (4/6), −14 (4/6), − 13 (3/6), − 10 (3/6), −1p (chromothripsis)

CDKN2A HD (5/6)

No individual case data available

Korshunov et al., 2017

20 b,c

Methylation analysis (450 k), targeted sequencing

TERT c.-124C > T (5/20); CDKN2A HD (8/20)

No individual case data available

Current study

2

WES, WGS, transcriptome

Case 1: BRAF p.L485_P490delinsF; FOXO1 p.A38T; HTR2A p.D48N; CDKN2A HD

Case 2: BRAF p.V504_R506dup; KAT6A p.T1210 fs (subclonal)

Gains (case 2): + 5, 6, 7, 10, 12, 15

Losses (case 1): −9, 22

Case 1: near-GTR, A9952 (carboplatin, vincristine), f/u 6 months, alive

Case 2: subtotal resection, chemoradiation with TMZ, alive at last f/u 4 months post-dx
The efficacy of therapeutic targeting oncogenically activated kinases in BRAF-mutant cancers depends on structural variations in the kinase domain. For example, the BRAF V600E mutation is often sensitive to kinase inhibitors such as vemurafenib, while β3-αC deletions and non-canonical BRAF mutations are often resistant to this small molecular inhibitor [2]. Therefore, from a therapeutic aspect, it is imperative to define the spectrum of BRAF alterations in these aggressive tumors. Here, we report two newly identified A-PXAs with activating mutations in the β3-αC loop of the BRAF kinase domain discovered through whole-exome, whole-genome, and transcriptome sequencing (Michigan Oncology Sequencing Project [MI-ONCOSEQ]) [8].
The first case is a 5-year-old male presenting with a large (11.7 × 7.3 cm) temporoparietal mass with subfalcine and uncal herniation (Fig.
1a
). Molecular profiling revealed an oncogenic BRAF in-frame deletion (p.L485_P490delinsF) located adjacent to the β3-αC loop that results in a helix-constraining conformational change in the kinase domain. The second case is a 23-year-old male with a parietal ring-enhancing cystic mass. Sequencing revealed a novel 9 bp tandem duplication (p.V504_R506dup) in the β3-αC loop that results in a three codon in-frame insertion in the open reading frame (ORF) of BRAF [see Fig.
1a
-
d
and Online Resource for details and representative images from both cases (Additional file
1
)]. Consistently, both cases demonstrated MAPK activation with strong expression of phospho-ERK1/2 in tumor cells (Fig.
1g
).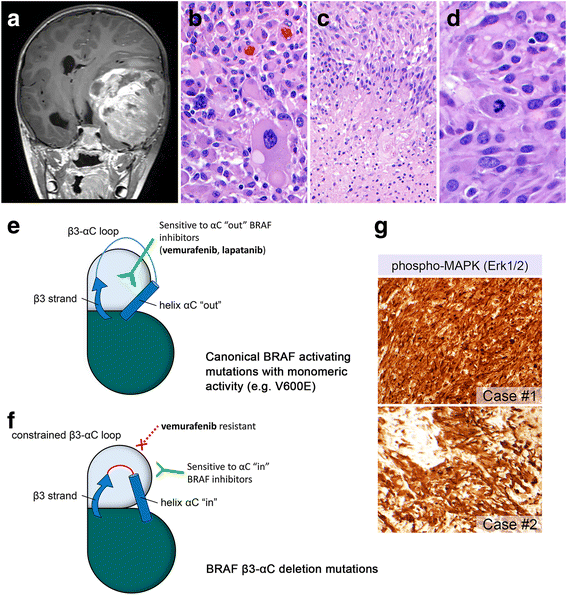 Both of the mutations reported here affect the β3-αC loop in the kinase domain. To function properly, protein kinases must maintain a level of structural flexibility in order to switch between inactive and active states. This conformational change involves two regulatory regions in the catalytic domain: the activation segment and the αC-helix [2]. During this process, the αC-helix undergoes an "out" to "in" shift that facilitates interaction with the β3 strand and initiates catalysis [2] (Fig. 1e). Case #1 demonstrated a deletion mutation in the BRAF β3-αC loop that results in a shortened αC-helix that constrains the loop conformation to a constitutively kinase active "in" state. Similar "in" state activating alterations have been reported in other major signaling pathway kinases including HER2 and EGFR [2]. β3-αC deletion mutations render tumors resistant to small molecule inhibitors, such as vemurafenib, that bind to and inhibit kinases with an "out" conformation, but are ineffective against the "in" state [1, 2] (Fig. 1e, f). Case #2 contained a mutation in a structural element (R-spine) of the αC-helix [9]. Mutations in the R-spine have been shown to stabilize the active state and result in constitutive kinase activation [3]. However, the effect of this mutation on the conformational state of the kinase domain remains to be determined. Because RAF dimers are often formed in tumors with β3-αC kinase loop alterations, RAF dimer inhibition has been proposed as an alternative therapy for these genetic alterations [10].
Recent reports of clinical responses in V600E-mutated A-PXAs with BRAF "out" inhibitors [5, 7] have been encouraging. However, selection of effective targeted therapies requires a mechanistic understanding of oncogenic kinase activation in tumors. We present two A-PXAs that contain BRAF β3-αC loop alterations that may not be sensitive to traditional BRAF inhibitors. Therefore, treatment approaches for A-PXAs with or without V600E mutations may differ depending on the specific type of BRAF genetic alteration.
Acknowledgements
The Venneti lab is supported by grants from NCI K08 CA181475, Mathew Larson, Sidney Kimmel, St Baldrick's, Claire McKenna, Chad Tough, Doris Duke and Sontag Foundations and the University of Michigan Pediatric Brain Tumor Initiative.
Ethics approval and consent to participate
Sequencing studies were performed at the University of Michigan after approval by our Institutional Review Board.
Competing interests
All authors declare that they have no competing interests.
Publisher's Note
Springer Nature remains neutral with regard to jurisdictional claims in published maps and institutional affiliations.
Open AccessThis article is distributed under the terms of the Creative Commons Attribution 4.0 International License (http://creativecommons.org/licenses/by/4.0/), which permits unrestricted use, distribution, and reproduction in any medium, provided you give appropriate credit to the original author(s) and the source, provide a link to the Creative Commons license, and indicate if changes were made. The Creative Commons Public Domain Dedication waiver (http://creativecommons.org/publicdomain/zero/1.0/) applies to the data made available in this article, unless otherwise stated.
(1)
Department of Pathology, University of Michigan, Ann Arbor, MI 48104, USA
(2)
Department of Neurology, University of Michigan, Ann Arbor, MI, USA
(3)
Department of Pediatrics, University of Michigan, Ann Arbor, MI, USA
(4)
Michigan Center for Translational Pathology, Ann Arbor, MI, USA
(5)
Department of Pediatrics, Division of Pediatric Hematology/Oncology, Mott Children's Hospital at the University of Michigan, Ann Arbor, MI, USA