Axonal degeneration in multiple sclerosis: can we predict and prevent permanent disability?
Acta Neuropathologica Communications
2014
2:97
Received: 5 August 2014
Accepted: 6 August 2014
Published: 27 August 2014
Abstract
Axonal degeneration is a major determinant of permanent neurological impairment during multiple sclerosis (MS). Due to the variable course of clinical disease and the heterogeneity of MS lesions, the mechanisms governing axonal degeneration may differ between disease stages. While the etiology of MS remains elusive, there now exist potential prognostic biomarkers that can predict the conversion to clinically definite MS. Specialized imaging techniques identifying axonal injury and drop-out are becoming established in clinical practice as a predictive measure of MS progression, such as optical coherence tomography (OCT) or diffusion tensor imaging (DTI). However, these imaging techniques are still being debated as predictive biomarkers since controversy surrounds their lesion-specific association with expanded disability status scale (EDSS). A more promising diagnostic measure of axonal degeneration has been argued for the detection of reduced N-acetyl aspartate (NAA) and Creatine ratios via magnetic resonance spectroscopic (MRS) imaging, but again fail with its specificity for predicting actual axonal degeneration. Greater accuracy of predictive biomarkers is therefore warranted and may include CSF neurofilament light chain (NF-L) and neurofilament heavy chain (NF-H) levels, for progressive MS. Furthermore, defining the molecular mechanisms that occur during the neurodegenerative changes in the various subgroups of MS may in fact prove vital for the future development of efficacious neuroprotective therapies. The clinical translation of a combined Na+ and Ca2+ channel blocker may lead to the establishment of a bona fide neuroprotective agent for the treatment of progressive MS. However, more specific therapeutic targets to limit axonal damage in MS need investigation and may include such integral axonal proteins such as the collapsin response mediator protein-2 (CRMP-2), a molecule which upon post-translational modification may propagate axonal degeneration in MS. In this review, we discuss the current clinical determinants of axonal damage in MS and consider the cellular and molecular mechanisms that may initiate these neurodegenerative changes. In particular we highlight the therapeutic candidates that may formulate novel therapeutic strategies to limit axonal degeneration and EDSS during progressive MS.
Keywords
Axonal degenerationMultiple sclerosisBiomarkersNF-LN-Acetyl aspartate (NAA)/Creatine ratioMicrogliaSodium channelsCollapsin response mediator protein 2Calpain
Introduction
Destructive, inflammatory demyelinating multiple sclerosis (MS) lesions can occur throughout the central nervous system (CNS) with preferential anatomical patterns forming. Clinical symptoms in an MS patient may manifest as a range of neurological deficits, including paresthesia, dysesthesia, weakness, or visual disturbances such as blurring or greying of vision and black spots in the visual field (scotoma, a consequence of optic neuritis). There have been several risk factors postulated for the development of MS, namely genetic, inadequate exposure to Vitamin D, smoking, Epstein Barr virus infection early in life and geographical in relation to latitude gradient [1]. In approximately 90% of cases, the disease manifests with an initial primary phase characterized by a relapsing-remitting presentation (RRMS) where the patient experiences alternating episodes of neurological impairment, followed by recovery [2]. The secondary phase involves the transformation of a relapsing-remitting presentation into a secondary progressive MS (SPMS), which involves a persistent neurological decline [2]. In contrast, 10% of patients undergo primary progressive MS (PPMS) where the course of the disease adopts a steady decline in neurological function without any periods of recovery [2]. The prognosis of MS can also vary from complete and lasting remission to eventual paralysis, loss of bowel and bladder control and blindness [3], and even death in the case of the most aggressive form of the disease, acute rapid progressive MS [3].
Therefore, MS is considered a heterogeneous condition where disease features may vary from one patient to another. Despite the different histopathologically characterized lesions of MS, they share common hallmarks that include areas of focal demyelination with inflammatory infiltrating immune cells, along with axonal injury. Contrary to the original focus of research on the autoimmune mechanisms that are operative in MS, there is now clear evidence that axonal damage/loss is the major determinant of profound neurological deficit in MS sufferers. In light of the variable course of the disease and different prognostic outcomes we discuss the possibility that in some subgroups of MS, molecular mechanisms may initiate axonal degeneration as a primary event, preceding inflammatory destruction of myelin, leading to variable capacity for repair and thus variable patient presentation.
This review focuses primarily on why MS may progress to permanent disability. The discussion covers clinical, pathological, cellular and molecular mechanisms, which govern axonal pathology in progressive MS, the etiology of permanent neurological disability. The recent advances in biomarkers and possible molecular mechanisms driving axonal dysfunction through ion channel and axonal transport defects will be highlighted with an emphasis on therapeutic targeting in an attempt to halt axonal pathology and hence progression of the disease.
Axonal indicators in the neurology clinic
Currently there is no clinical, laboratory, imaging or pathological sign of MS that is pathognomonic for the disease. At present, the diagnosis of MS is based on the two McDonald criteria [3]. The first being that there should be evidence of at least two demyelinating lesions in the CNS that are separated both spatially and temporally. The second criterion is that all other alternative diagnoses are ruled out by clinical investigation. Therefore, the diagnosis of MS essentially remains one of exclusion from the clinical evidence provided and so the need for diagnostic biomarkers is warranted in particular to personalize therapeutic regimes.
Defining axonal damage during MS, a prediction of progression, has proven somewhat problematic since conventional magnetic resonance imaging (MRI) does not provide clinicians with an accurate interpretation of the underlying pathology. Despite numerous biomarkers of axonal damage being recently reported to be superior in their diagnostic and eventual prognostic capacities for MS progression, limitations still exist for their utility in isolation.
Current imaging techniques
Further revision of the McDonald criteria in 2010 has led to a more simplified version of MS diagnosis which now include those patients that present with CIS, either as monofocal or multifocal demyelinating lesions, with involvement of the optic nerve, brainstem and cerebellum, spinal cord and cerebral deep white matter tracts [4]. Such slow expanding lesions on progression, can be absent by T1-weighted MRI inspection following gadolinium (Gd) enhancement [2].
Current MRI technologies are elucidating the substantial involvement of axonal degeneration with increasing disability parameters [5], previously difficult to define. High resolution diffusion tensor imaging (DTI) has been used in a rat model of experimental autoimmune encephalomyelitis (EAE), generating data which support the contention that significant axonal damage and loss can occur at some distance from the primary inflammatory lesion, strongly correlating with disability [6]. Alterations in DTI measurements are also well documented in MS patients [7]. Two main parameters that are disturbed in MS patients are mean diffusivity (a quantitative metric of water diffusion) and fractional anisotropy (prevalence of diffusivity along one direction) [8]. Increase in mean diffusivity often reflects edema, axonal and myelin loss [9] whereas reduction in fractional anisotropy indicates demyelination in MS [10]. Increased mean diffusivity and decreased fractional anisotropy were detected in NAWM of MS patients [11]. These changes were more profound in SPMS patients compared with CIS, RRMS and benign MS [12]. Moreover, these diffusion abnormalities were also found in grey matter of MS patients where axonal or neurodegeneration are prominent, shown to be greater in SPMS compared with other MS phenotypes [12]. Attempts have been made to correlate diffusion alteration to EDSS, however, the results of these studies remain controversial [13]-[19]. Since EDSS is based on motor system criteria, it can be suggested that motor-system specific DTI measurement would have a high correlation with EDSS. In fact, region-specific DTI measurements in MS patients have indicated a greater correlation of DTI changes in motor tracts with EDSS [20]. Importantly, it has been recently proposed that a reduction in axial diffusivity measurements of DTI correlate to extensive neuroinflammatory-mediated axonal damage within the optic nerve following acute optic neuritis, often a primary indicator of MS [21]. Moreover, these investigators demonstrated that protracted reduction in axial diffusivity measurements correlated with pronounced retinal nerve fiber layer (RNFL) thinning and multifocal visual evoked potential (mfVEP) amplitude loss at 12 months. Therefore, the argument for the use of axial diffusivity measures as a predictor of poorer visual outcomes in patients is justified and may in fact be an excellent biomarker for neuroprotective therapies in MS that limit axonal degeneration.
Another non-conventional MRI approach utilized to study axonal degeneration is the magnetization transfer ratio, which has been demonstrated to show strong correlations with the degree of myelin content, therefore serving as an indicator of axonal degeneration [22]. Recently, accurate imaging of axonal degeneration in vivo has been established through optical coherence tomography (OCT), which measures the thickness of the RNFL [23]. It has been well established that Wallerian degeneration along retinal ganglion cell axonal fibers inevitably reaches the RNFL, which is unmyelinated and so axonal degeneration alone can be measured [24]. Given that optic neuritis is a prevalent initial clinical finding in MS, Klistorner et al., [24] have focused the clinical assessment of the disease by imaging the optic nerve. These investigators have shown a direct correlation between decreased amplitude and increased latency (markers of demyelination), measured with the newly developed mfVEP and the reduction in RNFL thickness (markers of axonal degeneration/loss). By performing these measurements on patients either suspected to have MS or those newly diagnosed post-acute optic neuritis, these investigators showed that axonal degeneration/loss was a prevalent finding in the context of neuroinflammation and demyelination [24]. A very recent study by these investigators has shown that the temporal RNFL is thinned in MS patients without previously presenting with optic neuritis and this was correlated with inflammatory lesions in the optic radiations, detected by DTI [25]. Such technology can provide high-resolution reconstruction of the retina (an anatomical site targeted during the early neurodegenerative process of MS). Therefore, OCT may be a plausible method to predict axonal degeneration and hence neurological impairment in MS patients with the added feature of studying the efficacy of neuroprotective therapies during the course of the disease. However, prospective multicenter studies have advocated for strict quality control criteria be implemented since boundary line errors due to poor scan quality and ring scan de-centration are common issues of clinical disagreement [26],[27]. This has sparked the implementation of essential quality control criteria, identifiable as "OSCAR IB" (see [26]) and brought about debate of its clinical validity as an imaging biomarker purely on protocol and generation of artefacts. The clinical validity of OCT relies heavily on its inability to be the arbiter of CNS tissue injury and in particular since there still exist contradictory findings related to its ability in differentiating between the various subtypes of MS [27].
A means by which the degree of axonal degeneration may be studied involves the use of magnetic resonance spectroscopic (MRS) imaging. MRS allows for the detection of changes in metabolites such as N-acetyl aspartate (NAA), a marker of axonal integrity [28]. Reduced levels of NAA can be interpreted as potentiated axonal damage during the course of neurological diseases that involve axonopathy [28]. Whole brain MRS has successfully shown significant reduction in NAA and NAA/Creatine (NAA/Cr) ratio in CIS and RRMS compared with normal healthy controls [29]-[31]. However, these changes were not correlated with EDSS, limiting the clinical utility of these data. Reduction in NAA and NAA/Cr ratio was found in normal appearing white matter (NAWM) of RRMS and SPMS and interestingly, these changes were correlated with EDSS [32]-[39]. Importantly, it was found that the reduction in NAA levels demonstrated within NAWM of frontal and parietal brain areas were more evident in progressive manifestations of MS than RRMS [39]. Furthermore, studies have demonstrated that the reduction in NAA levels was more significant in T1 hypointense Gd-unenhancing lesions than acute lesions and no significant relationship between T2 hyperintense lesions with NAA levels [35]-[38]. These studies reflect the clinical relevance in measuring altered NAA levels during the course of MS as a biomarker for axonal damage in NAWM and both acute and chronic inflammatory lesions.
However, the MRS signal obtained for NAA may not necessarily correlate with tissue atrophy and axonal damage per se. In fact measurements obtained from the corpus callosum of patients with CDMS, via the sensitive diffusion fractional anisotropy, could demonstrate reduced size which correlated with patient EDSS but no such correlation could be seen with reduced NAA levels relative to tissue water [40]. Furthermore, while the MRS analysis from the spinal cords of patients primarily with SPMS clearly demonstrated reduced NAA levels with excellent correlation to only moderate EDSS and tissue atrophy [41]. Despite these encouraging findings, no statistically significant reduction in NAA levels could be attributed to NAWM areas in the frontoparietal cortices of these patients. It is also worth noting that although a 12-month longitudinal study was performed to evaluate the neuroprotective efficacy of interferon beta therapy, no restoration in NAA/Cr ratio could be observed in RRMS patients despite a reduction in CNS inflammatory lesions and relapse rates [42]. It is also not uncommon for NAA levels to be restored in RRMS in the lesion core and NAWM [43],[44]. A further confounding factor to the limitation of NAA levels as a measure of axonal integrity is that fact that it is more likely a marker of neuro-axonal energy dysfunction, with an abrogated electron transport chain resulting in the plummeting levels of NAA [45]. Therefore, outside the added technical issues of accurate measurement [46], its pathobiological relevance as a predictive biomarker is still in question partly due to the heterogeneity of patient cohorts and the limited multicenter assessments performed.
However, these imaging techniques have also been used to study cortical adaptive functions in patients with RRMS, SPMS and PPMS [47],[48]. In the initial disease presentation (RRMS), there seems no (or slight) reduction in NAA levels, however, a prominent reduction in NAA levels can be captured during progressive MS [47],[49]. In accordance with progressive MS, changes in NAA levels within cortical grey matter were correlated with EDSS, auditive selective attention and cognitive performance [48],[50],[51]. Overall, changes in NAA in both NAWM and cortical grey matter can be strongly linked with physical disability. Indeed, a longitudinal therapeutic study of glatiramer acetate (FDA-approved disease modifying drug, Copaxone) treatment for RRMS, demonstrated partial recovery of NAA/Cr ratio [52]. Furthermore, an amalgamation of DTI and MRS using a 7 tesla magnet allowed for a more sensitive measurement of axonal damage within NAWM regions of the corpus callosum, demonstrating a clear reduction of NAA/Cr ratio, thereby supporting NAA reduction as a biomarker for to axonopathy during the course of MS [53].
As axonal degeneration can directly correlate with disease progression, a reliable prognostic biomarker for MS must target the detection of clear, reproducible axonal changes. Even though demyelination is a pathognomic feature of MS, a recent study has identified patients that exhibit a normal baseline MRI but present clinically with optic neuritis, have eventually manifested CDMS [54]. Demyelinating lesions, as detected through imaging techniques, cannot be a reliable diagnostic tool for MS. Although the levels of NF-H in the CSF, along with MRS measurement of NAA, are promising biomarkers of axonal damage during the clinical progression of MS, a combination of MRI (to detect demyelinating lesions) and MRS (detection of axonal changes) can be a powerful diagnostic and prognostic tool for nascent MS findings and progressive disease.
Molecular biomarkers: we are not there yet
Detecting the presence of neuron-specific proteins in the CSF can be a powerful diagnostic/prognostic tool during MS, only if these proteins are shown to be directly correlative to the pathological sequelae of progression, beyond a causal association. Although lumbar puncture is considered as a safe method of obtaining CSF samples, its invasive nature, with requisite continuous sampling, is a limitation for the development of potential prognostic biomarkers of its incorporation in any clinical research study [
55
]. Despite this limitation, studies that have implemented CSF collection from patients during the progression of their MS have uncovered elevated levels of NF-L, a potential biomarker for axonal damage and a possible prognostic measure of progressive MS (Figure
1
) [
56
]. The major drawback of these studies is the disparity in findings amongst specific patient groups with variable neurological presentations and tissue injury, bringing in to question the reproducibility of CSF NF-L levels as phenotypic biomarker.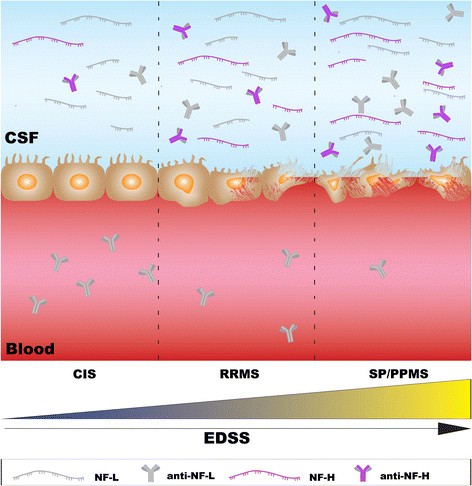 As neurofilament is an integral protein that forms the axonal cytoskeleton, detection of neurofilament and its breakdown peptides within the CSF or serum can predict definitive axonal damage in situ. For instance, elevated levels of NF-L have been detected in CSF samples from individuals presenting with CIS which have subsequently progressed to CDMS [57]. More specifically in CIS, NF-L levels were increased when compared with control CSF samples obtained from patients with neuropsychiatric diseases of non-inflammatory etiology [58]. These elevated NF-L levels in the CSF were observed to be even greater in progressive MS or during relapse than those present in stable RRMS [59],[60]. Circulating NF-L antigens in the CSF have also been postulated to trigger further autoimmunity against axons [61],[62], experimentally illustrated through the immunization of mice with NF-L, which developed a progressive form of MS (predominant axonal damage with increased grey matter pathology) (Figure 1) [61],[62].
The other major isoform, neurofilament heavy chain (NF-H), has also been found to be elevated in the CSF of all clinical MS types compared with normal healthy controls [63]. In particular, elevated levels have been reported in CIS with direct comparisons to neuropsychiartric diseases of non-inflammatory etiology [58], and these changes were correlated with declining EDSS [63]. These results emphasize that the level of NF-H in the CSF may relate to clinical disability. In comparison to NF-L, change in the CSF level of NF-H would appear to be more prominent in progressive MS [56]. However, again the major problem here is the confounding variable nature of the immunoassay results detecting NF-H levels observed from varying patient groups and different laboratories, rendering the data as possibly spurious [56].
It has recently been demonstrated that the immunotherapeutic, natalizumab, was shown to limit the rise in NF-L CSF levels during relapsing MS [64]-[66]. In addition, serum NF-H levels were shown to decrease during SPMS, when patients were treated with Na+ channel blocker, lamotrigine (based on serum lamotrigine adherence) [67]. The serum levels of NF-H were shown to correlate with clinical disability, EDSS and MRI cerebral atrophy [67] which further supports the notion that serum NF-H levels can manifest during disease progression and more likely in chronic MS (Figure 1). The possibilities of these clinically relevant studies are that both the NF-L and NF-H levels are stable molecules with excellent predictive nature of clinical outcome with regard to progression and quite possibly ongoing axonal damage following disease modifying therapeutic interventions. Despite this enthusiasm, MS patients on natalizumab still progress and the cerebral volume measurements in the lamotrigine trial did not advocate for neuroprotection, suggesting that we still await definitive evidence that NF-L and/or NF-H are clinically relevant biomarkers of axonal damage and predictive of MS progression.
Mechanisms of axonal injury and degeneration during MS
Conclusion
Permanent neurological deficits in MS are governed by CNS axonal degeneration of major fiber tracts but the molecular mechanisms, which contribute to this damage, are poorly understood. The major contributors to axonal damage and loss may include: (1) axoplasm energy depletion caused by mitochondrial injury elicited through a hypoxic environment of sustained ROS and RNS, generated through activated microglia; (2) increased expression of Nav1.6 and the Na+/Ca2+ exchanger, which mediate cytotoxic levels of intra-axonal Ca2+ to compensate Na+ influx; (3) through the dysregulation of axonal transport machinery which may include abnormal modifications to the microtubule-associated proteins such as CRMP-2, thereby culminating in catastrophic damage of the axonal cytoskeleton. As current immunomodulatory therapies are limited in their ability to reduce relapses and in many ways ineffective during SPMS or PPMS, future therapies must be designed to halt the progression of clinical severity. From pre-clinical and clinical data, it is becoming evident that axonal injury is directly related to clinical progression. Therefore, ameliorating axonal damage during MS can limit the severity of disease to enhance the quality of life for MS sufferers. However, the mechanisms of potential therapy targeting axonal degeneration must be clearly defined with the potential effects upon non-neuronal cells, documented to ensure disease stage specificity without contraindications for MS patients.
Abbreviations
MS:

Multiple sclerosis
RNFL:

Retinal nerve fiber layer
OCT:

Optical coherence tomography
DTI:

Diffusion tensor imaging
CNS:

Central nervous system
NAA:

N-acetyl aspartate
NF-L:

Neurofilament light chain
NF-H:

Neurofilament heavy chain
SPMS:

Secondary progressive multiple sclerosis
PPMS:

Primary progressive MS
CRMP-2:

Collapsin mediator protein-2
RRMS:

Relapsing-remiting multiple sclerosis
MRI:

Magnetic resonance imaging
Gd:

Gadolinium
EAE:

Experimental autoimmune encephalomyelitis
mfVEP:

Multifocal visual evoked potential
MRS:

Magnetic resonance spectroscopy
NAA/Cr:

NAA/Creatine
NAWM:

Normal appearing white matter
ROS:

Reactive oxygen species
RNS:

Reactive nitrogen species
HDAC:

Histone deacetylase
SIRT:

Sirtuin
PGC-1α:

Peroxisome proliferator activated receptor co-activator 1-α
BDNF:

Brain-derived growth factor
ASIC1:

Acid-sensing ion channel-1
Th1:

Type 1 helper T cells
Th17:

Type 17 helper T cells
IFN-γ:

Interferon-gamma
TNF:

Tumor necrosis factor
βAPP:

Amyloid precursor protein
GSK-3β:

glycogen synthase kinase 3β
Declarations
Acknowledgments
JYL supported by Multiple Sclerosis Research Australia Postgraduate Scholarship and Trish Multiple Sclerosis Research Foundation; KT supported by a Multiple Sclerosis Research Australia Student Vacation Scholarship; SP supported by National Multiple Sclerosis Society Project Grant #RG4398A1/1.
Authors' Affiliations
(1)
Department of Medicine, Central Clinical School, Monash University, Prahran, Australia
(2)
Melbourne Medical School, Faculty of Medicine, Dentistry and Health Sciences, University of Melbourne, Parkville, Australia
Copyright
© Lee et al.; licensee BioMed Central Ltd 2014
This article is published under license to BioMed Central Ltd. This is an Open Access article distributed under the terms of the Creative Commons Attribution License (http://creativecommons.org/licenses/by/4.0), which permits unrestricted use, distribution, and reproduction in any medium, provided the original work is properly credited. The Creative Commons Public Domain Dedication waiver (http://creativecommons.org/publicdomain/zero/1.0/) applies to the data made available in this article, unless otherwise stated.