Impaired plasticity of cortical dendritic spines in P301S tau transgenic mice
Acta Neuropathologica Communications
2013
1:82
Received: 29 October 2013
Accepted: 1 November 2013
Published: 17 December 2013
Abstract
Background
Illuminating the role of the microtubule-associated protein tau in neurodegenerative diseases is of increasing importance, supported by recent studies establishing novel functions of tau in synaptic signalling and cytoskeletal organization. In severe dementias like Alzheimer's disease (AD), synaptic failure and cognitive decline correlate best with the grade of tau-pathology. To address synaptic alterations in tauopathies, we analyzed the effects of mutant tau expression on excitatory postsynapses in vivo.
Results
Here we followed the fate of single dendritic spines in the neocortex of a tauopathy mouse model, expressing human P301S mutated tau, for a period of two weeks. We observed a continuous decrease in spine density during disease progression, which we could ascribe to a diminished fraction of gained spines. Remaining spines were enlarged and elongated, thus providing evidence for morphological reorganization in compensation for synaptic dysfunction. Remarkably, loss of dendritic spines in cortical pyramidal neurons occurred in the absence of neurofibrillary tangles (NFTs). Therefore, we consider prefibrillar tau species as causative for the observed impairment in spine plasticity.
Conclusions
Dendritic spine plasticity and morphology are altered in layer V cortical neurons of P301S tau transgenic mice in vivo. This does not coincide with the detection of hyperphosphorylated tau in dendritic spines.
Keywords
Tau
P301S mutation
Dendritic spines
Synaptic plasticity
Two photon in vivo imaging
Background
Intracellular aggregates of the microtubule-associated protein tau are found in a large number of neurodegenerative diseases, including AD and frontotemporal dementia and parkinsonism linked to chromosome 17 (FTDP-17) [1, 2]. In these so-called tauopathies, hyperphosphorylation of tau promotes its detachment from microtubules, resulting in tau mislocalization to the somatodendritic compartment, where it forms oligomers, neuropil threads and NFTs. The pathological mechanisms triggered by abnormal tau remain largely unknown, especially with regard to synaptic failure. In sporadic AD, tau-pathology precedes deposition of extracellular amyloid-β and correlates best with the grade of dementia [3]. Moreover, synaptic dysfunction is believed to be the primary cause of cognitive decline in AD and other dementias [4]. Thus, for understanding the pathological mechanisms causing tauopathies, as well as for the development of therapies, illuminating the effects of tau on synapses is indispensable.
Recently, Hoover et al. showed that dendritic spines are the locus of early synaptic malfunction caused by tau. Thereby, mistargeting of hyperphosphorylated tau to intact spines mediates synaptic dysfunction independently of neurodegeneration [5]. This detrimental role of hyperphosphorylated and misdistributed tau is further supported by the finding that dendritic tau mediates amyloid-β toxicity [6] and tau knockout prevents early lethality and behavioural deficits in an AD mouse model [7]. Dendritic spines and synaptic pathology in tauopathy mouse models have also been analyzed by other groups, obtaining divergent results: rTg4510 mice, transgenic for human tau with the FTDP-17 mutation P301L, show reduced spine density and impaired dendritic complexity of pyramidal neurons in the cortex, both in the absence and presence of NFTs [8, 9]. Synapse loss in the hippocampus before the emergence of fibrillary tangles was described for a mouse line expressing P301S mutated human tau under the murine prion promoter [10]. A reduced hippocampal spine density was also found in TauRD/ΔK280 mice, expressing proaggregation mutant tau [11]. Conversely, an age-dependent increased spine density in cortical layer III, but no alterations in the hippocampus were reported for transgenic mice expressing human P301L or wildtype tau [12]. In cortical layer III pyramidal neurons of mice expressing all six human tau isoforms instead of murine tau, the spine volume decreases with advancing age, while spine density stays unaffected [13]. Since these studies were based on fixed brain tissue, so far, dendritic spine plasticity has not been analyzed in a tauopathy mouse model in vivo. Therefore, alterations in the total number of spines could not be attributed to changes in spine kinetics.
In this study, we investigated the effects of mutant tau expression on the structural plasticity of dendritic spines in P301S Tau mice [14]. They express human tau protein bearing an FTDP-17 mutation [15] under the control of the murine thy1-promoter. FTDP-17 patients carrying this mutation suffer from an early onset, rapidly progressive frontotemporal dementia and parkinsonism in combination with epileptic seizures [16]. Homozygous P301S Tau mice similarly exhibit severe tau-pathology already at 5–6 months of age: Abundant intracellular filaments composed of hyperphosphorylated tau deposit in several regions of the central nervous system (CNS), especially the brain stem and spinal cord [14, 17–20]. Progressive neuron loss, accompanied by neuroinflammation, can be found in cortical layers I/II [21], but early behavioral abnormalities have been reported well before the onset of neurodegeneration [22].
By means of long-term two-photon in vivo imaging, we found a progressive spine loss on apical tuft dendrites of cortical layer V neurons in 4-month-old P301S Tau mice. The remaining spines were enlarged in head volume and increased in length. Immunohistochemical characterization of the analyzed pyramidal neurons revealed them to be bare of NFTs or hyperphosphorylated tau. In contrast to other brain regions like hippocampal CA3 pyramidal neurons, where abundant deposits of hyperphosphorylated tau can be found in dendritic spines, these were absent in the cerebral cortex. This observation is in line with what is seen in the brain tissue of AD patients [23, 24].
Methods
Transgenic mice
For two-photon in vivo imaging, homozygous mice transgenic for the 383 amino acid isoform of human tau protein with the familial FTDP-17 mutation P301S [14] were crossbred with mice of the YFP-H line [25] (obtained from The Jackson Laboratory, Bar Harbor, ME, USA). Mice homozygous for tau (P301S Tau x YFP-H mice) were used in experiments, while mice lacking mutant tau served as wildtype controls. The mice were exclusively male and the offspring of the same founder animals. Tau homozygosity was determined by real time PCR. Mice were group housed under pathogen-free conditions until surgery from which on they were singly housed. All procedures were performed in accordance with an animal protocol approved by the Ludwig Maximilian University of Munich and the Government of Upper Bavaria (ref. num. 55.2-1.54-2531-110-06).
Cranial window surgery
A chronic cranial glass window was implanted over the right hemisphere of the cerebral cortex (Figure
1
a), applying the open skull preparation as previously described [
26
,
27
]: The mice were anesthetized by an intraperitoneal injection of ketamine/xylazine (130 and 10 μg/g body weight, respectively). Additionally, anti-inflammatory dexamethasone (6 μg/g body weight) was administered intraperitoneally and body temperature was maintained by a heating pad. A circular piece of the skull, 4 mm in diameter, was removed above the somatosensory cortex (centered at the right parietal bone, approximately 2 mm caudal of the bregma and 2.5 mm lateral of the midline), using a dental drill (Schick-Technikmaster C1; Pluradent; Offenbach, Germany). To close the craniotomy, a round coverslip (5 mm in diameter) was glued to the skull using dental acrylic (Cyano-Veneer fast; Heinrich Schein Dental Depot, Munich, Germany). A small metal bar, containing a screw thread, was mounted next to the coverslip to allow fixation and precise repositioning of the mouse head during subsequent imaging sessions. After surgery, mice received a subcutaneous analgesic dose of carprophen (7.5 μg/g body weight Rimadyl; Pfizer, New York, USA).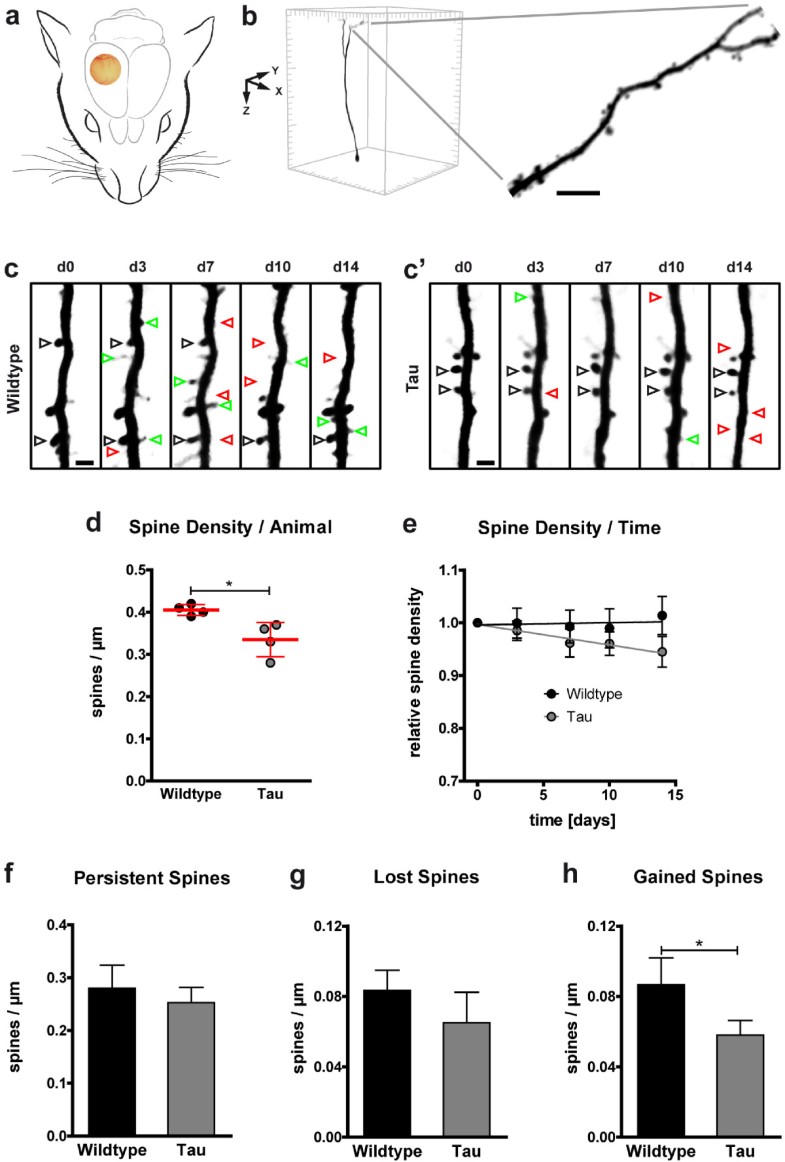 Long-term two-photon in vivo imaging
To avoid neuroinflammatory responses, in vivo imaging was performed after a 3 week recovery period. Each imaging session lasted for no longer than 60 min during which mice were anesthetized by an intraperitoneal injection of ketamine/xylazine (130/10 μg/g body weight) and body temperature was maintained by a heating pad. YFP was excited by a titanium-sapphire laser (MaiTai, Spectra-Physics, Darmstadt, Germany) at 880 nm and the emission was collected using a 500–550 nm bandpass filter (LSM 5MP, Carl Zeiss MicroImaging GmbH, Jena, Germany). Less than 50 mW laser power was delivered to the tissue to prevent laser-induced phototoxicity. A 20x water-immersion objective (1.0 NA; Carl Zeiss MicroImaging GmbH) was used to acquire overview stacks of 425 × 425 × 350 μm3, starting at the brain surface, with 0.41 × 0.41 × 3.00 μm3 xyz-scaling. Subsequently, single spiny dendritic elements at a depth of 50–120 μm of this volume were imaged at high resolution (0.16 × 0.16 × 1.00 μm3 xyz-scaling). To ensure that these apical tuft dendrites arose from layer V neurons, and exclude YFP-expressing layer II/III neurons, only dendrites protruding a depth of 350 μm were chosen (Figure 1b). In subsequent imaging sessions, previously imaged regions were relocalized and precisely aligned based on the unique pattern of blood vessels, neuronal cell bodies, and their processes. Laser intensity was adjusted to keep the emitted YFP fluorescence stable.
Immunohistochemistry
Brains of 4- and 6-month-old P301S Tau x YFP-H mice of mixed sex were processed for immunohistochemistry. Following transcardial perfusion of the mice with phosphate buffered saline (PBS) and 4% paraformaldehyde (PFA) in PBS at 4°C, brains were removed and fixed in 4% PFA in PBS over night at°C. In an attempt to improve tissue preservation for tau detection in dendritic spines, as described by Kremer et al. (2011), some mice were alternatively perfused with PBS at 4°C, brains were removed and hemispheres were fixed over night at 4°C in either 4% PFA in PBS or in Bouin solution (71.4% saturated picric acid, 23.8% formaldehyde, 4.8% glacial acidic acid). 100 μm free-floating frontal sections of the somatosensory cortex were cut on a vibratome (VT1000S, Leica Microsystems GmbH, Wetzlar, Germany). During all following steps, the sections were kept on a shaker at room temperature. To permeabilize the tissue, the sections were incubated over night in 2% Triton X-100 in PBS.
For AT8-, AT180-, and HT7-stainings, background signal was reduced using Endogenous Biotin-Blocking Kit E-21390 (Molecular Probes, Eugene, OR, USA). Sections were incubated in 10% normal goat serum (NGS), 1% bovine serum albumin (BSA), and 0.1% Triton X-100 in PBS before primary antibody incubation in 5% BSA and 0.1% Triton X-100 in PBS over night. The following monoclonal antibodies, conjugated to biotin, were used in 1:200 dilutions: HT7 recognizing human tau, AT8 recognizing human and murine tau phosphorylated at S202 and T205, and AT180 recognizing human and murine tau phosphorylated at T231 and S235 (all from Thermo Scientific Pierce Protein Research Products, Rockford, IL, USA). Enzyme-mediated antibody-detection was performed using TSA™ kit #26 (Invitrogen, Carlsbad, CA, USA) with HRP-streptavidin (1:200) in 1% BSA in PBS and Alexa Fluor 647 tyramide (1:200), according to the manufacturers' instructions.
For AT100-stainings, non-specific epitopes were blocked with Casein I-Block (Invitrogen) for 1 hour. AT100 (Thermo Scientific Pierce Protein Research Products), recognizing human and murine tau phosphorylated at Alzheimer-specific epitopes S212 and T214, was applied for 4 hours, diluted 1:200 in PBS. Detection was performed by incubating the sections with secondary anti-mouse antibody conjugated to Alexa Fluor 647 (1:200 in PBS; Invitrogen) for 4 hours.
For all stainings, sections were finally washed 5x10 min with PBS before mounting on glass coverslips using fluorescence mounting medium (Dako, Glostrup, Denmark).
Confocal microscopy
Fluorescence images were acquired with a confocal laser scanning microscope, mounted on an inverted microscope support (LSM 510 and AxioVert 200, Carl Zeiss MicroImaging GmbH). Alexa Fluor 488 was excited by an argon laser at 488 nm and emission was collected using a 500–550 nm bandpass filter. Alexa Fluor 647 was excited by a helium-neon laser at 633 nm and emission was collected using a 650 nm longpass filter.
For the AT8-YFP-correlation, a 40x oil-immersion objective (Plan-Apochromat, NA 1.3; Carl Zeiss MicroImaging GmbH) was used to obtain 360 × 360 × 50 μm3 stacks with 0.35 × 0.35 × 2.00 μm3 xyz-scaling. Per animal 10 stacks of layer V neurons were analyzed.
Image processing and data analysis
Dendritic spine density was determined using ZEN 2011 Light Edition software (version 7.0, Carl Zeiss MicroImaging GmbH). Images were corrected with a gamma of 0.45 and spines were counted manually by scrolling through the z-stacks. In time-series, a dendritic spine was defined as the same if its location did not change within a range of 1 μm along the dendrite. Since z-scaling was limited to 1 μm, only protrusions emanating laterally from the dendritic shaft were analyzed.
For morphological spine analysis, the three-dimensional in vivo images were deconvolved (AutoQuant, version X2.0.1, Media Cybernetics, Bethesda, USA) and semi-automatically remodelled (Imaris 6.1.5, Bitplane, Zurich, Switzerland). Spine subtypes were identified using the Imaris XT spine classification module, based on the following hierarchical algorithms (adapted from [28]): mushroom spine: "max_width(head)/min_width(neck) > 1.4 and max_width(head) > 0.4 μm and min_width(neck) > 0 μm"; stubby spine: "length(spine)/mean_width(neck) ≤ 3 or min_width(neck) = 0 μm or > 0.5 μm"; thin spine: length(spine)/mean_width(neck) > 3.
Analysis was performed blinded in respect to mouse genotype.
YFP- and / or AT8-positive layer V pyramidal neurons were counted manually using ZEN 2011 Light Edition software (version 7.0; Carl Zeiss MicroImaging GmbH).
All data are presented as mean ± SD or ± SEM, as stated in the figure legends. Statistical differences between two groups were determined using unpaired t test. Since spine head volumes had a log-normal distribution, in this exceptional case the t test was done on log-transformed data. All other measurements represent means of means, which according to the central limit theorem approximate a normal distribution. Therefore, we used a parametric test. The slope from a linear regression was tested for statistical difference from zero by F test. Statistical analysis and graphs were done using Prism software (version 5.04, GraphPad Software Inc., La Jolla, CA, USA). Figures were arranged using Adobe Illustrator CS4 Extended software (version 11.0.2, Adobe Systems, San Jose, CA, USA).
Results
In order to analyze the effects of cortical tau-pathology on dendritic spines, we performed long-term two-photon in vivo imaging of P301S Tau mice (Figure 1a). The line was crossbred with mice of the YFP-H line, expressing yellow fluorescent protein in a subset of cortical neurons, i.e. layer II/III and V pyramidal neurons (Figure 1b). Thus, we were able to follow the fate of individual dendritic spines in 4-month-old homozygous P301S Tau mice and age-matched wildtype mice through a chronic cranial window (Figure 1c-c').
Discussion and conclusions
Declarations
Acknowledgements
This work was supported by grants from the Deutsche Forschungsgemeinschaft (DFG, SFB 596, A13) and the EU (NeuroGSK3; FP7-223276). We would like to thank Sonja Steinbach and Eric Griessinger for their excellent technical assistance and Julia Geyer, Pitt Liebmann, and Patrizia Bonert for their invaluable aid in taking care of the animals.
Authors' Affiliations
(1)
Center for Neuropathology and Prion Research, Ludwig-Maximilians University, Munich, Germany
(2)
Department of Translational Brain Research, German Center for Neurodegenerative Diseases (DZNE), Munich, Germany
(3)
Medical Research Council Laboratory of Molecular Biology, Cambridge, UK
(4)
Munich Cluster of Systems Neurology (SyNergy), Munich, Germany
Copyright
© Hoffmann et al.; licensee BioMed Central Ltd. 2013
This article is published under license to BioMed Central Ltd. This is an Open Access article distributed under the terms of the Creative Commons Attribution License (http://creativecommons.org/licenses/by/2.0), which permits unrestricted use, distribution, and reproduction in any medium, provided the original work is properly cited. The Creative Commons Public Domain Dedication waiver (http://creativecommons.org/publicdomain/zero/1.0/) applies to the data made available in this article, unless otherwise stated.