Uptake of inorganic mercury by human locus ceruleus and corticomotor neurons: implications for amyotrophic lateral sclerosis
Acta Neuropathologica Communications
2013
1:13
Received: 21 February 2013
Accepted: 11 April 2013
Published: 09 May 2013
Abstract
Background
Environmental toxins are suspected to play a role in the pathogenesis of amyotrophic lateral sclerosis (ALS). In an attempt to determine which pathways these toxins can use to enter motor neurons we compared the distribution of mercury in the CNS of a human and of mice that had been exposed to inorganic mercury.
Results
In the human who had been exposed to metallic mercury, mercury was seen predominantly in the locus ceruleus and corticomotor neurons, as well as in scattered glial cells. In mice that had been exposed to mercury vapor or mercuric chloride, mercury was present in lower motor neurons in the spinal cord and brain stem.
Conclusions
In humans, inorganic mercury can be taken up predominantly by corticomotor neurons, possibly when the locus ceruleus is upregulated by stress. This toxin uptake into corticomotor neurons is in accord with the hypothesis that ALS originates in these upper motor neurons. In mice, inorganic mercury is taken up predominantly by lower motor neurons. The routes toxins use to enter motor neurons depends on the nature of the toxin, the duration of exposure, and possibly the amount of stress (for upper motor neuron uptake) and exercise (for lower motor neuron uptake) at the time of toxin exposure.
Keywords
Amyotrophic lateral sclerosis
Motor neuron disease
Mercury
Neurotoxin
Corticomotor neuron
Locus ceruleus
Stress
Exercise
Background
The cause of sporadic amyotrophic lateral sclerosis (SALS) remains unknown [1]. Debate continues as to whether SALS is due to rare gene mutations (either germline or somatic), or is due to gene-environment interactions that involve toxins or viruses. Of note in this regard, in a recent study 11% of SALS patients had mutations in one of 6 known ALS genes, compared to 67% of familial ALS (FALS) patients [2]. If this FALS-SALS percentage ratio were to remain the same when 100% of FALS-causing mutations are discovered, by extrapolation only 16% of SALS patients will harbour ALS-causing mutations. That leaves 84% of SALS patients whose disease needs to be explained by some other mechanism. The percentage of patients with true SALS may be even more than previously believed, since the occurrence of ALS in distant relatives (who are then considered to be members of FALS kindreds) may be by chance [3]. One meta-analysis arrived at a figure for FALS of 5% of total ALS patients, while another (which divided FALS into definite, probable and possible categories) indicated that FALS due to penetrant mutations is likely to represent no more than 10% of total ALS patients [4].
An environmental toxin that enters motor neurons selectively, and then either alone, or in combination with some genetic susceptibility to the toxin, destroys the motor neuron could underlie SALS [5]. Heavy metals in particular have been suspected to be involved in ALS [6]. However, despite a plethora of epidemiological, experimental and pathological studies, evidence to back this hypothesis has been hard to come by. Some support comes from studies showing that neurotoxins given systemically to animals localise preferentially to motor neurons [7], that certain occupations appear to be associated with an increased risk of SALS [8], and that gene-environment interactions involving neurotoxins may underlie some cases of SALS [9]. A difficulty in looking for SALS-causing toxins in human tissue is that by the time of death most motor neurons in SALS have disappeared and thus are not available for examination. Furthermore, the few remaining SALS motor neurons may still be present because they did not take up the toxin in the first place, a so-called a "survivor" effect. Conversely, damaged motor neurons may take up metals secondarily to the disease process and so confuse the issue [10]. At present only a few toxins (all of them heavy metals) can be identified histologically [11]. Finally, it is rare to obtain CNS tissue for histological examination from humans who have been exposed to known toxins. For example, there are only three previous reports of humans exposed to inorganic mercury whose CNS tissue has been studied with modern histological techniques [12–14].
In 1996 we reported the distribution of mercury in the CNS of a man who injected himself with metallic mercury and who then committed suicide shortly afterwards [
14
]. At
post mortem
, mercury deposits were found in a number of sites in the CNS, particularly in corticomotor neurons (CMNs). However, no explanation for this CMN uptake of mercury was offered. The mercury-detection technique used in this study was autometallography (AMG) [
15
], and sections were kept in the staining reagents for varying lengths of time to demonstrate the mercury grains better in cells where mercury concentrations were low. This meant, however, that comparisons between the amount of mercury in different neurons could not be made. We have now undertaken three further investigations using tissue from this mercury-exposed human, as well as tissue from mercury-exposed mice, in an attempt to gain further insights into the relationship between toxins and ALS.
(1)

We have re-stained tissue from the mercury-exposed human, using a standardised AMG protocol that enables us to determine which neurons take up the mercury most avidly. From the distribution of these mercury-containing neurons we suggest a pathway via the locus ceruleus (LC) that circulating mercury may use to enter CMNs, and propose that this uptake may be upregulated by stress.

(2)

There has been much interest in the role of glia in ALS [16], as well as in the role astrocytes play in mercury CNS toxicity [17]. Although glial uptake of mercury was noted in passing in our previous report [14], the distribution of mercury-containing glia in the brain was not studied. We have therefore mapped the regions of the brain in which glial uptake of mercury was present in an attempt to assess the role of mercury-containing glia in motor neuron damage.

(3)

Differences between the uptake of inorganic mercury in humans and rodents has previously been noted, with rodents having prominent lower motor neuron (LMN), but negligible CMN and glial uptake of this toxin. No direct comparisons between human and rodent uptake of inorganic mercury have however been undertaken. We have therefore re-stained tissue from mercury-exposed mice and compared the distribution of mercury in these mice with mercury-exposed human tissue. This has enabled us to outline different pathways that neurotoxins such as mercury may use to enter motor neurons. We propose that these different routes of toxin uptake into CMNs and LMNs could explain the phenotypic variation that is such a prominent feature of ALS.
Results
Distribution of mercury in the human CNS after exposure to metallic mercury
1.

Heavy and widespread mercury staining. This was present in only two groups of neurons: (a). Locus ceruleus (LC) neurons contained the heaviest concentration of mercury in the brain. About 70% of these neurons contained autometallography-demonstrable mercury (HgAMG) grains, which were widespread within the cytoplasm of affected cells (Figure 1A). The small black HgAMG grains could readily be distinguished from the larger pale brown granules of neuromelanin. The total number of neurons within the LC appeared normal, though no formal quantitation was undertaken. (b). CMNs in the frontal motor strip stood out clearly on AMG staining because of the heavy concentration of mercury in all visible CMNs (Figure 1B). No adjacent smaller neurons, or large neurons in the somatosensory cortex, contained HgAMG grains.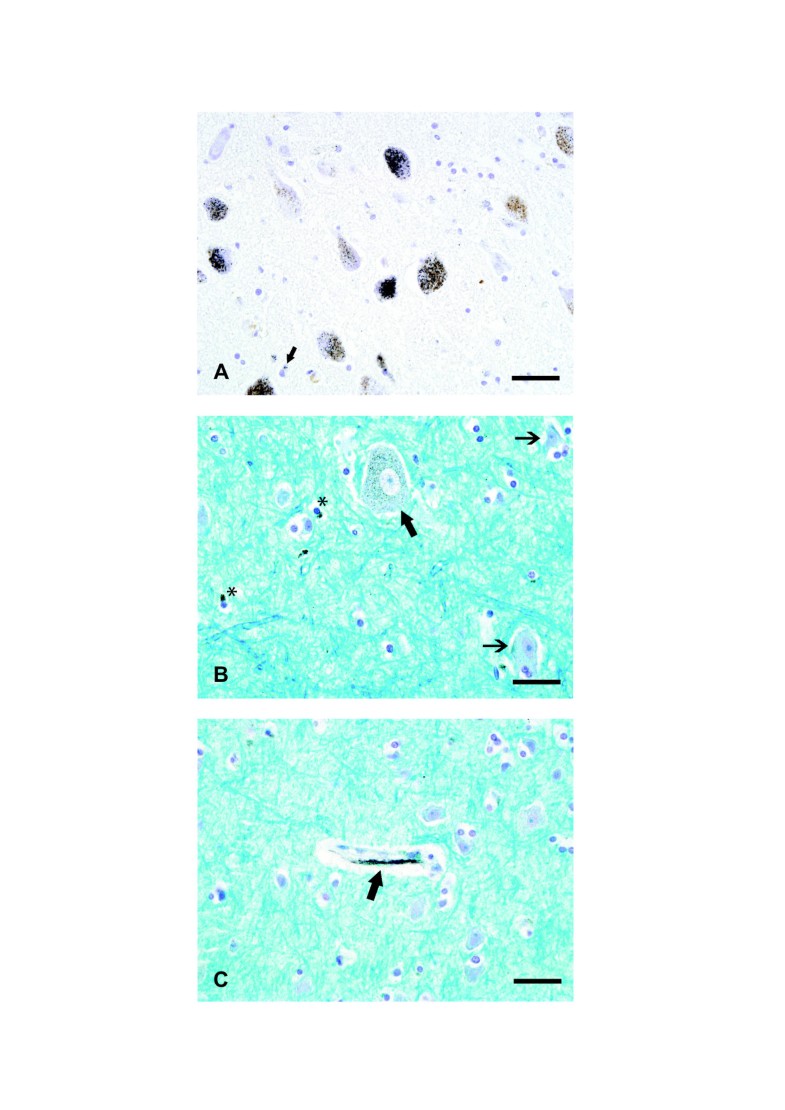 2.

Heavy and patchy mercury staining. HgAMG grains were seen in subependymal astrocytes adjacent to all ventricles.

3.

Light and widespread mercury staining. Capillaries in all parts of the brain contained patchy mercury staining, either in the wall itself or adjacent to the wall (Figure 1C).

4.

Light and patchy mercury staining. Light-patchy HgAMG grains were seen in: (a) cerebellar dentate nucleus neurons; (b) scattered individual neurons in the brain stem reticular formation and periaqueductal grey matter; and (c) neurons in the hypothalamus, vestibular nucleus, and nucleus intercalatus. Pineal and choroid plexus cells also contained light-patchy HgAMG grains.

5.

Glial cells. Scattered glial cells contained HgAMG grains. These were not distributed evenly throughout the brain, but were concentrated in the frontal motor cortex (Figure 1B), red nucleus, pallidum, caudoputamen, and cerebellar dentate nucleus. The round, pale, nuclear morphology of the cells suggested that most of these cells were astrocytes. The mercury was situated adjacent to the nucleus and not obviously in any processes.
No mercury staining was seen in neurons in motor nuclei of the brain stem, including the hypoglossal nucleus (Figure
2
A), in motor neurons in spinal lamina 9 down to the C3 level (Figure
2
B), or in the substantia nigra (including the neuromelanin-containing neurons).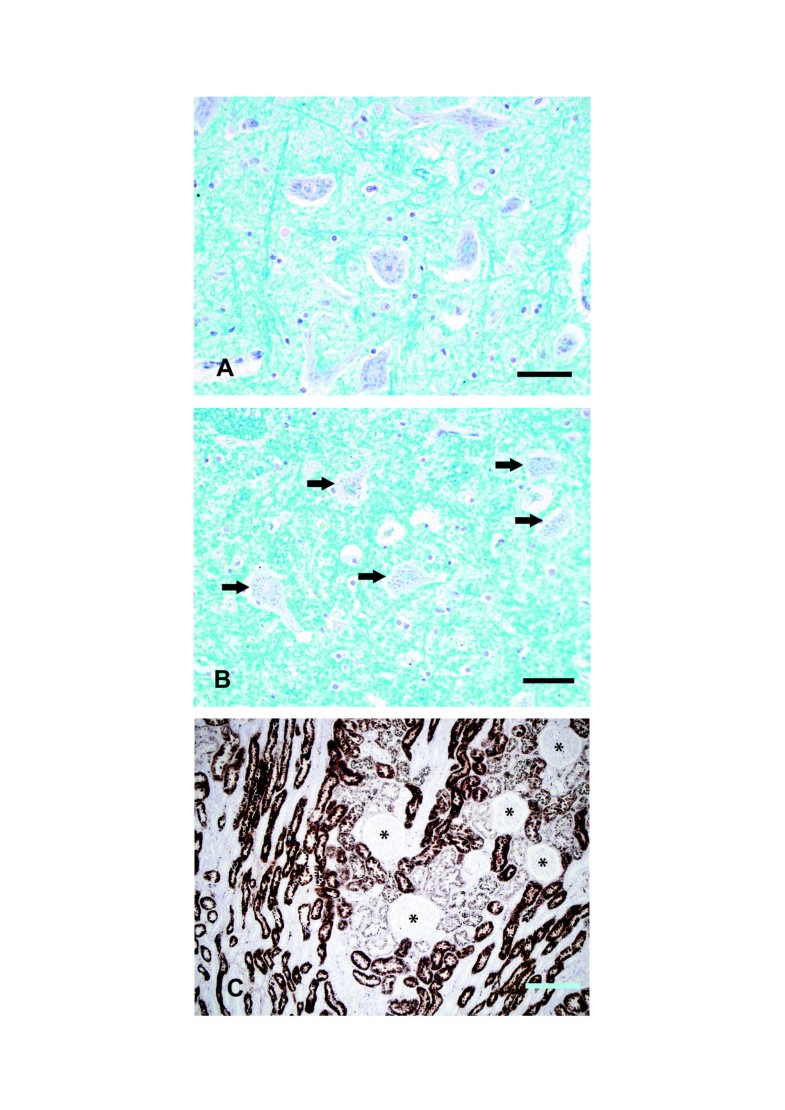 In a non-mercury-exposed control 26 year-old male individual no mercury staining was seen in neurons or glia from any of the above regions.
Distribution of mercury in mouse CNS
The distribution of mercury in the CNS of mice that had been exposed to either mercury vapor (Hg
0
) or mercuric chloride (HgCl
2
) was similar to that previously described in rodents [
18
–
20
]. In all mice, heavy widespread mercury staining was seen in lamina 9 motor neurons in the spinal grey matter (Figure
3
A). All brain stem cranial nerve motor neurons stained heavily with mercury, particularly the hypoglossal nucleus (Figure
3
B) and nucleus ambiguus, but also the extraocular muscle motor nuclei. Slight patchy mercury staining was present in the dorsal motor nucleus of the vagus nerve. Subependymal cells stained prominently for mercury (Figure
3
C). Scattered capillary walls contained Hg
AMG
grains in mice sacrificed 7 days after mercury exposure (but not after longer times after exposure), as did a few ependymal cells. No mercury staining was seen in mouse LC neurons (Figure
3
C) or in neurons in somatomotor layers 3 or 5 (Figure
3
D). No mercury staining was seen in glial cells of the brain or spinal cord in any mice.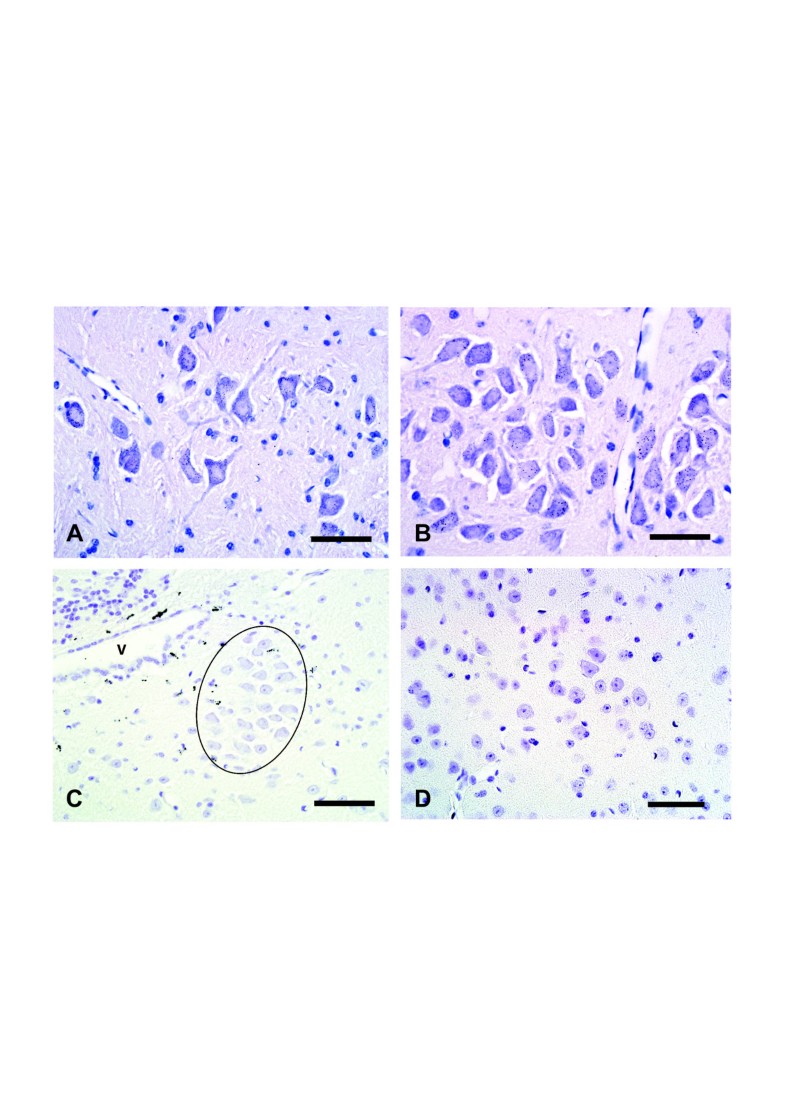 Kidney mercury staining
1.

Human. Heavy mercury staining was present in renal tubules, but not in glomeruli, of the mercury-exposed human (Figure 2C).

2.

Mouse. Mercury staining was present in renal tubules of mice sacrificed 7 days after exposure to either HgCl2 or Hg0, but not in mice sacrificed 705 days after HgCl2 exposure. To see if kidney mercury might be transferred via the sympathetic nervous system to CMNs in the same way as rabies virus [21], sections from the intermediolateral neurons in the thoracic spinal cord and from the thoracic sympathetic chain were stained with AMG. No intermediolateral neurons, and only about 1% of sympathetic chain neurons, contained light HgAMG staining.
Discussion
Mercury was deposited predominantly in CMN and LC neurons of an individual who had injected himself with metallic mercury. The heavy deposition of mercury in human LC neurons suggests that these cells play a part in the selective uptake of inorganic mercury by CMNs, since these cells synapse with each other. This human distribution of mercury differed from that seen in mice exposed to inorganic mercury, where mercury was found in brain stem and spinal motor neurons. This suggests either that uptake of the toxin differs in humans and rodents, or that differences in the chemical forms of this toxin, duration of exposure to the toxin, or other factors that increase uptake mechanisms of the toxin, result in the toxin being taken up by different groups of motor neurons.
Conclusion
In conclusion, we have described the unique case of a man who would have been under psychological stress at the same time as he was exposed to inorganic mercury. At post mortem mercury was present in CMNs and LC neurons. We suggest that stress-related upregulation of LC neurons enabled large amounts of circulating mercury to be shunted into CMNs. While we have focused on heavy metal uptake, a range of environmental neurotoxins could just as readily use this "toxin-stress" pathway to enter CMNs. We have further shown differences between this human CMN uptake of toxin and the rodent uptake of circulating toxins into LMNs, which could be increased by exercise. Because ALS probably begins some years before symptoms become apparent, any search for environmental toxins that underlie the disease need to take into account life-long exposures. Finally, we suggest that phenotypic variations in both sporadic and familial ALS may be due to different amounts of toxins in upper and lower motor neurons.
Methods
Human exposed to metallic mercury
The detailed clinical information on this individual has been described previously [14]. Briefly, a 24 year-old man injected metallic mercury into his antecubital vein, from which he suffered no apparent ill effects, consistent with other cases of metallic mercury self-injection [70]. Five months later he died after committing suicide by lacerating both his wrists. At post mortem examination metallic mercury globules were present in his myocardium and lungs, but not in the brain. Tissue blocks were processed routinely for paraffin sections. For the present study, further 7 μm sections were cut from all available paraffin blocks (including those not stained in the previous study) of the cerebrum, cerebellum, brain stem, upper cervical cord and kidney. Paraffin sections from the same regions of a 26-year-old man who died from complications of cystic fibrosis were used as a control.
Mice exposed to mercuric chloride or mercury vapor
6-week-old BALB/c mice (four per group) had been exposed previously to either: (a) a single dose of 2 μg/g intraperitoneal HgCl2, with sacrifice either 7 or 705 days later; (b) either 50 μg/m3 or 500 μg/m3 Hg0 for 4 h a day for 6 days, with sacrifice 7 days later. Control mice were given either an intraperitoneal saline injection or placed in the exposure chamber without Hg0 flow [36, 71]. For the present study, further 7 μm sections of formalin-fixed paraffin-embedded blocks of brain, spinal cord and kidney were cut and stained for mercury, using the same protocol as for the human sections. Where necessary, further sections were cut to locate regions, for example the LC and sympathetic ganglia, that were not previously studied.
Detection of mercury in tissues
Tissue was stained for mercury using AMG [15]. Briefly, paraffin sections were placed in physical developer containing 50% gum arabic, citrate buffer, hydroquinone and silver nitrate at 26°C for 80 min in the dark, then washed in 5% sodium thiosulphate to remove unbound silver. Sections were counterstained with either hematoxylin or Luxol-fast blue and viewed under bright-field illumination. Silver-coated mercury deposits are referred to as autometallography-demonstrable mercury (HgAMG). In each staining run, a positive control section was included which contained mouse spinal motor neurons with known mercury deposits from a previous intraperitoneal injection of HgCl2.
Mercury staining within individual neurons was considered to be "heavy" if more than 10 HgAMG grains were seen, "light" if 3–10 grains were seen, and "absent" if fewer than 3 grains were seen. Mercury staining was considered to be "widespread" if more than 40% of neurons of the same type or within the same nucleus contained HgAMG grains, and "patchy" if 40% or fewer of these cells contained HgAMG grains. Mercury staining was considered to be present in glial cells if 2 or more HgAMG grains were seen in the cell.
The anatomical nomenclature used (for both human and mice neuroanatomy) was from the Allen Mouse Brain (http://mouse.brain-map.org.) and Spinal Cord (http://mousespinal.brain-map.org.) online atlases. The protocol for the human part of the study was approved by the Human Ethics Committee of the Sydney South West Area Health Service, and the animal protocol was approved by the University of Sydney Animal Ethics Committee.
Abbreviations
BVc:

Cerebral blood vessel
BVm:

Intramuscular blood vessel
CMN:

Corticomotor neuron
Glut:

Glutamate
HgAMG:

Autometallography-demonstrable mercury
LC:

Locus ceruleus
LFB:

Luxol-fast blue
Mus:

Muscle
NA:

Noradrenaline.
Declarations
Acknowledgments
Supported by the Aimee Stacey Memorial Bequest and the Ignatius Burnett Bequest. Tissue samples were provided by the NSW Tissue Resource Centre which is funded by the Australian National Health and Medical Research Council.
Authors' Affiliations
(1)
The Stacey Motor Neuron Disease Laboratory, Department of Pathology, Sydney Medical School, The University of Sydney, New South Wales, Australia
Copyright
© Pamphlett and Kum Jew; licensee BioMed Central Ltd. 2013
This article is published under license to BioMed Central Ltd. This is an Open Access article distributed under the terms of the Creative Commons Attribution License (http://creativecommons.org/licenses/by/2.0), which permits unrestricted use, distribution, and reproduction in any medium, provided the original work is properly cited.